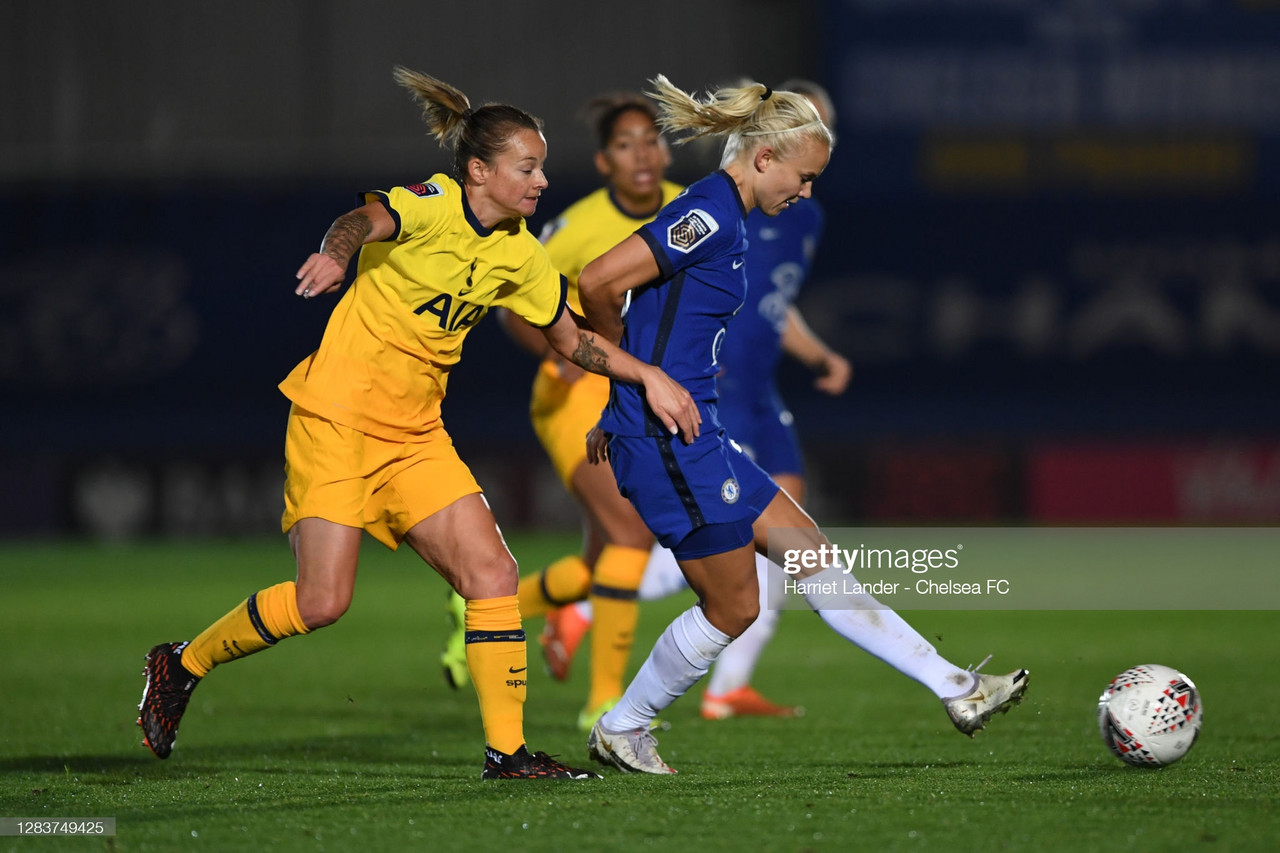 Tottenham visit Kingsmeadow to take on Chelsea. Spurs have won their last three games while the hosts are unbeaten in 32. Will one of these London teams end up with the three points or are the points going to be shared?
The game, that originally would have been played before the Christmas break but was postponed due to a Covid-19 outbreak among the host, will kick off at 12:30 on Sunday.
Tottenham take a three-win streak with them into this clash with reigning champions Chelsea. They also bring new reinforcements to Kingsmeadow after signing new players during the transfer window.
Abbie McManus, joining Spurs from Manchester United, who has had her first week of full training is one of them. Another one worth mentioning is South Korean midfielder Cho So-Hyun, coming to Tottenham from West Ham.
Two players have left Chelsea this window permanently; Norwegian international Maria Thorisdottir to Manchester United and youngster Charlotte Fleming has signed with Leicester. Otherwise, the Blues are intact and their confidence strong after beating Aston Villa last Wednesday with 4-0. Tottenham's fixture vs Everton last weekend was postponed due to bad weather conditions with snow falling down over the pitch.
Chelsea:
Telford (GK)
Mjelde, Bright, Eriksson, Andersson
Leupolz, Ji
Harder, Kerr, Reiten
England
Tottenham:
Spencer (GK)
Neville, Zadorsky, McManus, Percival
Green, Kennedy
Cho, Davison, Ayane,
Dean
Denmark captain Pernille Harder has scored two games in a row for Chelsea and her stats from their visit at Bank's Stadium last Wednesday proved her positive influence for the Blues. Chelsea's line up said that Harder started on the right wing with Australian striker Sam Kerr in the No.10 position. Obviously, these two switched positions fluidly throughout the game such as many other of their teammates. According to Instat Football Harder and Kerr shared the right wing and the No.10 position 50/50 while they were on the pitch together.
Tottenham's Australian international Alanna Kennedy has made 12 impressive appearances so far for the Spurs. Kennedy has showed consistency in her play and is a player that breaks down the play very well. For Matilda's fans, it might have been a bit unfamiliar to have seen her in a defensive role on the midfield since she mostly rules the backline for her national team. On top of that, she has also signed a permanent deal with the Spurs that will keep her in the WSL club for the rest of the season.
The last WSL meeting between the two sides was played out at Stamford Bridge in the last season's opener. Bethany England's screamer from outside the box in the fourth minute was enough for the Blues to steal the win.
Last time they played each other was in the group stage of this season's Continental Cup, where Chelsea won 2-0 at home on Kingsmeadow after goals scored by Erin Cuthbert and Melanie Leupolz.
This game is selected for TV in the UK and will be broadcasted on several channels and platforms over the globe.
The UK - BBC Red Button, KO 12:30 GMT.
Scandinavia and Finland - ViaPlay/NENT Group KO 13:30 CET
Italy, Germany, The US - Ata Football
Australia - Optus Sport
New Zealand - SparkNZSport