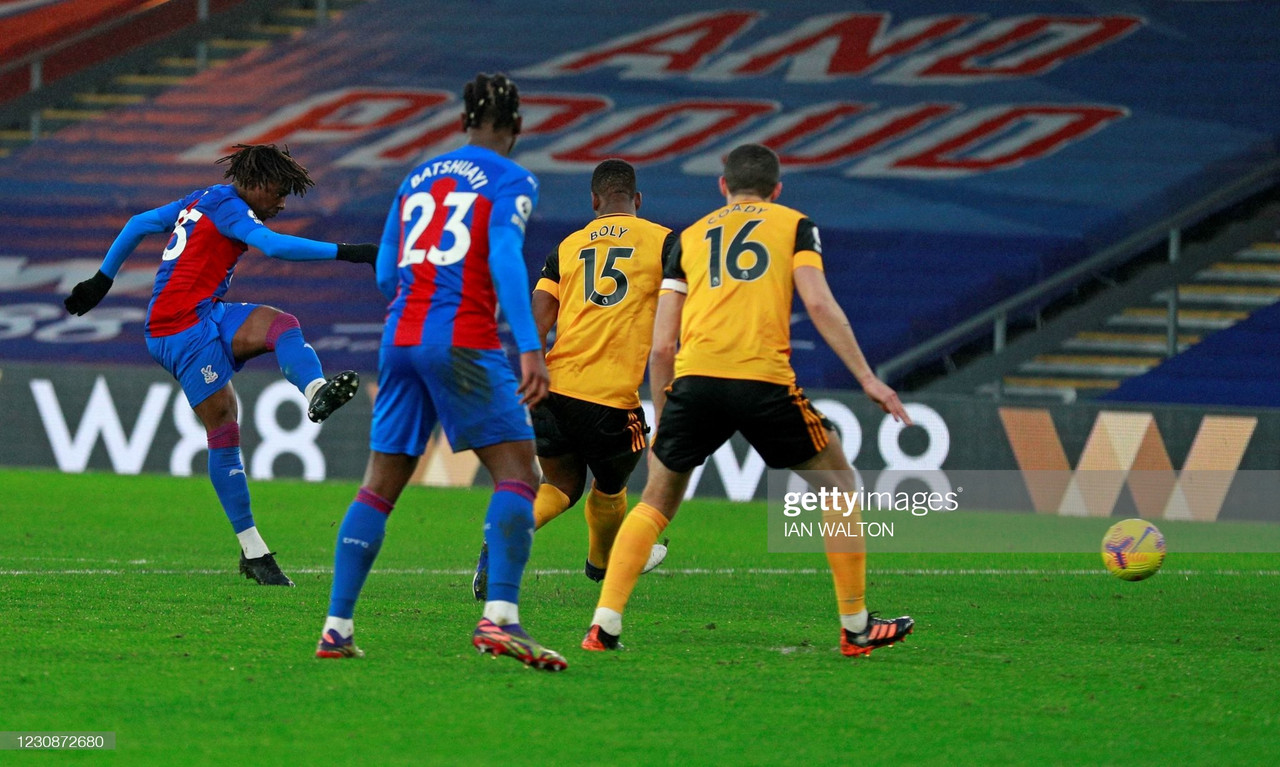 A lacklustre Wolverhampton Wanderers side once again tasted defeat this season as they lost 1-0 against Crystal Palace. The only goal of the game came through Eberechi Eze, as he found space on the edge of the box and beat Rui Patricio down to his right.
Wolves' new man Willian Jose had a few half-chances throughout the match, but apart from that Wolves didn't create anything to write home about.
This result sees the visitors winless in the previous eight matches, and remain 14th in the Premier League, just nine points off the drop zone.
Wolverhampton Wanderers' next two games are also tough ones on paper, as they face Arsenal and Leicester City next.
Despite bringing in Willian Jose and giving him a start, Wolves still struggled to create any noticeable chances against an unfamiliar Palace defence.
In recent weeks, Crystal Palace have been chopping and changing their defensive line up, and haven't really settled. Therefore, Wolves were expected to take the game to the home side and try and break them down, but we didn't see any of this.
We saw a Wolves side that looked slow, and unfamiliar with the players that they were playing with. Willian Jose, the loanee from Real Sociedad, showed some signs throughout the match, but was unable to cause any major trouble to the Palace net.
He did force a good save from Vicente Guaita in the second half as he was able to get onto the end of a ball that was crossed into the box by Adama Traore.
Elsewhere with Wolves going forward, Pedro Neto and Daniel Podence struggled to get into the game and really make an impact like we know they can. Traore was on the pitch for just under half an hour and he created the most opportunities for Wolves and he looked the most dangerous player from right wing back.
Unforced errors costing the visitors
In recent weeks, Wolves have started to see lots of unforced errors creep into their game. Both defensive errors, and errors on the ball in midfield have really cost Wolves and have been one of the main contributors for the recent poor form.
Against Palace, experienced players such as Joao Moutinho and Conor Coady were miss-placing simple passes, which stopped Wolves' momentum when going forward, and only increased the pressure on Wolves' back line.
These errors have probably become more common recently due to the lack of confidence in the Wolves squad. Having only won one game in the last eleven, Wolves players will be feeling the pressure. Losing can become a habit for teams when things aren't going well, and this looks to be the case for Nuno's side at the moment.
Every match, Wolves seem to be second best in all departments which therefore creates pressure for not only the players on the pitch, but the staff on the sidelines.
How do Wolves bounce back?
It is going to be a long road back for Wolverhampton Wanderers in order for them to get back to winning ways. At the moment, it looks hard to see where the next win is going to come from.
Next up Wolves face a high flying Arsenal who have only lost one game in the previous eight. Despite Wolves being good against Arsenal in previous years, it will be a huge struggle this time out, as Mikel Arteta seems to have got the Gunners firing.
With the January Transfer Window closing soon, and it is unlikely that there will be any incomings, Nuno is going to have to galvanise his squad in order to turn their fortunes around.
One of the main ways that Wolves can get out of this rut is through Willian Jose. It has been clear in recent weeks that Fabio Silva isn't ready for constant Premier League football yet. Willian Jose, and the goals that he could bring to the squad might enable Wolves to get some wins under their belt, and therefore get some confidence back.
In the last game against Palace, Jose showed signs of brilliance and Wolves looked to flow very well at times. Willian Jose held the ball up well and caused the Palace centre-half's some trouble, and with Traore, Neto and Podence's service he could thrive at the Molineux.