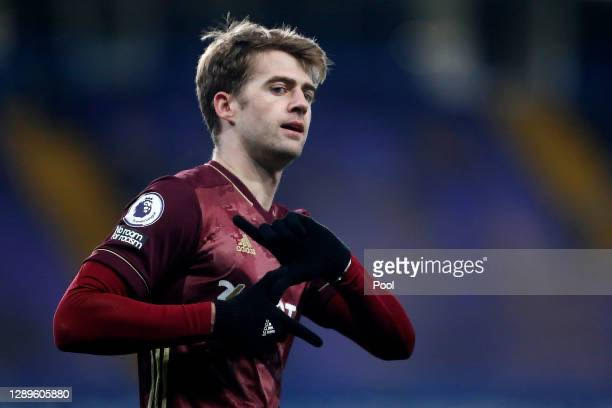 Patrick Bamford has proved a lot of doubters wrong this season, but what makes him so brilliant is the fact he is his own biggest critic. He doesn't let people get the better of him, he put his head down and improves game after game, and with his first real go at the Premier League, he has been this year's real surprise package.
For many Leeds United fans, the awareness of Bamford's hot and cold time at the club so far is clear to see. For outsiders of the West Yorkshire club, the cold patches are much easier to forget.
Where it Began
The Grantham born striker came through the ranks at Nottingham Forrest and made his debut against Cardiff City in December 2011. The then 18-year-old got his move to Chelsea FC for an undisclosed fee in January 2012.
Like many youngsters, his time at Chelsea was littered with loan moves all around the country. Bamford made two appearances for the London outfit and after several loan spells to clubs like Milton Keynes Dons, Crystal Palace, Norwich City and Burnley.
In January 2017 he finally made a permanent move to Middlesbrough for a fee around 5.5 million pounds.
In this time, he made international appearances at youth level for both England and the Republic of Ireland due to him having an Irish grandparent.
He made a total of 47 appearances for Middlesbrough, finding the net 12 times. Before Victor Orta tempted him over to Yorkshire to Leeds United for a fee rising to 10 million pounds in the summer of 2018 - making him the most expensive signing in 17 years.
Bamford's Time at Leeds United so Far
Marcelo Bielsa seems to work his magic with a lot of players, but it is known to many of his admiration for Patrick Bamford. Since the Argentinian joined the club, around the same time as the Grantham born striker, he has given Bamford the trust he needed in his career at a vital time. But it wasn't all plain sailing for Patrick.
Bamford came on as a substitute to make his debut for Leeds against a team he knew very well in Derby County. A 4-1 victory at Pride Park. Bamford then played and scored his first goal for Leeds against Bolton Wanderers in the cup, but after hobbling off in an U23s game leaving him on the side-lines for months, this allowed his compatriot Kemar Roofe to steal the limelight in the early stages of his time at the Yorkshire giants.
That season, Bamford scored 10 goals in 25 games in an injury-stricken season, but he had a lot more to give. Following the departure of Kemar Roofe to Anderlecht Bamford took centre stage.
With four goals in the opening five Championship games, Bamford got himself upon the nominees for the Player of the Month accolade, but narrowly missed out to his team-mate Ben White.
The reinvented pressing forward started to feel the weight of the pressure. The 26-year-old was the only senior striker at the club and was on a three-game goal drought.
In an attempt to delegate the responsibility, loanee Eddie Nketiah was brought in from Arsenal to take his spot. Marcelo tried different options, even trying them both up top which didn't work. He was reluctant to drift from Bamford, the man who just seemed to make the team tick.
This persistency to stay with Bamford cost Leeds the opportunity to keep hold of Nketiah. The young forward wasn't getting the game time he felt he deserved, and made his way back down to the Emirates.
Having fought off the competition of Eddie Nketiah, Leeds then turned to buy Nketiah's replacement and signed another loanee in Jean-Kevin Augustin from RB Leipzig.
Constant injuries for Augustin saw Bamford keep his place and when COVID-19 halted the season Leeds cut his loan short, meaning Bamford won his third battle since joining the club keeping that number nine shirt.
Leeds United went on to win the League by 10 points once the season resumed to end their sixteen-year absence from the topflight, with Bamford finishing the season as their top goal scorer with 16 goals.
This Season – The Overview
Patrick Bamford has scored 11 goals this season so far from 20 games, joint third top goal scorer in the league, even been nominated for the Player of the Month accolade in September.
Despite scoring in all three opening games, he was pipped to the award by Everton's Dominic Calvert-Lewin.
Shortly after, Bamford hit a significant milestone, scoring his first Premier League hat-trick against Aston Villa in late October.
With fans questioning if Bamford had the credentials and fire power to keep them up this season, Marcelo Bielsa delved into the transfer market this summer signed Spain's number nine in Rodrigo Moreno.
Bamford's hot form this has meant that the Spanish international has had to accept an advanced midfielder role in order to get game time.
Leeds United have been this year's surprise package in the Premier League with their relentless running and attacking movement, with free-flowing football. Many believing they are the most entertaining team to watch in the division scoring 36 goals (5th highest in the division).
Bamford has proved the doubters wrong and added a lot to his game and with the difference in the Premier League to the Championship seeming to benefit the forward.
The difference between the Premier League to the Championship is the fact there is a lot more space. The pace of the game allows for much more space in attacking areas.
An example of this would be Bamford's goal against Leicester, he would have never had the opportunity to have a strike on goal like that in the Championship.
Due to Leeds being one of the better teams in the division, a lot of teams would give Leeds respect and have a lot more players behind the ball.
This means there isn't as much space for you to be able to get a shot on goal. The pace of the topflight has been taken in Bamford's stride and he doesn't look like slowing down anytime soon.
What Has Bamford added to his game?
Bamford adds a lot to the Leeds United system and has seemed to develop his game to a whole new level this season.
His attacking movement goes really unnoticed due to a lot of it being off camera. However what really brings Leeds an outlet is the fact Bamford puts himself in-between the two defenders and not going out wide.
This separates the two centre halves, making him harder to mark. When he does this it brings in another factor which he has really propelled to a different level this season, which is his hold up play.
As much as Bamford is a keen runner - like the whole of the Leeds team - he brings his teammates into play when he has his back to goal.
This is evident in the assists he is adding to his goal tally. Against Everton, he notched up his fifth assist.
His creativity tends to come when holding up the ball to allow the wingers to run off. Jack Harrison and Raphinha have utilised this on many occasions in order to penetrate the opposition box.
Bamford has also added a trait to his game this season which has helped with his numbers in-front of goal.
The clinical nature of his play is far beyond what it has been in revious seasons. The 27-year-old is brimming with confidence and has taken most chances when they have arisen.
A willingness to score has always been there for Bamford, despite his critics saying otherwise. Of all the top talents in the Premier League, it is Leeds United's man who has had the most shots of any striker in the Premier League, showing the class of the Leeds team to create chances.
Marcelo Bielsa – Loyalty
The catalyst for the revitalised Patrick Bamford is arguably Marcelo undying loyalty to Patrick Bamford, which a lot of managers in the past didn't show him.
Being appreciated by a manager for one of the first times in his career, and it is an appreciation being shown by one of the many greats of the game, has rocketed Bamford's confidence to sky high levels.
This is Bamford's first real go at playing in the Premier League, he has taken that trust and loyalty from Bielsa and put it in his stride giving Marcelo no question in being one of the first names on the team sheet.
Bamford has now got one eye on the England National Team set up and is continuing to repay the manager by scoring goals and getting assists.