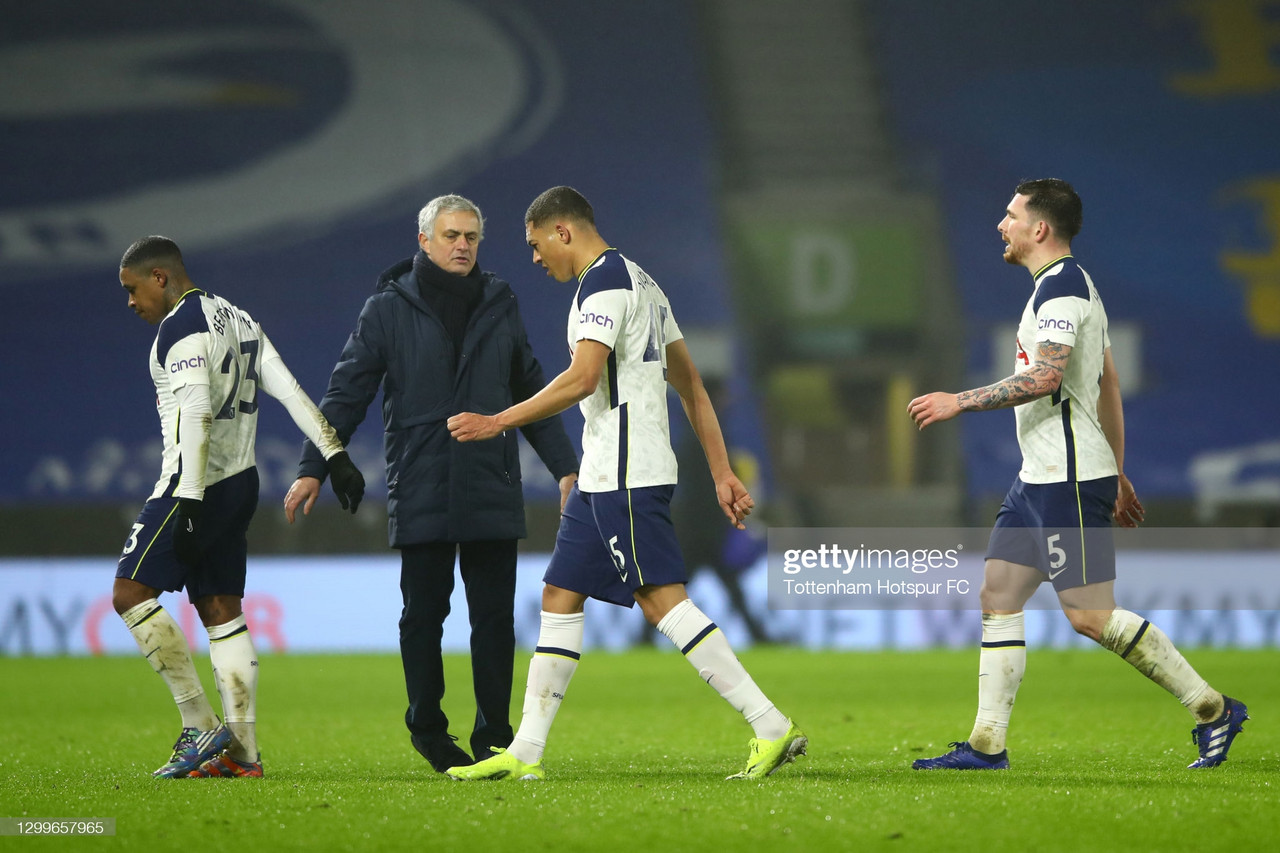 Erik Lamela's free kick, in the 87th minute, summed it all up.
It was far out, and very central. Even your Lionel Messi's and Gareth Bale's (which is ironic because he had come off after another lacklustre display) would cross the ball in.
But Lamela decided to shoot. It tragically rolled towards the middle of the goal – catching practise for Robert Sanchez. Defenders had come up for it, expecting a cross can you presume.
And that was it. No plan, no strategy, no vision, no movement and just desperation.
Tottenham Hotspur whimpered to defeat, don't have it any other way.
Brighton put themselves 1-0 up in the early stages, another goal which was a comedy of individual errors.
So, 1-0 down against the only side in the four English leagues to not win at home. Jose Mourinho, suddenly, had a massive spotlight on him.
How did Spurs respond? 14 touches in the opposition box. It was three at half-time. For context, the goal scorer Leandro Trossard had 14 touches in Spurs' box. Brighton had 49 overall.
There was plenty of possession, 57% at that, but the lack of penetration was alarming.
Carlos Vinicius, who only came on at half-time, had Spurs' only real chance of the game in the 75th minute.
It was a catastrophic failure, and one of the worst Spurs performances in recent history.
Mourinho will be glad it was only one goal conceded as Brighton could've had more.
But the biggest takeaway from this game, without doubt, is that there is now a heap load of pressure on Mourinho.
Liverpool hadn't won in four games, and failed to score in three consecutive games. Liverpool 3-1 Tottenham.
Brighton are slumped in a relegation fight. They are the only team in English's top four leagues to not win at home this season.
Brighton 1-0 Tottenham.
Not a good look, at all.

Mourinho opted to replicate the system and formation that worked at Sheffield United. But, this time, it was Moussa Sissoko and Ben Davies operating as the wingbacks.
This worked well at Bramall Lane because of Sergio Reguilon and Serge Aurier's tenacious style that can launch attacking patterns.
Sissoko and Davies just can't do that.
Davies is a safe defender. He fills in, can defend to a good standard and do the simple things well but going forward is not his game, at all.
And Sissoko. Well, the position is alien to him, and it will probably stay that way.
The aim for this system was to keep wingbacks in high offensive positions all while maintaining territory through the pivot in Tanguy Ndombele and Pierre Emile-Hojbjerg.
But with the wingbacks not pushing high and making attack patterns, the build-up play was non-existent. In possession, Spurs were pitiful.
It seemed the plan was to hope Ndombele can create some magic.
He was bright, but he's only as good as the next pass after his. It has to be said, without Kane, Spurs lack so much thrust.
Without him dropping in pockets and linking-up play, there was no connect between midfield and attack.
The front three – Bale, Steven Bergwijn and even Son-Heung Min – were passengers, and they were feeding off scraps, but also weren't particularly pro-active themselves.
They didn't get in behind Brighton once. The system failed, and that's on Mourinho.
Problems away from the field
As much as the problems on the field are well documented, off the field happenings are going down a toxic route. A toxic route that we've seen with a lot of Mourinho's demises at previous clubs.
The Aurier situation, for example. Clearly, something big happened at half-time during the last match against Liverpool. Aurier left the stadium.
He wasn't included in the squad today.
We have no idea how this affected the changing room, or who is on who's side but from what we saw at Brighton – it certainly looked like a team which are divided, or who have lost faith in their manager.
Has Mourinho lost the dressing room?
The Dele Alli situation is not helping. It's important to state we don't know the personal conversations between the two. Oh, for an All or Nothing season two.
But when a player of that talent, who can play between the lines, and help score goals is not making the bench in times like this – it's a worry.
His fall at Manchester United was the side's lack of identity and style that wasn't pleasing to watch or particularly working. And also, how he famously lost the dressing room.
Is this any different?