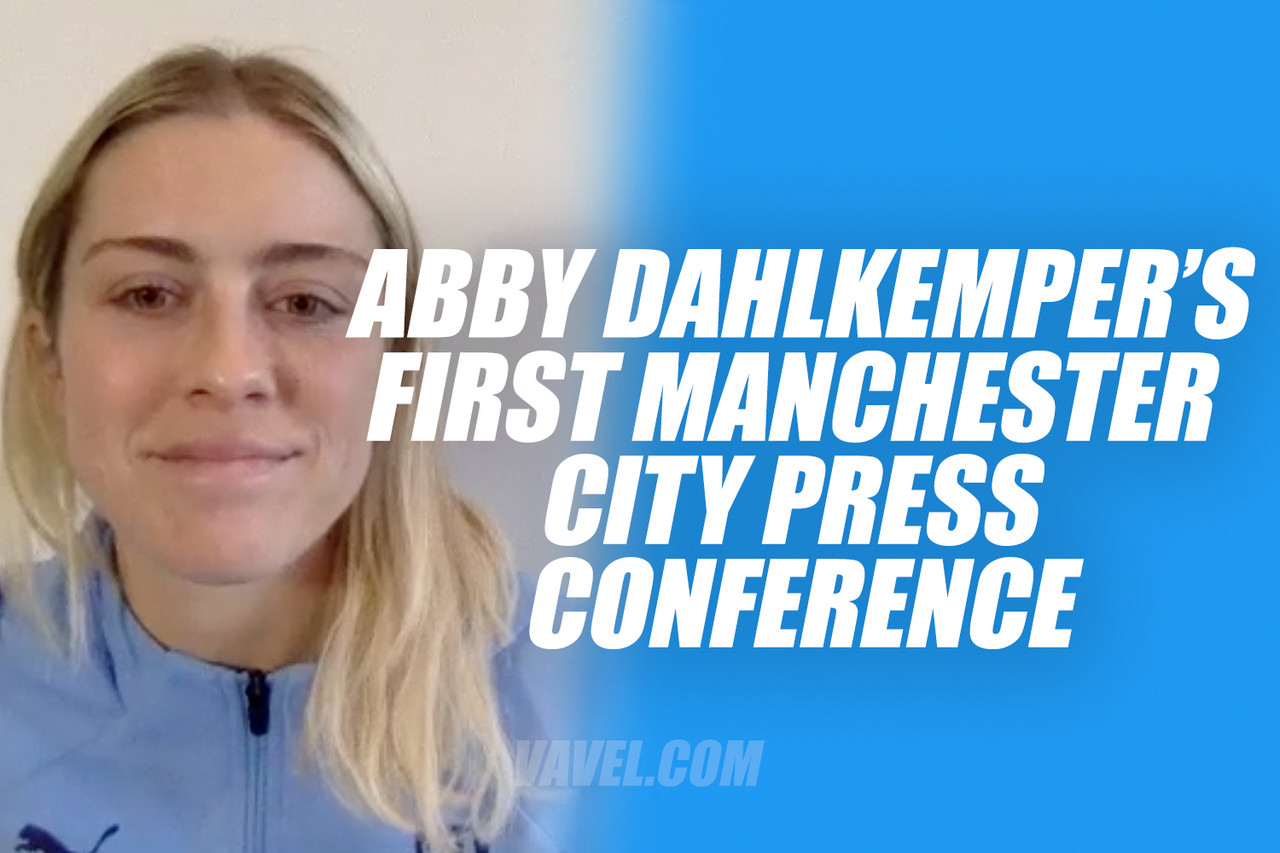 Abby Dahlkemper's move to Manchester City was announced last month and the centre-back made her first appearance for the blues on Sunday.
Now settling in after her move to a new country, she spoke to the press on Monday afternoon.
Making the move
The 27-year-old is the first American play to sign a long-term deal with an English club; her contract will keep her in Manchester for two and a half seasons.
I think I really wanted to kind of relish this opportunity to experience Europe and to be a part of this team for a while and to get to really experience everything," Dahlkemper said. "I think I'm going to grow throughout these years and I wanted kind of something different and a change.
"So I think to be able to experience this for two and a half years is just going to benefit me on and off the field. And I'm really happy and you know, hoping to win championships with this team, and I think we can look forward to that."
Across different clubs, Dahlkemper has played with midfielder Sam Mewis for over a decade now and she spoke of her excitement to be alongside her once again at Manchester City.
"I think we've been together for like, over 10 years," the centre-back said. "She's obviously one of my best friends so being reunited with her has been awesome.
"To be able to see her grow as a person and a player has been really inspiring. And we've been there for each other through the ups and downs so it's really special to continue this journey together - on and off the field."
First impressions
Dahlkemper has now been in Manchester for around a week and touched on the fact that she'll be hoping to look around the City more after lockdown ends.
"It's been great," she said. "I've been here a week now and, you know, the city from what I've seen has been, so cute, and so cool.
"The girls and the team have been amazing, they've been so welcoming, and [it] has really made my transition here so easy. So, I'm really excited to continue to work with the team.
"Obviously, when it's safe, and the lockdown is free, I can, you know, kind of explore the city as well, but [I'm] just, really happy to be here and I'm learning a lot and I'm excited."
Dahlkemper also spoke about how she enjoyed her first game against West Ham United at the weekend:
"[It was] exciting to be able to take to the field with my teammates, and to represent Man City for the first time; that was really special and I was really excited
"So to be able to get a four zero win, and to keep a clean sheet was really important, and really a dream come true. So I'm excited about that and I'm looking forward to hopefully more."
Her role
As a central defender, she immediately slotted in alongside Steph Houghton at the weekend and looked comfortable in her new partnership.
"Steph's been amazing to work with, Dahlkemper said. "It was kind of seamless in the last game yesterday. I think [in] my role as a central defender, I have to talk and communicate and organise and so that's not only going to help my teammates, but it's going to help myself as well. So I think just being able to, you know, really trust my teammates, and have them trust me, yesterday felt very seamless.
"I think that's credit to the girls on the team, they were so nice and so welcoming with me so I felt comfortable. I think that's a good thing because we all need to work together to obtain a goal and to, you know, win games. So I think, we can just continue to build off of the performance and I want to help in whatever way I can and I will do so."
Vlatko's blessing
Dahlkemper confirmed that she had spoken through the move with Vlatko Andonovski and will still be available for USWNT camps. She has also been called up for the SheBelieves Cup, which she will go to after the Manchester Derby.
"I think it's really important for me to give my 100% to wherever I am," she said. "I obviously, was in constant communication with Vlatko and letting him know that I have this opportunity, but also being able to be available for national team selection and to be able to attend camp and whatnot.
"So, we are headed into the SheBelieves during the FIFA window, so after the [Manchester United] game. I think just the importance of being 100% there with wherever I am, you know, with City and with the US team, and so, he had nothing but support for me.
"So that was important to kind of get his blessing because I obviously want to continue to represent my country for as long as I can and to also, you know, represent City and give them my all as well. So I think it's just about finding the right balance and being able to, you know, stay healthy and be able to be available for selection."