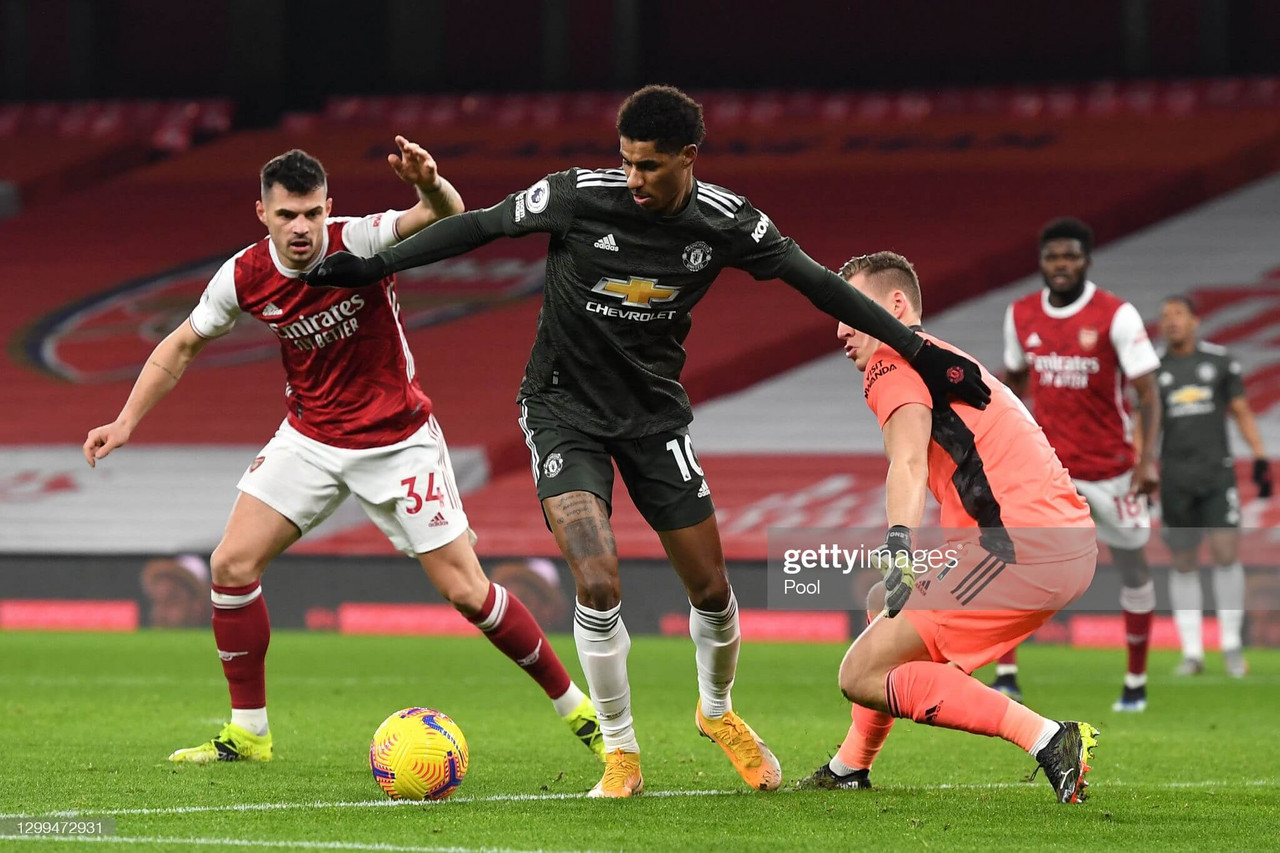 Manchester United's ability to turn around deficits and achieve results is an important quality in title challengers - but the over-reliance on this trait is becoming one of the biggest underminers of the challenge itself.
This is a peculiar season. If every team in the top ten was to win their games in hand, first placed Manchester City would only be 13 points ahead of would-be tenth Arsenal. At that stage of the season last year, the gap was 30. 27 the year before, 33 before that, and 25 yet another year further.
United have managed to capitalise on the irregularity by clutching points from jaws from defeats in a ruthless manner - well documented is their 21 points and seven wins from losing positions, the latter of which is just three shy of a season record.
But the fallibility of the Old Trafford outfit came to light during Wednesday night's loss to Sheffield United, only Ole Gunnar Solskjaer's second in 15 games. His side looked to be missing some of the resilience that has shone in similar situations, often through the prowess and ability players such as Marcus Rashford, Bruno Fernandes, or Paul Pogba. This defeat perhaps better exemplifies better than any other where Solskjaer's side must pick up the slack.
The reading of the game, in general, seems to suggest a United side that dominated the match, but where unable to break down a sturdy Sheffield side, who needed the win more than United. 550 more passes from the hosts, 11 more shots, 76% of the possession, and seven corners. It all paints a picture of the underdog side, reminiscent of Celtic vs Barcelona 2012.
It would be harsh to overly criticise the majority of the United side for their performance against Sheffield, with exceptions made for the difficult night experienced by Anthony Martial and Axel Tuanzebe, who unjustly were victim to racist abuse on social media after the game. But the rest of the squad, while not terrible, left plenty to be desired.
Yes, Fernandes's pass accuracy of 80% was three percent above his season average - but it was the first time in 13 games he went without a single shot on target. Yes, Harry Maguire scored and was accurate with 21 of 22 long ball attempts. But not one through ball was attempted by the entire squad. Paul Pogba had five successful dribbles, but was dispossessed three times.
It was another turgid performance against Arsenal over the weekend, wherein no United player managed to have more than one shot on target; the side, as a whole, mustered three. No player covered themselves in glory, nor were particularly diabolical. In fact, WhoScored's average player rating for United team was 6.74, which suggests a performance that was about average; their season rating so far is 6.81.
It's emblematic of the wider issues still facing Solskjaer's side that a somewhat misfiring Fernandes sets the whole offensive machine off-kilter; even more concerning if the Norwegian is without answers to break down sides that can shut down the Portuguese, as Sheffield and Arsenal did so effectively, allowing him 100 and 65 touches respectively. Pogba, for comparison, had 116 and 92.
While the dependency United have on Fernandes is an issue unto itself, or will be when the Portuguese suffers a dip in form, the inability to manage teams is evidence enough that they aren't ready, yet, for a title charge. There's a reason that United's comeback form is so incredible this season compared to previous campaigns, and that is that no teams have needed to go recover points from situations wherein they've undermined themselves.
Liverpool faced ten deficits throughout last season, City six in 2017/2018 and 2018/19, and Chelsea ten when they won the league. United this season have faced 11, the tenth-most in the league. It might not sound too bad, but when you consider that's the same as relegation-threatened Burnley and Fulham, and one better than Brighton, concern duly begins to arise.
As Liverpool and City seemed to have shaken off the cobwebs and awoken to the season before them, the former making some desperately-needed defensive signings, United cannot afford to slip up again. Victories against teams outside of the top six are as crucial now as they will ever be.
What will separate this United side from the previous years since Sir Alex Ferguson left is how it will respond to adversity, how it copes with a dip in form which is likely to see it drop a place or two in the table. What it's all about, is how they will recover.