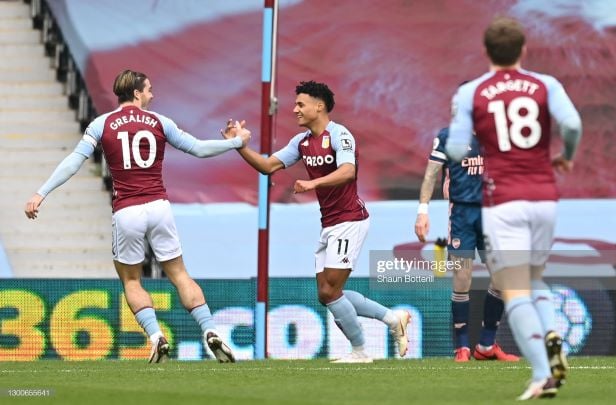 An early Ollie Watkins goal inside the second minute of action in the second city put Aston Villa 1-0 up against Arsenal early doors.
Bertrand Traore's persistence earned Villa their first goal of the evening, hunting down possession and capitalising on a poor pass from Gabriel. Traore's cross was met with a tidy finish from Watkins. Scoring in his third consecutive game for Villa, he's the first striker to do that since Darren Bent.
Watkins' goal meant Villa had successfully beaten Arsenal twice in Premier League during the same season for the first time since 1992, the Premier League's first season.
Story of the game
Both Villa and Arsenal entered this afternoon's early kick-off with the hopes of overcoming the woes of the last match-day - Villa returned to Villa Park only three days after suffering a disappointing 1-3 loss to West Ham.
Arsenal, on the other hand, had little time to lick their wounds after their 2-1 loss on their last matchday in Midlands on Tuesday - Wolves overcame Mikel Arteta's side with the assistance of two controversial red cards which saw David Luiz and Bernd Leno miss today's game against Villa.
The decision proved to be costly for the Gunners, as Matt Ryan's first action as an Arsenal player was picking the ball up from the back of the net only two minutes in at Villa Park.
Throughout the rest of the first half, Arsenal failed to carve the home side open. Villa defended well and limited the Gunner's chances to freekicks and corners.
Bukayo Saka fell victim to the treatment Villa's captain Grealish receives on a weekly basis, with Matt Targett and Marvelous Nakamba fouling the youngster to nullify his threats when in transition.
Arsenal's three corners and four freekicks in the opening half failed to bring the sides level early doors.
Arsenal dominated their share of possession in the first half, with 63% of the ball as the two sides headed down the tunnel for half-time, though the Gunners had nothing to show for it.
Villa came out in the second half and attacked with real intent for a period of about ten minutes. Notably, Watkins had three efforts on goal which came in the form of a shot from outside the 18-yard box and two headers at the back post, which Ryan dealt with comfortably.
Momentum began to swing for Arteta's men as he introduced Aubameyang and Martin Odegaard, bringing off Lacazette and Cederic.
Arsenal's siege on the left-wing began with a cross from Pepe which Martinez caught with ease, despite clashing with Aubameyang in the process.
A handful of efforts from Pepe which Martinez saved continued to pile pressure on Dean Smith's men.
Eventually, the penny dropped for Arteta, who brought on Willian for Thomas Partey to continue applying pressure down Villa's right-hand side.
In the meantime, Villa brought on reinforcements of their own, with Trezeguet and Jacob Ramsey coming on for Traore and Barkley respectively.
Watkins nearly doubled Villa's lead on the 80th minute, as his shot across the Arsenal goal faired just wide of the post.
Odegaard immediately snatched upon an opportunity to level the sides, as he blasted a cutback from Saka well over the bar into the North Stand.
Villa managed to keep Arsenal from scoring deep into added time, defending effectively for an additional five minutes.
Takeaways from the game:
Disciplined Villa performance
Out of formation, Villa's discipline kept Arsenal at bay consistently. Setting up with 4-2-3-1 means when a side's defending, they're lining up as 4-4-2, with their '10' acting as a second striker.
This discipline from Villa laid solid foundations for Villa to counter-attack Arsenal throughout the game.
Arsenal substitutes fail to impact
Despite Arteta discovering Villa's right-hand side is their weakness, they failed to penetrate Villa's defence. Both Partey and Xhaka needed to breach Villa's defence with late runs, as Thomas Soucek did for West Ham on Wednesday, if Arsenal were to stand a chance of scoring against Villa this afternoon.
Aubamayang changed the dynamic of how Arsenal attacked the game, whilst also giving Tyrone Mings and Ezri Konsa something different to think about, but the striker failed to make an impact on the game for Arsenal in the form of goals.
Game management key for Villa
Smith's game management was vital to Villa's performance, in recent times Smith's received criticism for not being proactive and keeping things fresh. Today, his substitutions were inspired and nuanced - Jacob Ramsey epitomised this with a tidy ball-roll and shot on goal as the game entered the 89th minute.
Despite being well organised, Villa picked their moments well and caused plenty of threat on Ryan in between the sticks for Arsenal.
Man of the match
Ollie Watkins: Scoring in his third consecutive game for Villa and taking his tally for the season up to 10 in the Premier League, Watkins is vital to how Villa press onto their opposition.
This afternoon Rob Holding and Gabriel had little rest, with Watkins relentlessly pressurising the pair, running the channels, and scoring the game-winning goal early doors.