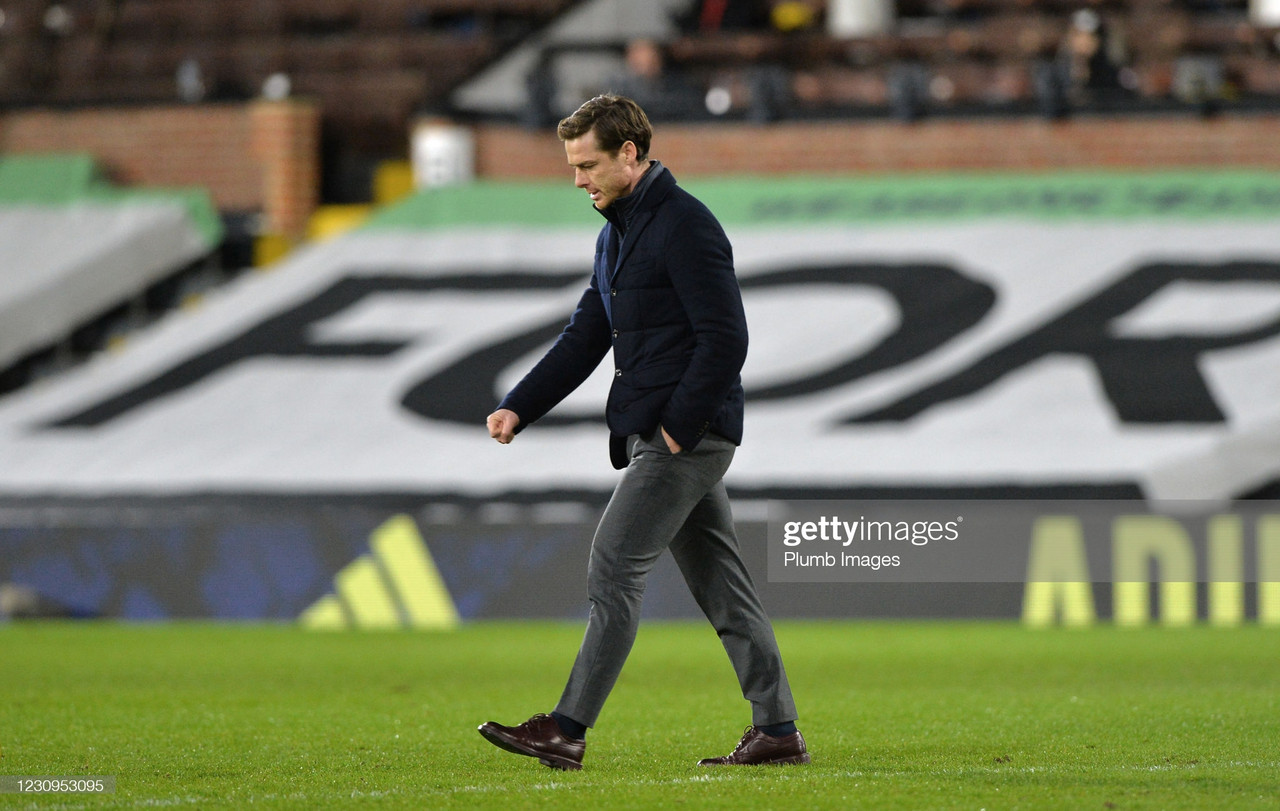 "We were superb from start to finish: build-up, the way we played. We just come a little bit short in that final area when you need to put the ball in the back of the net."
That, from manager Scott Parker, is probably a fair evaluation of Fulham's performance in their goalless draw with West Ham United on Saturday evening. Indeed, it's a fair reflection on their season as a whole: playing well, causing the opposition difficulties whilst being hard to beat, but not killing games off in the way their performances often warrant.
It's not the first time it's happened this campaign — draws at West Bromwich Albion, Brighton & Hove Albion, Newcastle United and Sheffield United, as well as the defeats to Everton, Chelsea and West Ham earlier in the season, all felt like similar instances of points thrown away — but this one sticks out as perhaps Fulham's most pronounced failure in front of goal.
Indeed, it was their second highest expected goals deficit of the season so far, with an xG of 1.61 weighed against their goal return of a grand total of zero; the only larger deficit was produced in the reverse fixture against the Hammers when Ademola Lookman missed a penalty.
The Cottagers fashioned 20 opportunities to shoot at West Ham's goal, directing just two of those on target. Forward Ivan Cavaleiro, midfielder Ruben Loftus-Cheek and defender Tosin Adarabioyo all squandered gilt-edged chances to break the deadlock. Saturday's draw wasn't necessarily just the fault of the strikers, but they would undoubtedly have had an easier time this season as a whole had someone, anyone, been there to prod the ball home on a regular basis.
Fulham's profligacy used to be considered, somewhat paradoxically, a positive; it was indicative of the volume of chances they were creating and thus their ability to compete in the Premier League, despite being written off by many since the very beginning of the season. But now that the quality and capabilities of the squad have been on display for a while, it is only disappointing that these solid, well-oiled, sometimes imposing performances aren't translating into points.
"Of course it [the finishing] is a concern, it's been there for a little while now," Parker continued. "It's a team and a group that have evolved massively, we've taken some huge steps. The next one is the most important bit, that's why forwards get the most money: they can be the difference in games and we're just falling a little bit short."
Since the closure of the summer transfer window, Parker has managed to make his side look a far cry from that which floundered at the start of the campaign. He's simultaneously bolstered defensive organisation and gradually increased their ability to create chances at the other end of the pitch. All that now remains between Fulham and the opportunity to surge up the table is that final, crucial, decisive touch.
But who will be there to take that touch? There may be a worry that that the personnel comfortable filling that striker position simply aren't up to scratch.
The reasons behind the struggles of Aleksandar Mitrovic are as big a mystery as any. Last season's joint-top scorer in the Championship, with an impressive tally of 26 goals, has not etched his name onto a Premier League scoresheet since the second match of the season at Leeds United, the only league game he's scored in. So far, the Serbian's assists (3) outnumber his goals (2), indicating he may be better suited to a creative role — but there is no space for such a player in Parker's current system and, regardless, chance creation will be the least of his concerns.
Mitrovic was trusted heavily at the beginning of the season, perhaps by virtue of his experience in England's top flight, but he has since largely surrendered his spot to Cavaleiro. The Portuguese forward leads the line well, effective as the counter-attacking spearhead, but is not an out-and-out finisher, bettering Mitrovic's league tally by just one goal despite playing over 400 minutes more. He gets in the right areas, but cannot be trusted to slot the ball home regularly.
Someone — or something — else needs to be given a go in that central attacking position. This is where recent loan signing Josh Maja might come in: he may be young and lacking in Premier League experience, but he could be just the breath of fresh air the team needs, able to offer an element of the unknown and unpredictability to Fulham's most sterile part of the pitch.
Strikers come at such a premium these days, and the club's inability to recruit a proven top-level goalscorer was certainly not for the want of trying. There was concrete interest in Josh King who served up 48 top flight goals for AFC Bournemouth, but their pursuit of him and other targets was rendered fruitless by difficult financial circumstances.
So the current crop of options, including new recruit Maja, will have to do. The squad as it is now will not have changed at all by May when Fulham's fate will already have been dictated. The manager and his team must find a way of fixing the problem using tools already within their grasp.
These next few weeks will be challenging but, if their fortunes do make a turn for the better, it will shine a positive light both on Parker's managerial ability and the capacity of the squad to knuckle down and overcome the adversity they could soon find themselves in.
What scope is there for change? There is one move which has not yet been given enough time, if any, to prove its potential. Bobby Decordova-Reid is Fulham's current top scorer despite being deployed at wing-back for most of the season. He's shown himself to be their most prolific, clinical finisher, one of just three players in the squad whose expected goals value (3.8) is smaller than his actual goals scored (5). Put the 28-year old in areas to slot the ball home and he is likely to do just that.
Finishing is widely considered one of the most difficult attributes to coach. Strikers can practice their technique all they want in training, but it's a different ball game entirely when they find themselves bearing towards a goalkeeper with defenders breathing down their neck. It's an instinct, a mental battle as much as a technical one; but there should be enough talent in this Fulham squad for the players to be optimistic that they can come out of the rut.
When asked whether the squad remains confident, or if a degree of frustration and trepidation is creeping in, Parker said: "We've shown massive confidence, but there's a bit of frustration there as well. I think we can all see that if we can just be a bit more clinical in those final moments, that's going to make the difference."
They have 16 games left and an eight point deficit to be made up on 17th. There's still ample time remaining, but it is getting thinner. The sooner Fulham can learn how to finish their dinner, the more likely they are to be feasting upon another season of Premier League football. But it's now a matter of urgency; whatever hasn't yet clicked or changed needs to do so right away.