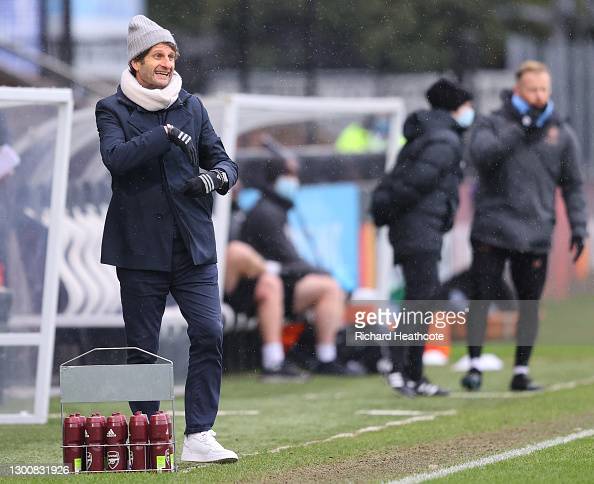 A disappointing loss for Arsenal against an in form Manchester City side at Meadow Park. After their 2-1 defeat, the Gunners sit in fourth, seven points off City and nine points off Chelsea and Manchester United who are tied at the summit of the Women's Super League table.
With 30 points still up for grabs in the WSL, Joe Montemurro says: "I wouldn't count us out just yet."
"I believe in the squad and what we're trying to do and we'll keep fighting, hopefully we can get a full squad back. I don't think we've had that in any game this season, it's not because I don't believe in the squad, it's just that as a coach you want to have the options to make the decisions you need to make.
"You want to plan normally but it's very difficult when you plan for a certain player to play and they can't finish the week's training. But that's just the way it is and we're going to keep fighting."
"We can only control the controllables and that's for us to be as competitive as possible and play our brand of football week in week out."
Arsenal have struggled keeping a fully fit squad in the past two season and with COVID-19 and the inconsistency of matches and trainings, players have constantly been hit with muscular injuries in training.
This week unavailable for the Gunners was captain Kim Little, Jordan Nobbs, Jen Beattie, Viki Schnaderbeck and Steph Catley.
Against a strong City side, the likes of Nobbs and Little were particularly missed in Arsenal attack through the midfield. And though Lotte Wubben-Moy seemed poised in the back line, Beattie has plenty of experience play against an aggressive City attack.
"We've looked at every aspect in terms of training loads, the pitches we train on, the loading, when and how we recover and whether what we do is frequent. Recently there has been an infrequency of games and recovery, it's hurting is because we can't get into a rhythm.
"Unfortunately accumulation of load, playing and not being able to recover properly does hurt you. Probably not in that actual week but probably two to three weeks down the track. I am very frustrated and we are trying to do as much as we can. I wish I had a magic wand I wish I had a direct solution but it's not that clear cut. We've looked at all the data and everything."
The Gunners' only goal of the match came from pressing City to force an error which ended up giving Arsenal a throw in. Vivianne Miedema brilliantly turned away from three City players and threaded a ball for Jill Roord in behind Steph Houghton. Roord squared the ball to Caitlin Foord who cooly slotted home sending Ellie Roebuck the wrong way.
"Yes, we were successful in the first half at disrupting their build up, we created, well, not great opportunities but half chances where we could press them a little bit higher," said Montemurro.
"For the goal we had worked on putting pressure on their six in terms of lowering players and doubling up and that worked well.
"We won the ball and bounced out and got beyond their defence and one of their centre backs got dragged into midfield."
Just when Arsenal seemed to be getting a consistent rhythm in the game, City were aggressive after Foord's equaliser and Montemurro's side simply couldn't keep up.
"City did show that bit of quality and rhythm straight after we scored and it was their best period of the game. We tried to break the game down because we knew we were under pressure. But when you concede a lot of set plays around the box and lots of corners you lose that momentum. All credit to City, they are a quality side."
Roord seemed to be at the centre of Arsenal's attack today with the Australian manager constantly yelling for his squad to play through her.
Alongside fellow Dutch international, Roord has a brilliant partnership with Miedema where the two switch positions seamlessly. They allow each other to move more freely by dropping and losing defenders instead of staying high where Miedema usually gets double teamed.
In the first half, Roord's equaliser was ruled offside after Miedema split the City defenders, leaving Roord 1v1 with the keeper and she cooly beat Roebuck with an outside of the foot shot.
After having a few chanced, the midfielder had to settle with just an assist for the afternoon.
"She [Roord] is an important player for us in terms of finding the spaces to go forward it was very important that she positioned herself as the first outlet and that gives Viv an opportunity to find an opportunity in the second phase.
"City were making sure that the ball didn't get to her in the first half but in the second half she was able to liberate herself to keep the ball a little higher up for us to form attacks."