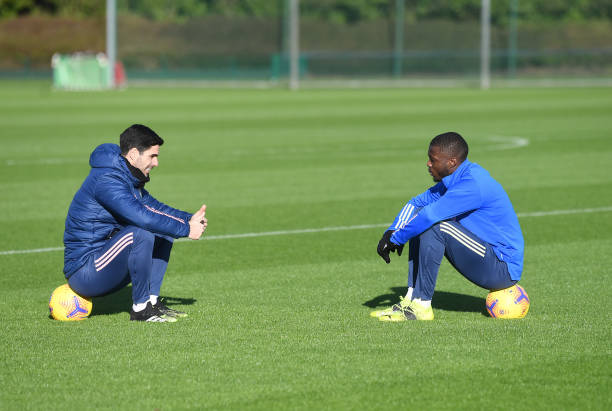 After a great performance in the FA Cup final at the end of last season, many Arsenal fans expected Nicolas Pepe to kick on this season. Questions were asked of the winger after a poor start to the season but recently, he has a bigger impact on the side.
For most of his Arsenal career, Pepe has played on the right of the front three. Due to Pierre-Emerick Aubameyang missing fixtures to due personal reasons, Mikel Arteta saw his chance to play the Ivorian on the left and Bukayo Saka onto the right.
This switch has allowed Pepe to attack more comfortably as he can cross on his preferred left foot.
His link-up play with Cedric, who is covering for Kieran Tierney, has also been stronger than what he managed with Hector Bellerin on the right.
Youngsters relieve pressure
Since the Boxing Day fixture against Chelsea, younger players such as Emile Smith-Rowe, Gabriel Martinelli, and Saka have raised their game to the next level and helped the team climb up the table.
This alleviated the pressure off Pepe, who was criticised for a lack of good performances considering his price tag of £72 million.
This has allowed the 25-year-old to develop and focus on his own game which has clearly paid off.
Pepe managed to score against both Southampton and Wolves whilst putting in an admirable performance against Manchester United too in the absence of Aubameyang.
Introduction of the right foot
Only 9.4% of Pepe's goals throughout his career have come on his weaker foot. One issue he had on playing on the right was the inevitability of cutting back onto his left and attempting to curl his shot into the far corner, which defenders had become accustomed to.
In recent games, he has used his right foot more when trying to score and was successful in doing so as he scored a great solo goal against Wolves. This adds a new element to his game and makes him more unpredictable when taking on defenders.
An in-form Pepe can help Arteta take his squad to the next step in hope of returning to the Champions League and further up the table.