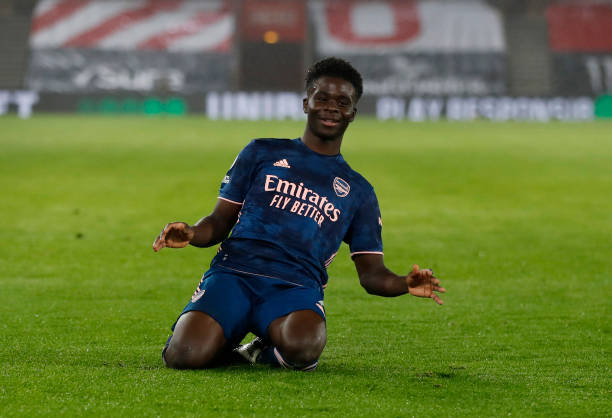 Even while there was talk of relegation for Arsenal, Bukayo Saka was the one bright spot in a very dark cloud.
The 19 year old was doing everything he could to drag his team up, playing with a maturity way above his age and performing vastly better than teammates who were over ten years older than himself.
Saka was a key part of the start of Arsenal's revival in the win against Chelsea on Boxing Day, winning the free-kick that led to Granit Xhaka's thunderbolt and scoring an audacious lob to kill the game.
From that point Arsenal kicked on, led by this 19 year old kid who was at the heart of it all. Anyone could see last year that Saka was a special talent.
He played in a wide variety of positions and was solid wherever he played, he made a difference in both an attacking and defensive sense and the intelligence was obvious for someone so young.
It was a great first season for Saka, but fast forward just a few months and he has gone from being a role player to potentially Arsenal's best player and this was epitomised in January's success.
How he won POTM
It is difficult to pick out a particular highlight for the month for Saka. The goal he scored against West Brom was an absolute beauty where he was already involved in the move before having the simple task of tapping the ball into an empty net following a pass from Emile Smith Rowe.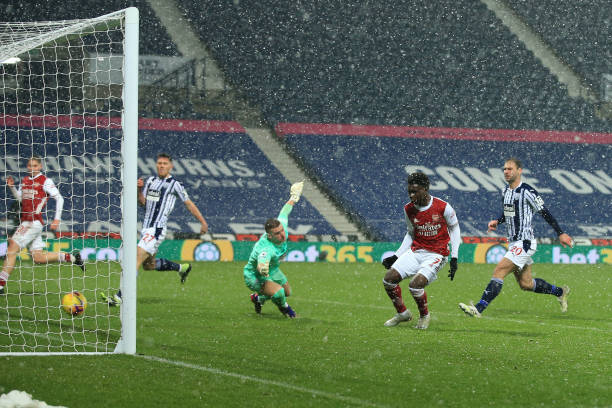 There was a similarity about all of Saka's goals in January showing that he has developed a predatory instinct for scoring, not only getting into the box, but the right positions where he can receive a pass.
It is easy to see a comparison between Saka and Raheem Sterling a few years ago when he started getting onto the score sheet more regularly.
Sterling admitted that Pep Guardiola was key in helping him take up those right positions and it looks like Mikel Arteta has done something similar with Saka.
While he got across the six yard box against West Brom, Saka pulled out to the edge of the box against Newcastle to score.
Again it was Smith-Rowe with the pass that Saka could walk onto having timed his run, rather than just sprinting into the box and smartly passing the ball rather than smashing it again showing a calmness in front of goal.
The goal against Southampton was different again and maybe his best of the month. Saka recognised that Lacazette had dropped deep to pick up the ball and made a superb run through the defence.
Lacazette found him and Saka still had a lot to do but rounded the keeper and calmly slotted home on his right foot. It was not an easy goal by any means, but it seemed that once Saka found himself one on one there was only ever going to be one outcome. It just shows the confidence he is playing with right now.
Saka was able to return the favour to Lacazette crossing the ball on the half volley first time to give Lacazette a tap in.
It was a move that Arsenal had been looking for the entire game, with Cedric switching the ball from one wing to the other knowing that Saka would make the right run.
Saka's performances saw him named Arsenal Player of the Month for the second month in a row securing almost half of the votes.
He has also been nominated for Premier League Player of the Month and his goal against West Brom has been nominated for Goal of the Month. It really has been a brilliant start to the year for Bukayo.
What next?
Even the most optimistic Arsenal fans couldn't have imagined that Saka would be this good this quickly. He is an absolute delight to watch and it is made even better by the fact he is one of our own.
In an ideal world, Arsenal wouldn't have to rely on Saka this much and he could still be learning off the more experienced players but they are not performing anywhere near his level and he is keeping the likes of Willian, Nicolas Pepe and even Pierre Emerick Aubameyang behind him in the pecking order.
It is a credit to not only his ability but also his maturity that he can perform so consistently and has become such a key part of the success in January, but all season long despite it being a painful one for Arsenal fans.
January has shown that there are a few things to be positive about for Arsenal with the emergence of Smith Rowe and the slow improvement in performances and Saka has to be on the top of that list.
When crowds are eventually back at the Emirates there will be that buzz of excitement when Saka gets the ball similar to Alexis Sanchez or Mesut Ozil knowing that he can make something happen out of nothing.
Arsenal fans are divided on so many different things, but they all love this kid and are so happy to call him one of their own.