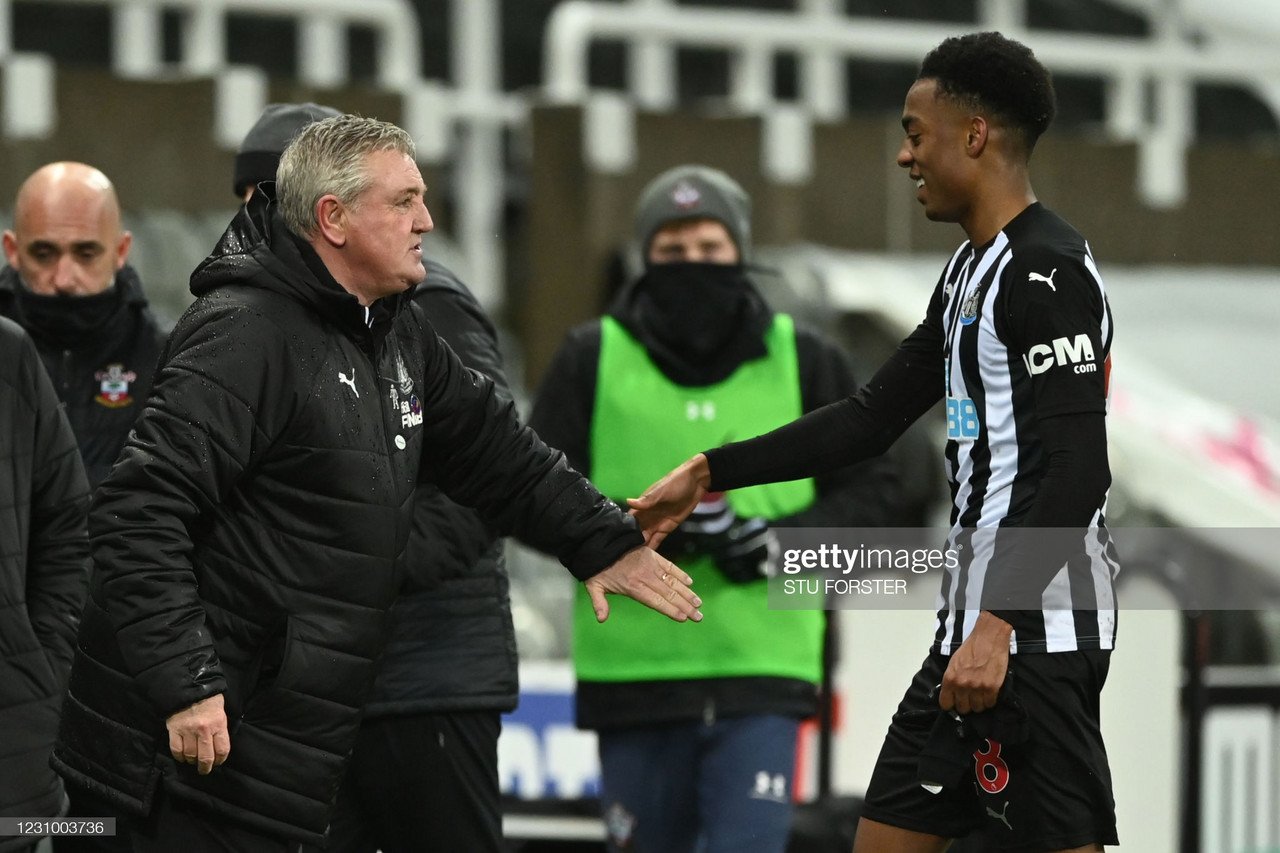 Hale End graduate Joe Willock has been an exciting prospect for Arsenal fans since making his debut in the 2017/18 season.
However, the young Englishman has found himself a new temporary home at Newcastle United, and has made a brilliant start to life in Steve Bruce's team.
The 21 year old opened his account for the Magpies last Saturday with the first goal in a surprising 3-2 win over Southampton. The midfielder believes that he now "has laid a foundation to build on."
A weight lifted off Willock's shoulders
This season, Willock had only appeared 17 times under Mikel Arteta in all competitions. The midfielder performed admirably during his time in the Europa League, scoring and assisting three in five games.
However, in the Premier League, Willock had zero goal contributions to his name, which was not enough to keep him in North London till the end of the season.
But the talented youngster had much to prove in his return to the Premier League, with a fresh start on loan at Newcastle.
A goal on his debut was a relief for the midfielder:
"It was like a weight lifted off my shoulders when the whistle went. I wanted to make a good start, I wanted to get the three points. When the final whistle went, I knew I'd done that.

"It's a starting point for me to push on, I wanted to set a good foundation and I was so happy when he blew the final whistle and I've set that foundation. Now I want to push on and hopefully build on it."
Freedom at Newcastle
Willock expressed the freedom he now has as a player under Steve Bruce.
As a substitute at Arsenal, and a younger and less experienced, individual, the pressure is there to perform.
The 21 year old had a lack of game time at Arsenal. In 17 Premier League games, Willock only played seven, starting twice and being substituted on five times.
Out of the potential 630 minutes where Willock was involved, the Englishman only achieved 235 minutes of game time.
However, Willock states that on his arrival at Newcastle he had 'a sense of peace':
"When I decided to come here I had a sense of peace, I didn't ever feel it was going to be the wrong decision. When I came here everyone was so welcoming.

"On my first day everyone was speaking to me, I was peaking to the manager, that was when I knew it was the right decision. And to score on my debut and to get the three points is an even bigger plus."
Playing in his desired position
While at Arsenal, it seemed that the Hale End graduate did not have enough game time to represent his true ability, and to express his talent to it's full potential.
Although this was the case in North London, Willock now has the chance to develop under Steve Bruce as a Newcastle player.
The Arsenal loanee expressed his gratitude for Bruce, as well as how he wants to help his new side:
"I'm here to help the team in any way they want me to. When I came in, I wanted to help the team to have that bit of pace in the midfield, travel from one box to the other quicker, and get it to the front men quicker, and arrive in the box to score goals like I did, so I feel I can add that to the team and hopefully it continues.

"He (Steve Bruce) said to me, 'I know that's your quality, I know that's what you love to do, I give you the freedom to go, and don't worry, there are players behind you that can back you up."
Will Willock return to Arsenal?
When speaking to Sky Sports, Willock stated that he is 'not really looking at Arsenal at the moment', and would rather focus on Newcastle for the time being.
However, Willock, who has been at Arsenal since the age of four, mentioned his thoughts on potentially staying at Newcastle permanently.
"I'm trying to focus on what I have to do now, focus on Newcastle United. I'm not really looking at Arsenal at the moment.

"I'm here to prove to Newcastle that I can play every week and affect the games and win games for them. I'm not really looking at Arsenal, when that time comes for me to make a decision to go back or not that will come but right now, I'm focused on Newcastle and I'm loving every minute that I'm here."
It is brilliant to see Willock already doing well at Newcastle, and for Newcastle and Arsenal fans, they hope for it to continue.
For Willock, his loan to the Magpies is a great opportunity to prove to Arteta and Arsenal that he should be a regular first team player.
However, if the Englishman continues to perform, it would not be a surprise if he stays at Newcastle.