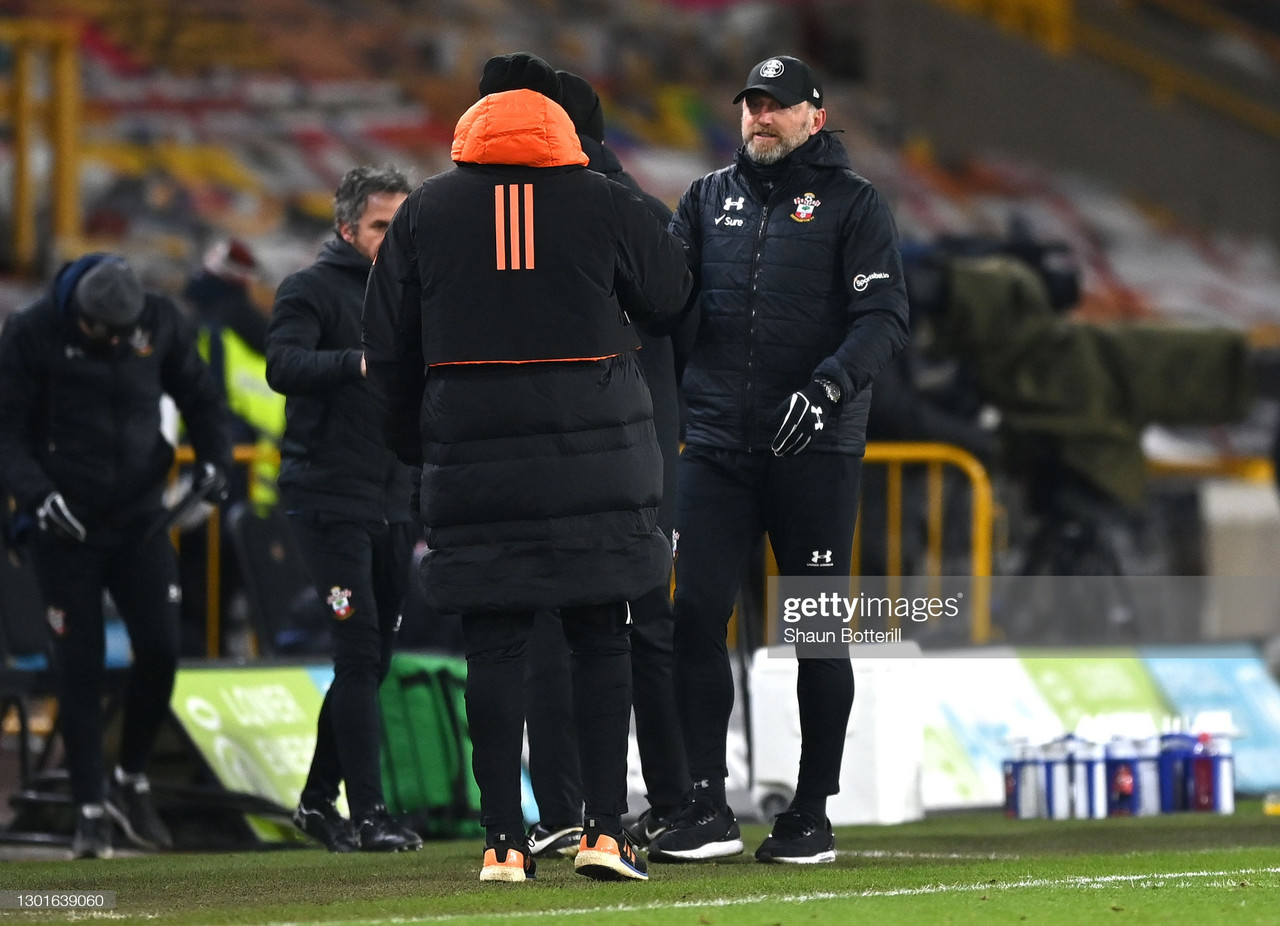 The events of Thursday night were crushing for Wolverhampton Wanderers fans. With a push for Europa League qualification through the Premier League now impossible and a high mid-table finish the only feasible target for manager Nuno Espirito Santo, many were looking forward to a good FA Cup run.
Having given up on the cup, presumably to allow all focus to be on cementing a position clear of the relegation scrap, Nuno will need to throw everything at the league meeting between Southampton and Wolves at St Mary's.
What went wrong?
Having conceded a staggering twelve goals in their previous two games, the latter of which was a loss to a nine-man Newcastle United, Southampton looked out of confidence and easily beatable going into the fifth round of the cup at Molineux.
Bizarrely, rather than try to progress to a quarterfinal which would have been a very promising fixture against Bournemouth, Nuno decided to experiment tactically. Instead of playing a back four and focusing on attack, Wolves often sat back in a 5-4-1 or 5-2-3 when out of possession, transitioning into a 3-4-3 with the ball.
This formation isn't anything new for Wolves, but the team selection was highly questionable. With Conor Coady struggling for form in recent weeks, he was dropped to the bench with Romain Saiss filling in at the heart of the defence, flanked by Max Kilman on the left and Leander Dendoncker on the right, who was covering for the injured Willy Boly.
Saiss' ability as a centre-back is top-class, but he almost never plays as a sweeper, and as a result he is not used to marshalling the defence in the way that Coady does. If Wolves were looking to beat Southampton and play a back five, a fit Boly would have been ideal to provide additional cover in case of any mistakes by Saiss.
With only Dendoncker available to fill the gap, the right of the Wolves defence became an obvious weak point - it is no coincidence that both Southampton goals came down his side. The Belgian is a capable enough right centre-back in a back three, as he proved over a period of a few months over the winter of 2019/20 when a broken ankle ruled Boly out.
However, he has barely played in that role since Boly's return, and as a result some of his defensive sharpness was understandably lacking. Normally this would not be a problem, as an in-form Coady has always provided a good safety net behind him, but an out-of-position Saiss could not provide the same solidity.
The first goal came as the result of a lapse in concentration from both - both assumed that Saints frontman Danny Ings was offside, not realising that Kilman had just marginally played him onside, and neither closed him down, leaving him one-on-one with John Ruddy. The veteran 'keeper did brilliantly to save the shot, which Ings should have buried, and he was unlucky as there was nothing he could do to prevent the loose rebound from spilling into his net.
The second came from an overly strong backpass from Dendoncker to Ruddy, who was too easily pressed by Southampton's forwards and forced way off his line, enabling an easy goal to kill the game at the end. Both were sloppy goals, and neither should have happened, but both were understandable as a result of the defensive personnel selection. With Coady out of form, Boly injured and Southampton hugely leaky at the back, a back four with an emphasis on using possession to push Southampton deep would have been the logical strategy.
With a weakened defence, it would have made sense to start the strongest attack possible - with the likelihood of conceding being high, there was a huge need to ensure that any Southampton goal could be answered.
As well as tinkering with the defence, Nuno tried a new attacking strategy, playing attacking midfielders Vitinha and Morgan Gibbs-White on the wings, either side of Fabio Silva. Two of their three attackers played out of position, so despite their effort they were unable to threaten going forwards, and Silva was once again being fed scraps. The introduction of Pedro Neto and Adama Traore immediately livened up the attack, but neither was able to get a good cross to Willian Jose for an equaliser - it seemed to be a case of too little, too late.
However, a couple of major positives can be taken from the defeat. The midfield pairing of Ruben Neves and Joao Moutinho looked solid, despite having a quiet game. The struggles that plagued their partnership at the start of the year appeared to be gone, and while not putting in a stellar performance, both did their jobs well.
The same can be said for all three wingbacks. Ki-Jana Hoever looked consistently good on the right touchline, as did Rayan Ait-Nouri on the left - Southampton didn't have a great deal of success attacking down the flanks.
Jonny Castro Otto, while he only played the first half, looked excellent. Defensively he didn't seem to do anything wrong, and he gave extra support to the attack by inverting into the left of midfield to look for a pass, using the perfect angle provided in that position by his strong right foot. While Ait-Nouri has filled in admirably in the absence of Jonny and Fernando Marcal, he can't be expected to play every match at the age of 19, and the skill of Jonny will be a huge asset to Wolves as he returns to fitness.
The opposition
Southampton haven't won in the league since a 1-0 home victory against Liverpool in their first match of the new year. As a result, manager Ralph Hasenhuttl will likely stick to the formation that has served him so well in the cup.
Southampton use a narrow 4-2-2-2, with the strikers plus two inverted wingers and James Ward-Prowse giving them five shooting options. Two strikers against three centre-backs is perfect for them, as angles are likely to line up perfectly to allow through balls around the Wolves defenders, either from wide or through the middle.
The inverted wingers will cause headaches for Wolves, as an outside centre-back stepping forward to deal with an infield run would open up a brilliant passing route in to one of the strikers, while sending the wingbacks to track the run would open up space out wide for the run of a fullback, and dropping the central midfielders back to choke the space between the lines would limit Wolves' counterattacking options. Southampton can be expected to try to work the ball towards the wingers and Ward-Prowse in the gap between the Wolves defence and midfield often.
Southampton are excellent when pressing high - having picked out Dendoncker as a weak link in the Wolves defence, relentless pressing of him from Ings and Moussa Djenepo can be expected when he is on the ball. Wolves' lack of a high press out of possession will suit Southampton perfectly, as they are often slow and deliberative when passing out from the back, and they are happy to take their time in the build-up rather than relying on pace to unbalance their opponents.
Tactics and formation
While a back four would provide Wolves with much more attacking bite, Nuno will likely want to keep this a low-scoring affair - as a result, a back three is probable.
As Ruddy only plays in domestic cup games now, Rui Patricio will replace him in goal. The experience of Coady will likely win him a starting role in the middle, ahead of Saiss, who seems unlikely to play - for the sake of balance, Nuno will probably want the right-footed Dendoncker filling Boly's spot on the right of the defence, and Kilman has defended well in his last few appearances. Of all Wolves' fit centre-backs, he is the only one whose position looks untouchable at the moment.
Out wide, Nelson Semedo will be reintroduced in place of Hoever after being rested in the cup tie, and Jonny will probably only play the first half again, before being replaced by Ait-Nouri at half time to avoid any aggravation of the knee injury that has sidelined him for the majority of the season.
With Dendoncker playing in defence and Owen Otasowie without many minutes to his name in the past couple of months, Neves and Moutinho will probably start as the midfield pairing - Vitinha is the most likely midfield substitute option if Wolves need some more creativity through the middle late on.
Neto and Traore have to start on the wings - as well as providing Wolves' most likely route to goal, they both drag multiple players out of position - Traore almost always finds himself double-marked or even triple-marked on the wing, whereas Neto seems to have a gravitational pull on defenders and midfielders, opening up spaces for his team-mates to receive a pass as opposition players close him down.
This could be key for stopping Southampton's attack - if Wolves can hold possession and keep feeding the ball to the wingers, Southampton's midfielders will have to fall back to support their defence. If this is done properly and the Southampton wingers are dragged deep and wide, away from their favoured high and narrow positions, Ward-Prowse will have far fewer passing angles to work with and the strikers will be largely starved of service.
Silva worked well with the very little he was given on Thursday, but he is unlikely to retain his spot in the starting XI - Nuno will want to send out his strongest possible attack, and that means starting Jose at centre-forward - he will be expected to help progress the ball forwards from the midfield during the build-up, before playing off the shoulder of the last defender to attack whatever delivery he might receive, aerial or along the ground.
Predicted line-up
3-4-3: Patricio; Dendoncker, Coady, Kilman; Semedo, Neves, Moutinho, Jonny; Traore, Jose, Neto.
After a disappointing performance last time out, Nuno will be sending out the strongest side available to him at the moment. Keeping possession and providing a constant wide threat is the best way of shutting Southampton down, so the logical thing will be to do just that. However, a 3-4-3 can easily become a 5-4-1 and Wolves have a tendency to sit back - this could lead to a costly lapse in concentration. This looks like it could finish 1-1, or, if Wolves can find the attacking chemistry that has lacked somewhat in recent weeks, 1-2.