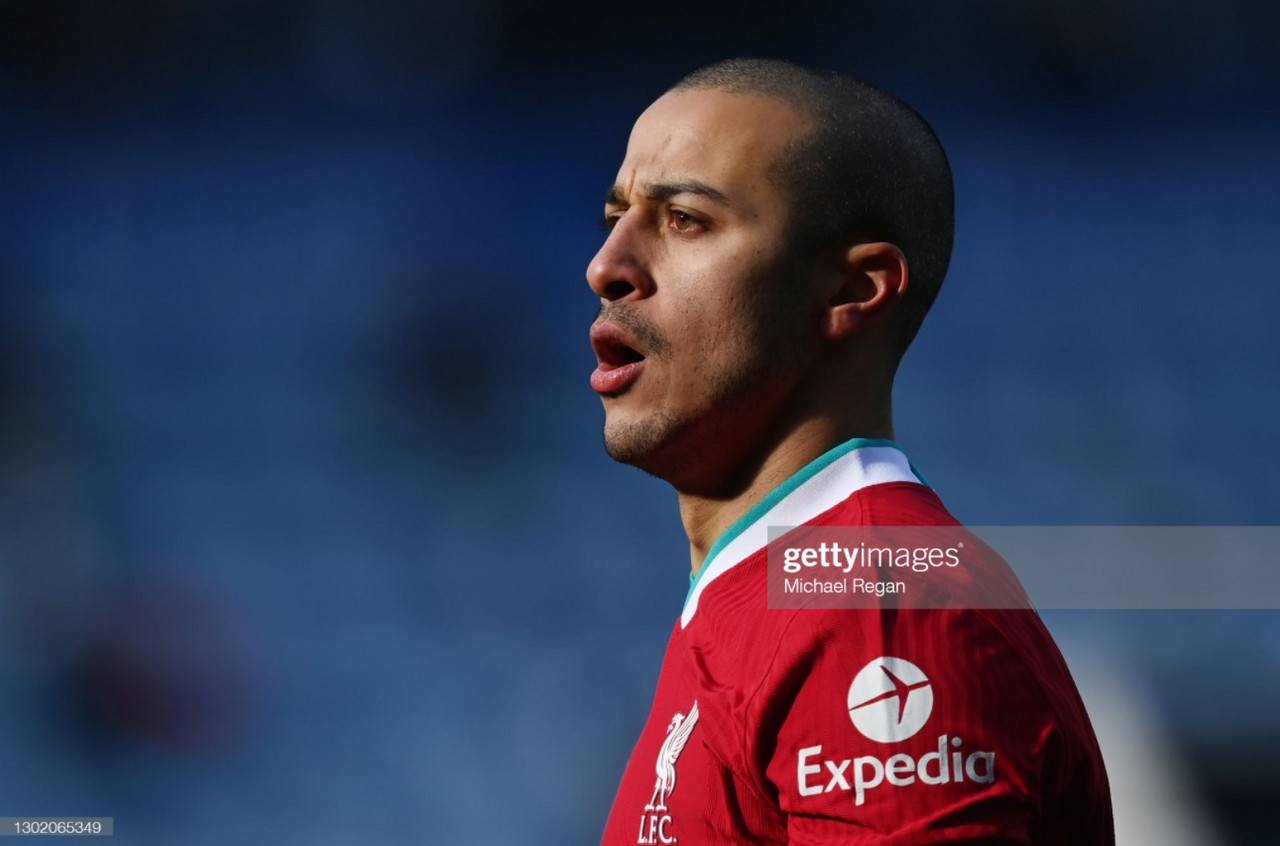 It hasn't been the start to life at Liverpool plenty pictured for European Cup winner Thiago Alcantara.
Disrupted by injury after a man of the match performance at Goodison Park, the spell for him to become embedded into this Liverpool side was put on hold.
The 29-year-old has entered the frame showing his highly tenacious attitude perceived by some to be a down fall of his game. However, it was never going to be easy coming into a well orientated three where both energy and discipline is asked of for 90 minutes.
A catalyst moment appeared in Saturday's defeat at Leicester City. A rash tackle led to the equaliser. But it wasn't that the tackle that put Leicester back in the game, it was the reaction of the side's captain Jordan Henderson who straight away was screaming at Thiago for his impetuous decision making.
There is no doubt Thiago's skillset makes him a fine footballer, and Liverpool fan have seen this in glimpses of excellence but there have also been times where his ideas haven't paid off.
Why hasn't it gone as expected up to now?
Of course, the constant rotation and lack of consistency with those around him hasn't helped. The injury crisis has led to the Spaniard only playing alongside Henderson and Fabinho once in midfield.
Here was the player Liverpool signed from Bayern Munich. Turning players and seeing the picture like he had eyes in the back of his head. Creating space with passes crisply to feet, with Henderson to the right of him and the security of Fabinho behind.
Since his return from injury the two mentioned above have been filling in the desperate vacancies needed at centre back. He has now played in seven different midfield combinations since his comeback cameo at Newcastle.
Unsuited role
It is quite clear that the number six role doesn't suit him, and therefore when played with more of a license in the eight he can express himself on the ball with more fluidity.
The tackling aspect to his game has been the most highlighted part since his arrival. What top midfielder doesn't love to be on the front foot and winning the ball at every opportunity?
Perhaps it's his reading of the game that needs work on in the Premier League - the adjustment is never easy. His tackle on Gundogan in the first minute against Manchester City was deemed of one of recklessness rather than a tone setter for the match.
Despite the infrequent top performances there is still a lot to be said about his impact at Liverpool. It will no doubt be assessed with more scrutiny once he develops in a three with Henderson and Fabinho, with also the option to be rotated more with Wijnaldum and more of the squad players who have suffered injuries.
He looks to be a player who needs frequent rests to operate at the highest level. He will get that at Liverpool and he will become the player seen at Bayern Munich.
A player of such quality will only increase the level of performance and style of play that Liverpool consider to be their identity, intensity.