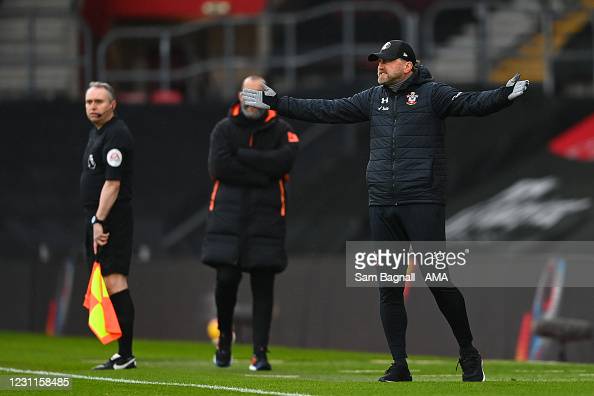 Ralph Hasenhuttl admitted the defeat to Wolves was a tough one to take and that he struggled to understand some of the decisions that went against his side in the match.
Southampton had looked on course for victory at half time at St. Mary's, with Danny Ings' great volley putting them ahead at the interval. However, the game then turned on two big penalty decisions, both of which went against the hosts.
First, Ryan Bertrand was harshly judged to have committed an offence when Nelson Semedo's strike inadvertently came off his arm – which was by his side – from close range, allowing Ruben Neves to draw the visitors level from the spot.
Saints then had a big appeal for a penalty themselves turned down when a ball into the area struck the arm on Leander Dendoncker at the other end.
"It's very frustrating," said Hasenhuttl, whose side then fell 2-1 down to Pedro Neto's sublime solo effort.
"It's hard to understand. We speak about rules – stick to the rules. I haven't seen today that it is on both sides the same. Again, I don't want to discuss too much about this, it's hard to take, and let's keep on going.
"Everybody has seen it, I don't have to speak about it. Everybody has seen the two situations.
"We have no points, we have again lost the game, and again I don't think we have deserved to lose, but that's the way in the moment and we've got to keep on going.
"At the moment, we get punished for situation that are unbelievable for me."
And Oriol Romeu was also in the same boat as the Saints boss.
He told southamptonfc.com: "I guess my only point here is if we are punished, why haven't they been punished? I don't understand why that decision hasn't been made.
"If that rule is on that you need to be with your arms by your body, which is a bit unnatural because you need to move and turn and you need to use your arms for balance, we have to do it, we will do it, but I don't think it makes things easier for players to block shots or move naturally.
"We feel that we've been treated a little bit unfairly because we both had the same actions and we have been punished and they haven't. I don't know what we have to do.
"We know in the second half we probably gave them a little too much space and chances to get into our box too easily, but it is tough to take and is frustrating.
"We need to be self-critical of ourselves and see what we can do better, especially in that second half. We knew at half time they were going to come a little bit higher and push and be aggressive.
"We knew that was coming and I don't want to put everything down to the decision, but that affected the game."