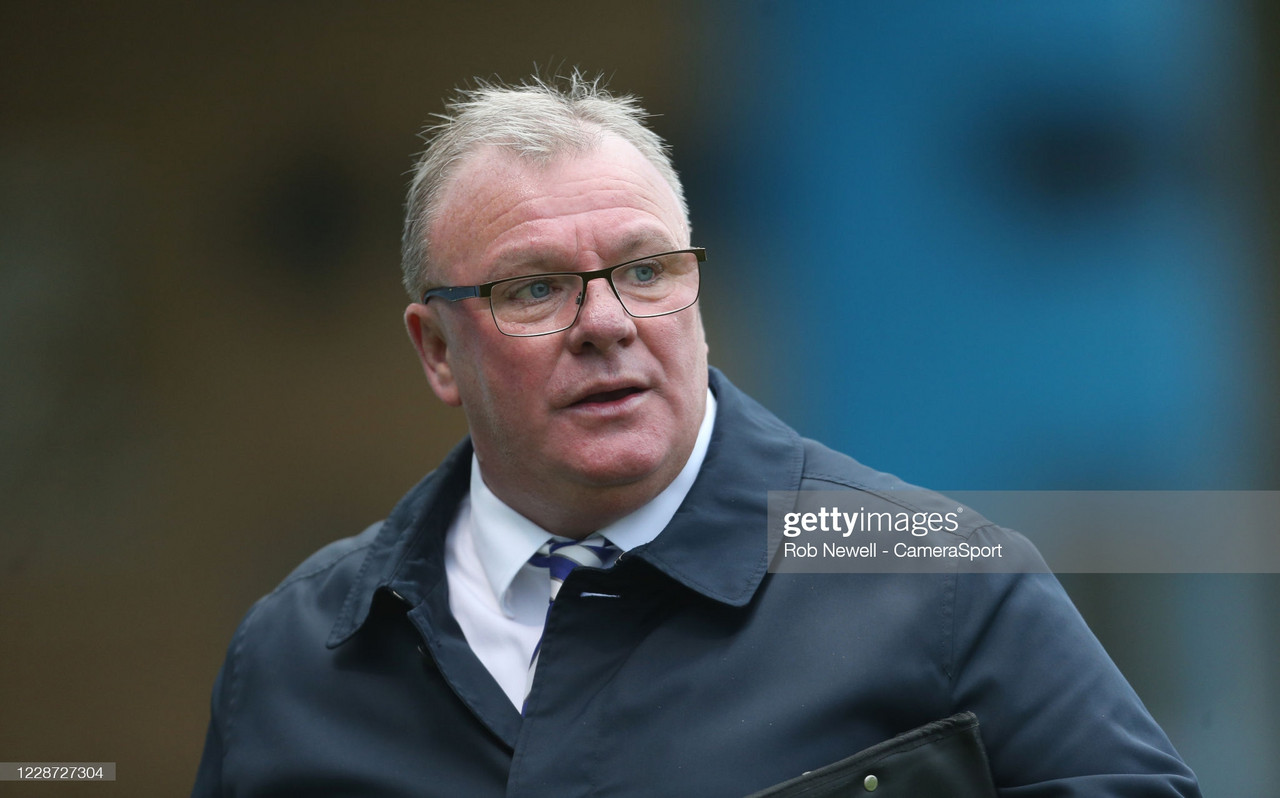 Gillingham lost 3-1 to Peterborough United in League One on Tuesday evening after goals from Jonson Clarke-Harris (2) and Siriki Dembele cancelled out John Akinde's early opener.
In a game of two halves, Posh flew out the blocks in the second period, stunning the Gills to fire themselves to a deserved win and move into second in the league table.
Following full-time, Gillingham manager Steve Evans spoke to the press. Here are five of his key quotes.
On the game
"We were by far the better side first-half. You are always concerned at 1-0 because you know if you play against a good team in any league that you are going to have to deal with the first 10/15 minutes of the second-half, and we did not – we were mistake littered.
"The first goal should be a simple save, the second goal we can do nothing about the deflection but we can do something about the run of Dembele, and the third goal was two big mistakes from two young centre backs. We have to take that, move on and go again on Saturday."
Gillingham controlled proceedings in the first-half of the game and deservedly went into the break 1-0 up thanks to a John Akinde penalty.
But in the second-half, the game turned on its head. Within eight minutes Peterborough were 2-1 up, and they added a third later on, securing the win in what truly was a game of two halves.
On the defensive errors
"Jack [Bonham] has been terrific, there is not a goalkeeper in world football that does not make mistakes – you only have to look at Liverpool goalkeeper at the minute who cost multi millions – Jack has been pretty much error free.
"99 out of 100 times Jack Bonham saves it, 999/1000 he puts his hands on it, but it is a big error and when you make big errors against good teams you get punished. I have gone in the dressing room and Bonham knows he has made a big mistake. [Robbie] Cundy knows he has made two big mistakes – he has had a lot of praise, but he has a bit of a lesson in the second half - [Jack] Tucker knows he has made a big mistake; he has got three weeks to put the ball up the pitch.
"We know and we are here to work with the players, develop and support them – there is no point in me going on at them."
Peterborough were good in the second-half, but they were aided by some Gillingham mistakes.
Posh's first, scored by Jonson Clarke-Harris, came about when Gills goalkeeper Jack Bonham parried Nathan Thompson's tame effort straight into the path of the forward. For the second, Siriki Dembele was allowed acres of space to run into, and Jack Tucker failed to clear the ball for the third goal when given plenty of time to do so.
Help a good team out, and they will take advantage.
On the first-half performance
"We did dominate them, but we will get no credit for that because quite rightly - and I would say if I was Darren Ferguson - the game lasts 90 minutes and you are very fortunate when you can bring players on with the capability they have got.
HT: Gillingham 1-0 Peterborough. #Gills pic.twitter.com/DHyAeoAGvI

— Gillingham FC (@TheGillsFC) February 16, 2021
"Dembele helped them change shape – they were ineffective until then. That allowed Joe Ward to go much higher, Szmodics to drop in which he is very effective at and if we come through the first 10 minutes of the second-half, we may be talking about something different, but we didn't, they are a good side.
"It is a club I have got a lot of fondness for, but I am disappointed with the individual errors. If we make those individual errors on Saturday, we will get punished again."
As aforementioned, Gillingham controlled the first-half of the game and deservedly went into the break ahead. But, as Evans said, a game is played over 90 minutes – and Peterborough were undoubtedly the better side over the whole 90.
On Peterborough
"I have been there, and I know the resources they get. They have to get promoted; it is as simple as that. They have got all that investment, but they have got some wonderful players. I left them the likes of [Ivan] Toney and Dembele, but they will be there for sure.
"They are a decent side and gave us an enormous problem in the second-half but because we gave them an opportunity to and then they are going to hurt you.
"We are not meant to be on a level playing field with Peterborough United – I know the resources because I have been there, and I know the resources here; it is mountains away. But you have to spend them wisely and there is a chairman and manager doing that. I wish them well."
Evans was Peterborough manager between 2018 and 2019, so is aware of the resources they have available to them. And, to be honest, when you are spending over £1million on forwards, as they did on Jonson Clarke-Harris, you should be up there.
The now-Gills boss has often spoken about the resources – or lack of – at Gillingham, and how that has to be levelled out by good coaching. Unfortunately for him, on Tuesday, the resources won the battle.
On potential signings
"We are looking but it isn't anywhere close. One has gone abroad, and one has decided he is going to wait for Real Madrid; the normal.
"We just have to go with what we have got – we have got a good squad of players, you do not go to Sunderland Charlton, and play the way we played and score the goals we have scored and dominate here in the first half if you do not have a lot right.
"We know where some of the issues are but that's not going to be this season."
Gills fans were left worried when their team finished the January transfer window with just two strikers on their books – Vadaine Oliver and John Akinde – but were assured that the management staff would do their best to bring in some free agents.
That hasn't happened so far, and it doesn't sound like it will be.