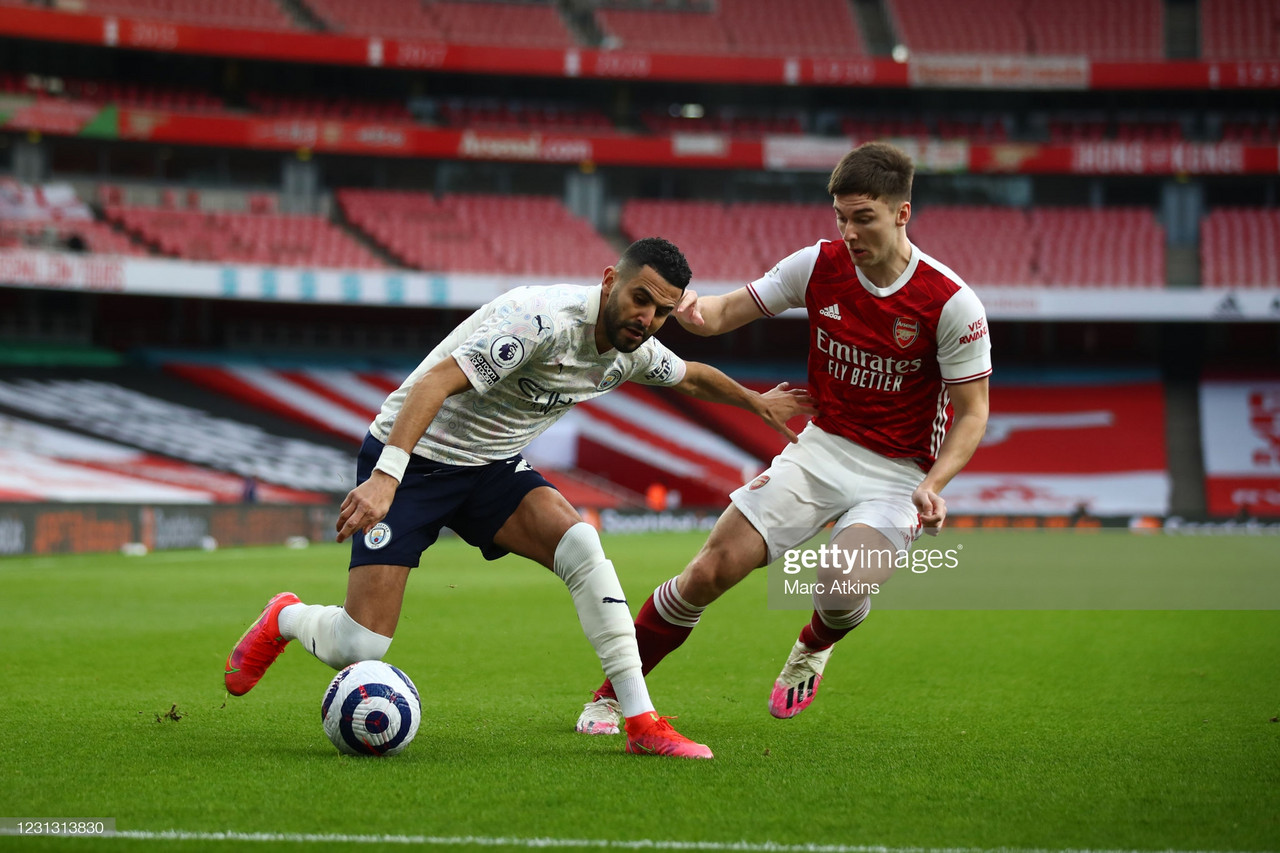 Kieran Tierney endured a difficult afternoon in his return from injury in Arsenal's 1-0 home defeat to Premier League leaders Manchester City, yet his addition to the side demonstrated just how much Mikel Arteta's side need the Scotsman to have any chance of saving their disappointing season.
Harsh Beginnings
Starting a Premier League game for the first time since Arsenal beat Newcastle in mid-January, Kieran Tierney was always going to struggle for sharpness against a rampant Manchester City side.
Riyad Mahrez had the beating of him in the opening stages as the league leaders maintained an onslaught against the Scotsman, of which the first attack lead to a goal.
In truth, it could have been more, as Tierney was left isolated and outnumbered on several occasions, with little support from his team-mates.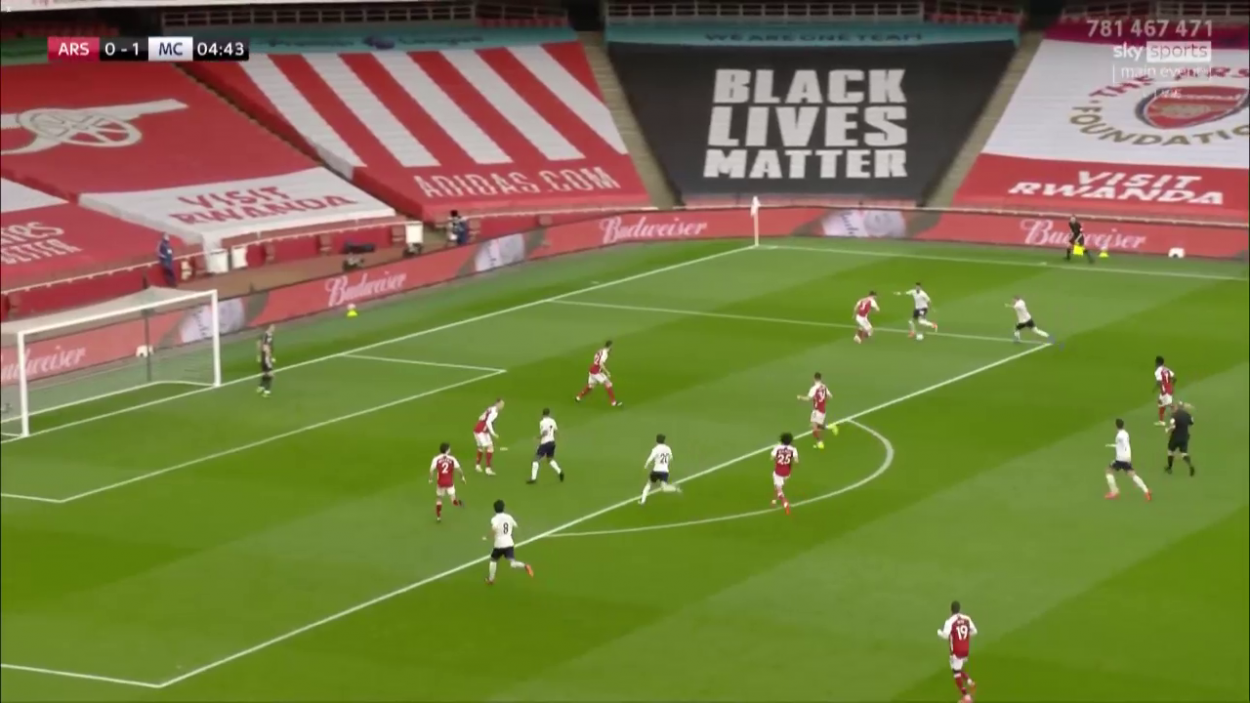 Tierney (top), was left with little help from team-mates in the early exchanges. Image taken from Wyscout
Despite this poor start, Tierney, like Arsenal, grew into the game and began showing fans what Arsenal had missed during his absence, albeit whilst clearly not yet being fully up to speed.
His natural left-footedness offered a much easier way to bypass the press than Cedric Soares, naturally a right-footed option, provided for Arteta's side and this allowed Arsenal to occasionally bypass what was a congested midfield.
High and Wide
With Tierney's return to the side, Arsenal's shape changed slightly once again, something especially noticeable from goal-kicks. Kieran Tierney pushed high and wide on the left hand side, with Granit Xhaka dropping into the vacant left-back area to receive the ball from Bernd Leno if necessary.
This allowed Bukayo Saka, nominally deployed on the left-wing, to move inside and operate between the lines, an area where he experienced some joy.
Once again, Arsenal attacked largely down the left-hand side, using Saka and Tierney as well as Pierre-Emerick Aubameyang to create overloads and get crosses into the box.
Tierney was Arsenal's best outlet as the Gunners grew into the game, but faded in the second half.
Wide of the Mark
Despite Tierney's positioning and attacking intent, he was uncharacteristically let down by his final pass, which saw Arsenal squander several promising attacks.
One brilliant cut-back to Saka in the first half almost produced something for the Gunners, but beyond that his unusually poor crosses gave away the fact that he was not yet at full-fitness, and it was surprising to see him complete ninety minutes with Arsenal's Europa League Round of 32 second leg against Benfica being played just four days later.
Given his importance to Arteta's system, Arsenal need Tierney to be back to his best on Thursday night.
Honesty always the best policy
Two of Kieran Tierney's most endearing qualities to Arsenal fans is his desire to work hard and his honesty, and it was the latter that came to the fore after the match. Wheeled out to face the press, the Scotsman gave a frank assessment of his side's performance and showed maturity well beyond his years, a quality that has many Arsenal fans certain he is destined for the captaincy in the future.
Tierney giving his post-match interview to SkySports.
Whilst this will not rank amongst Kieran Tierney's best performance in an Arsenal shirt, it was an encouraging return from injury, and demonstrated just how important he is to the way that Arsenal are trying to play.
For both Arsenal and Kieran Tierney now, the most important thing is to keep him fit for the rest of the season ahead of a run of crucial games for the Gunners.