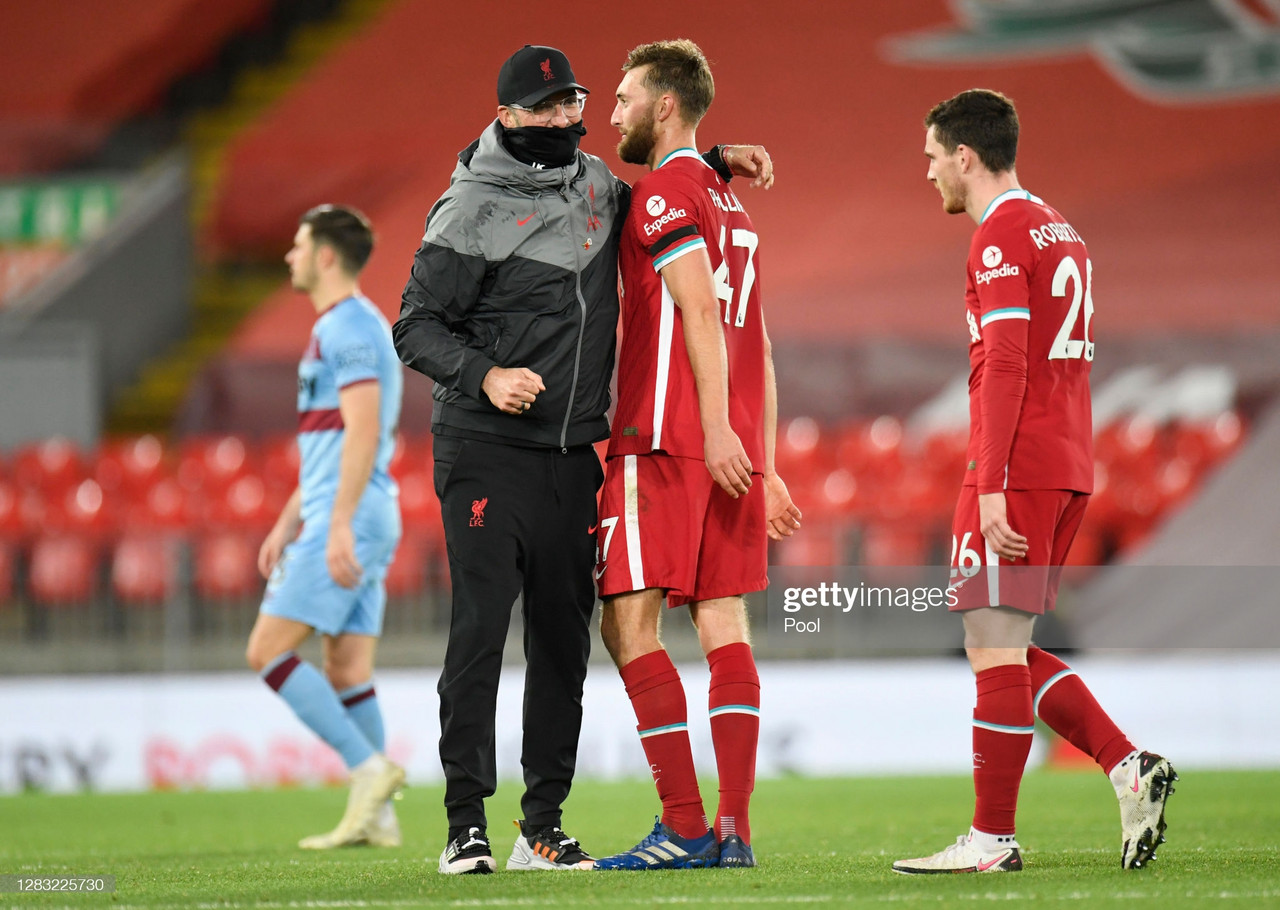 Nat Phillips was once again forced into action following Jordan Henderson's injury against Everton. The centre back played 60 minutes in the Merseyside derby and despite the result, which was ultimately disappointing for the Reds, Phillips did impress during his cameo.
Phillips has featured in seven games in the Premier League and often put in a good performance. He is a strong and old-fashioned defender. That seems to be a criticism to him though, as people now expect centre backs to be good with the ball and be able to play 50-yard racking, cross-field passes.
However, have Liverpool missed a trick by not playing more often?
Phillips deserves more credit
Despite a tricky start to his time in the first team, he has done a solid job. It took him his first few games to adapt to the speed and skill required in Premier League games but since then has looked good enough to play more regularly.
He played 45 and 90 minutes against Tottenham Hotspur and West Ham United. Liverpool won both games and Phillips proved in that week that he could play at this level. Or at least be good enough to play for the remainder of the season.
Jurgen Klopp obviously disagrees. Henderson has been playing in defence often instead of Phillips and the Reds also signed two defenders on deadline day. This must have been a sucker punch to Phillips who has given his all this season.
Ozan Kabak, January signing from Schalke, has come straight in to the team and at times looked shaky. Albeit it is still too soon to write Kabak off, but the 20-year-old has struggled to fit in.
Playing against Leicester City, RB Leipzig and Everton is a tough start to make at a new club in fairness, but he has not helped himself. Liverpool conceded goals against Leicester and Everton due to his personal errors and poor defending.
Klopp does not seem keen to use Ben Davies, who is yet to appear for the Reds, and Kabak has really struggled. Surely Phillips deserves more game time?
With Henderson now added to the list of Liverpool players injured, this could be a good opportunity to offer some game time to Phillips.
Fabinho is making his road to recovery and could be back in the squad in the next week or so. However, with Liverpool using him and the captain in defence, they have struggled to win midfield battles.
Along with the injuries, this has been very disappointing to see and ultimately effected the service to the front three.
Klopp seems keen to play Kabak, so an option that he could try is to play Phillips alongside him, allowing Fabinho to move back into midfield once fit. This would help to solve another key problem with Liverpool this season and bring back a defensive mind to the midfield.
If this were to be used, it could also give Thiago more freedom to dictate play and create chances higher up the pitch without having to track back and defend as much as he is now.