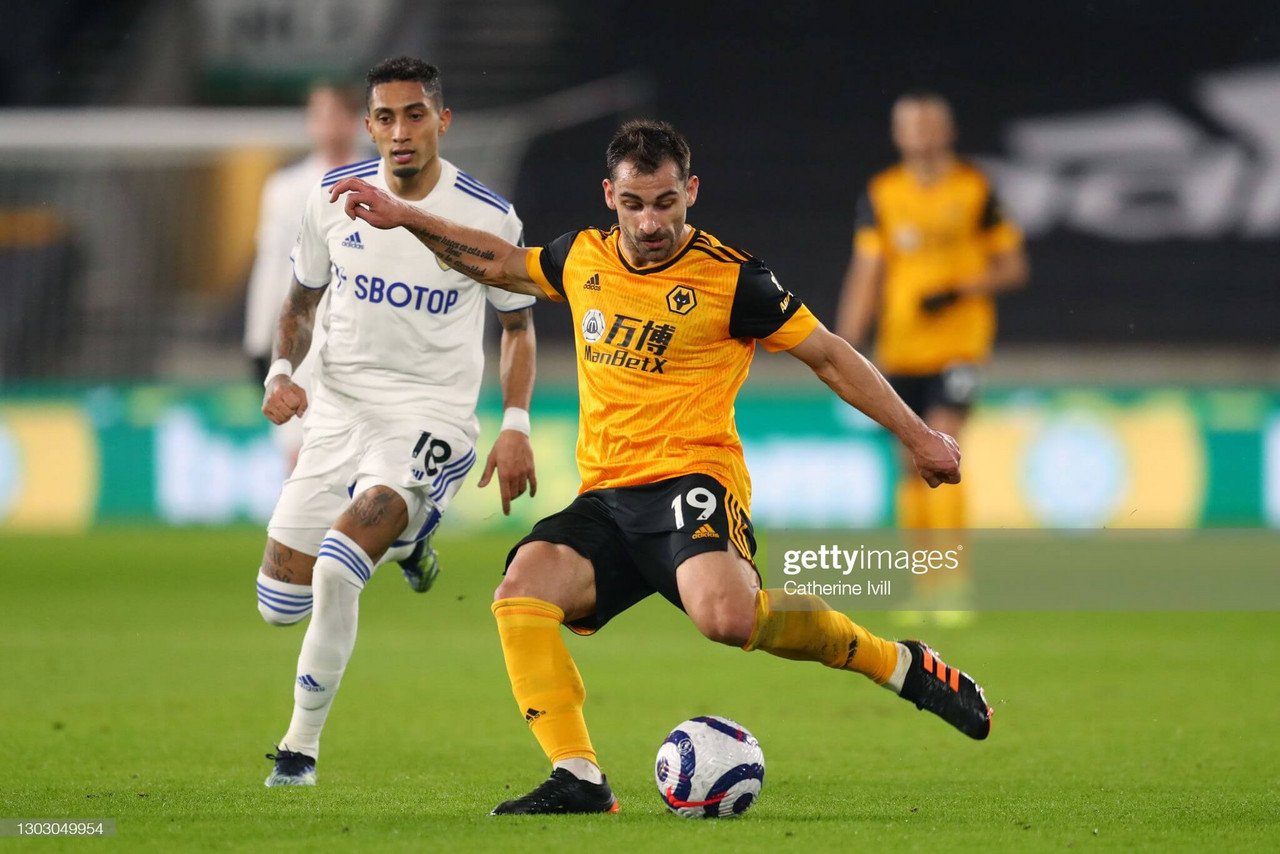 Wolverhampton Wanderers are currently enjoying a four-match league unbeaten run ahead of their trip to struggling Newcastle United this weekend, their joint-best run of the season.
That run has coincided with the return of wing-back Jonny, who returned from an ACL injury to face Leicester City nearly three weeks ago, and has started every league and cup game since.
With Wolves struggling so desperately to find a fit left wing-back during their winless run in January, the return of the Spaniard has further proved his importance to Nuno Espirito Santo's transitional side.
How did Wolves cope without Jonny before?
During his first two successful seasons at Molineux, Jonny missed just eight league games, six through injury and two through rotation.
Wolves picked up impressive wins against Chelsea in December 2018 and Tottenham Hotspur in March 2020 without the Spanish international, but also felt his absence in defeats to Huddersfield Town and Cardiff City, both of whom would be relegated at the end of the campaign.
The fact that Nuno has only voluntarily taken Jonny out of the squad twice, one following a Europa League game and the other in anticipation of an FA Cup quarter-final, shows how much his team and manager rely on him.
Solving left wing-back struggles
While Wolves' hierarchy can't be accused of a lack of effort to replace Jonny after his injury in August, neither of his direct replacements have proved successful.
Marcal and Rayan Ait-Nouri were brought in during the summer transfer window to replace Jonny and the departed Ruben Vinagre, but both have struggled to replace the consistency of the Spaniard.
32-year-old Marcal has struggled badly with injuries during his time at Molineux. The Brazilian has looked solid on the pitch, but has only been able to manage four consecutive appearances once following a string of minor knocks and niggles.
Ait-Nouri seemed a shrewd loan purchase after impressing in a goalscoring debut against Crystal Palace in October, but his performances have been far too inconsistent to ever stake a claim for a regular place in the starting lineup.
With the use of wing-backs being so crucial to Wolves' success over the last three years, it's no surprise that the consistency provided by Jonny's return has seen an upturn in Wolves' results.
What do the stats say about Jonny's impact?
The numbers show that Jonny's return has had a direct impact on Wolves' recent improvement.
In the 22 league games missed by the 26-year-old this campaign, Nuno's side picked up 1.18 points per game, conceded an uncharacteristic 1.4 goals per game and kept just five clean sheets.
In the three games since, Wolves have looked back to their sturdy, solid selves. Danny Ings' volley is the only goal conceded by Wanderers with Jonny on the field in a Premier League game, while they have also picked up 2.33 points per game in their last three encounters. The two clean sheets, against two of the league's best attacking sides in Leicester and Leeds United, signifies Wolves' improvement as a defensive force since Jonny returned.
With stats like these showing the difference Jonny has on Wolves' form, Nuno will be hoping his wing-back stays fit for the considerable future.