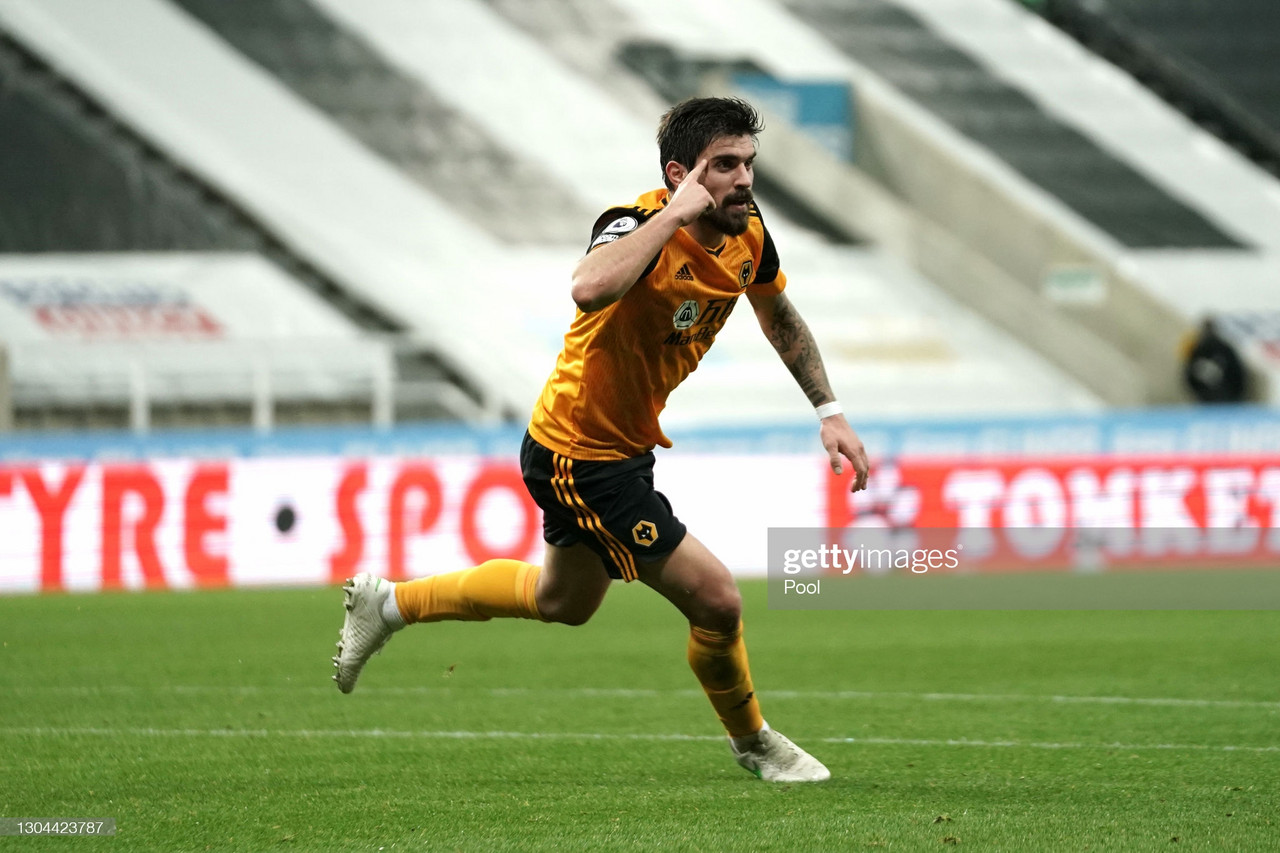 Wolverhampton Wanderers could only manage a point against Steve Bruce's struggling Newcastle side as Ruben Neves cancelled out Jamal Lascelles' second-half header.
In the first half, Wolves were second best as the home side put on the pressure through Allan Saint-Maximin and Miguel Almirón. Adama Traore and Pedro Neto were the only outlets for the visitors as they tried to get going down the wings, but to no avail.
The Midlands side most notable moment in the first half was a shot from Neto just inside the box which went wide of the post.
As the second half started, Wolves grew into the game as we are used to seeing. Despite going behind early in the half through a Lascelles header, the visitors continued to push forward. They got level through a Neves header with 20 minutes to go.
The game was even after Wolves' goal, but neither side could find a way through, and the game ended in a draw. Fabio Silva forced a brilliant save from Martin Dùbravka at the death, which kept the scores level.
Ruben Neves was the main man for Wolves in this fixture, scoring the goal and also controlling the game in the centre of the park.
Performance during the match
Neves started the game for Wolves, alongside his fellow countryman Joāo Moutinho in a midfield two. In the first half, the two in the middle struggled to really get control of the match. Newcastle seemed to be over-running the Wolves midfield and should have punished them.
However, in the second half, Neves seemed to come into his own. He was playing much further up the pitch and getting into the box attempting to link up the play. This is something that we have never really seen from Neves, which is probably why it stood out so much to everyone watching the match.
Neves scored a brilliant header, beating the Newcastle keeper from just outside the six-yard box. The header itself was a very tough one to get on target let alone get enough power behind it to score. The goal not only got Wolves level, but it also inspired the side to more expansive and to test the Magpies a little more.
Neves was breaking forward and picking up the ball in certain areas that was helping the attacking three much more. This was something that manager Nuno Espirito Santo had probably instructed Neves to do at half time, in order to try and get his side back in the game.
Whilst going forward, Neves was impressive, he was also impressive at the back. He was making tackles and putting his body in the way of shots whilst also keeping his shape and forcing Newcastle into wide areas where they were less dangerous.
The Portuguese midfielder has scored three goals in the previous five games and has been paramount for Wolves' revival in recent weeks.
Impact on Wolves as a team
Neves is so important to how Wolves play as a side and their success. It is no surprise that recently his form has got better, and so has Wolves' form as a side. Since his first goal of the season, against Brighton & Hove Albion, where he seemed to find his scoring boots, he has gone on to not only score more goals but to also play more passes and control the game more.
Since that match against Brighton, the Old Gold have only lost three games out of ten in all competitions. In those ten games, Neves has played seven of them and has had an average pass completion rate of 85%.
A criticism of Wolves as a team is that they are too similar in midfield, and they need to bring in some different types of players, especially in the midfield. Neves and Moutinho are similar players and sometimes they get overrun, as they did in the first half tonight.
However, in the second half, we saw a different side to Ruben Neves. He was much more physical and threw his weight around a bit more, which offered something different to his fellow countryman Moutinho.
The future for Ruben Neves looks very bright. He is still young, 23, and has the world at his feet with the talent that he has. As for this season, he showed some very positive signs tonight that he is progressing as a player and becoming more influential in this side.
He is starting to contribute to more goals, which is a major positive for Wolves and the way that they play. If Nuno's men can get more players to contribute to goals then they will be in very good stead for the remainder of the season.
Also, Neves is playing much higher for the midland's side this season, which is not only helping the front three but is helping the team as a whole. When Ruben Neves plays higher, it encourages the whole side to be higher and his side to be more attacking.
We have seen, especially in the second half against Southampton, that when Wolves as a team are higher and the full-backs are attacking, they are a much better side.
Nelson Semedo and Jonny Otto are pivotal to this side and the way that Nuno wants his team to play because it draws the opposition defence out and allows more space for the front three to play in. This high line starts from the defence and the midfield two, especially Neves and the way that he plays.
Looking forward, Wolves face a tough run of games in March, including games against Manchester City and Liverpool, meaning that the form of Neves is very important. If he can continue his solid defensive work and build on his recent good form going forward, his side will be in with a very good chance of coming away with a few points.