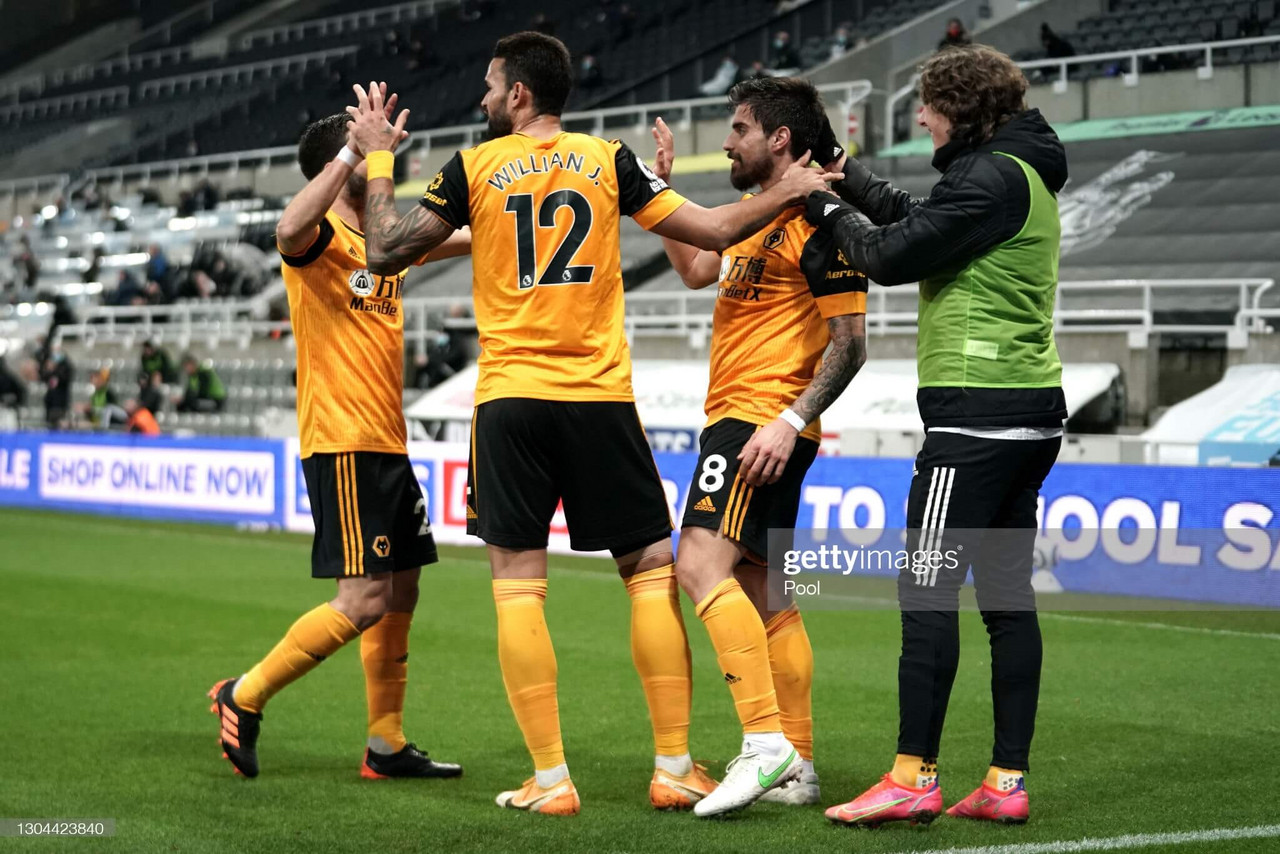 Wolverhampton Wanderers will look to end Manchester City's incredible winning run when they travel to the Etihad Stadium on Tuesday evening.
The Citizens sit 12 points clear at the top of the table with only 12 games of the Premier League season remaining and they have won all of their last 20 games in all competitions.
Meanwhile, Wolves are not in a bad vein of form themselves as they are unbeaten in five league games leaving them in 12th position.
Despite Man City's fantastic season up to now, the Wanderers will go into this fixture with confidence seeing as the last time that they travelled to the Etihad, they manage to pick up a 2-0 win.
However, since this defeat on the 6th October 2019, City have only lost two of the 28 league games that they have played at home.
Remaining defensively organised and compact key to success
In the last couple of games, Wolves have stuck to a three at the back formation and during that time have looked defensively solid, consequently only conceded three goals in the last five games.
However, there is no doubt that the visit to the Etihad will be a completely more difficult task considering their formidable form and the amount of quality that they have in the forward areas.
The best way in which Nuno Espirito Santo's side can hope to come away from Manchester with a point will be soak up the pressure that the hosts will pour on to them.
Neto and Traore need to be at their best
With the Wanderers expecting to be camped inside their own half for much of the game, when going forward on the counter-attack they will have to make sure that they are effective and cause a threat.
Both Pedro Neto and Adama Traore- two of Wolves' main source of goals this season- will have to put in one of their ritual impressive displays to gain anything from tonight.
When given space, both wingers must not be afraid to run at City's backline as this will cause concern to the home side especially with the quality and the blistering pace that both players possess.
More importantly, when getting into dangerous areas, they will have to ensure that their decision making and the final ball is spot on as this will be the primary way in which they will hope to pick up at least a point at the Etihad Stadium.
City currently look unstoppable
Even if Wolves do perform to their best of their ability, it could still prove to not be enough due to how good Pep Guardiola's side look at the moment.
Not only have they won 20 games in a row, but they have not lost in 27 games, with their last coming at Tottenham Hotspur towards the end of November.
As well as looking dangerous going forward, Man City are also solid and assured defensively especially since the beginning of the centre back partnership of John Stones and Ruben Dias.
After having played 26 league games, the Citizens have only conceded an impressive 16 goals while racking up the most clean sheets so far this season in the entire league with 15.
Going into the fixture Wolves are huge underdogs with the statistics lying heavily against them.