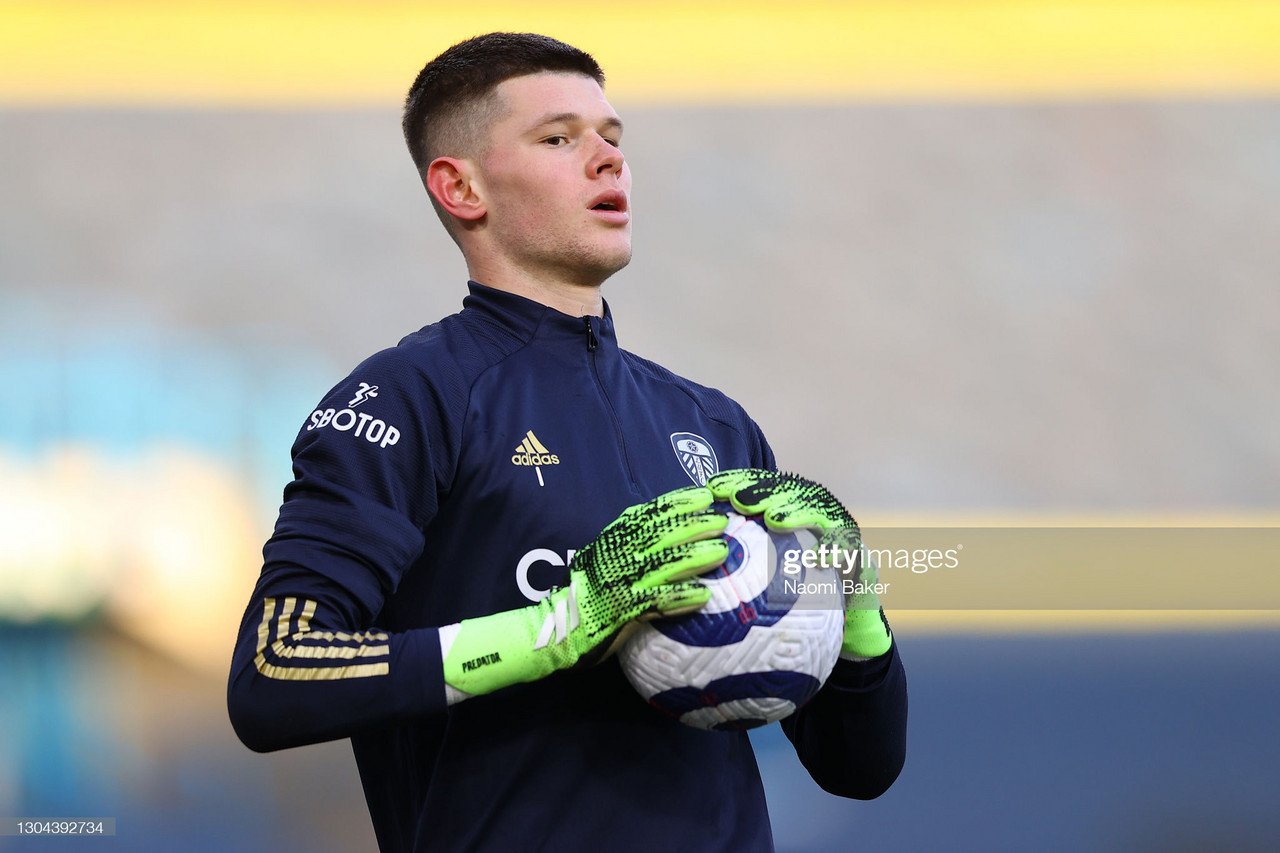 Breaking Records
At the age of 21 Illan Meslier has already broken a Premier League record of several clean sheets in a season before his 21st birthday, after he recorded his 8th clean sheet of the season in the 3-0 win against Southampton, beating the previous record of seven set by Joe Hart.
Style of Play
Illan's style of play is heavily regarded and similar to Real Madrid shot-stopper Thibaut Courtois, in using his tall frame and his ability to move around his goal - making him a joy to behold for any goalkeeping expert.
He is heavily regarded to be a sweeper-keeper, again using his tall frame to come out for crosses when his team needs him. The young Frenchman is developing his game to take the pressure off his team when they need him the most.
A lesson that most keepers are learning in this modern era is that goalkeepers are needed a lot more in the build-up to the attack than they ever were before.
The demand for useful footwork has never been higher and Meslier has made on average 30.8 passes a game this season.
The now 21-year-old is regarded as one of the hottest prospects in world football right now and Leeds will have to answer to plenty of enquiries for the services of the France U-21 interntational this summer.
Where it began
Illan Meslier came through the ranks at FC Lorient and his story could have been completely different after Lorient received offers above €10 million from AS Monaco and Chelsea but due to his first-team commitments for the french outfit, they kept the youngster in Ligue 2.
His name was swept across France after he kept 5 consecutive clean sheets for Lorient in his first 5 appearances before conceding to Paris FC.
Meslier made 30 appearances in all competitions for the Brittany based club before making his move to West Yorkshire. At the start of the 19/20 season, he agreed to join Leeds United on an initial season-long loan with an option to buy if Leeds got promoted.
His time at Leeds so far
In the opening months, Meslier was utilised as primarily the first choice U23s goalkeeper, being the second choice to Spanish international Kiko Casilla in the first team.
Following several outstanding U23 performances, the then 19-year old earned his debut for the Yorkshire giants in their 1-0 defeat to Arsenal in the FA Cup.
Though it was a loss, it was regarded as a respectable performance from a young prodigy, with many being surprised by his already fearless distribution.
Meslier bided his time and got his breakthrough after Casilla was handed an eight-game ban after he racially abused Jonathon Leko in the 1-0 defeat to Lee Bowyers Charlton Athletic.
Meslier made his league debut in the 4-0 win away at Hull City being a bystander in the game but continued his hot form in the absence of Casilla.
For the remainder of the season, he completed his stint as a solid number one, keeping seven clean sheets in the ten league appearances for the Whites.
On the 23rd of July 2020, Leeds completed the singing of Meslier signing a 3-year contract.
Meslier has played 25 of the 26 Premier League games this season for Leeds and, for his age, he plays with maturity and is repaying the faith that Marcelo Bielsa has put in the young Frenchman keeping a total of eight clean sheets so far this season.
Being 21 he is the youngest keeper in Europe to play the number of minutes Meslier has played this season, being young he has made mistakes, however, he has made up for them by undoubtedly earning Leeds more points than he has cost them this season.
Memorable moment
The most memorable moment this season for Meslier has to be his performance in the Yorkshire Derby against Sheffield United at Brammall Lane.
A brutish performance all over the pitch was capped off by Meslier making a string of fine saves during the match, including a point-blank save of the season contender against John Lundstram to keep the game level.
Leeds went on to win the game 1-0 after a late header from Patrick Bamford, but few could argue with the Man of the Match award being given to the youngster between the sticks.
'Illan can win a title with Leeds'
Xavier Fleury, Mesliers agent, recently spoke on the 'LUFCFANZONE' podcast and the French agent gave a very honest view on Meslier's future with Leeds.
Fleury had this to say: "When you are so young, the youngest starting goalkeeper in Europe, for sure big clubs could be interested, following him,"
"Illan is starting at Leeds. He loves the club. Perhaps in one, two seasons, if you have a club like Real Madrid that knocks on the door who knows? If Leeds keep the manager and (Victor) Orta, the president could be right they could be in the Champions League,
"If Leeds are in the Champions League, Illan can win a title with Leeds and winning a title with Leeds is more beautiful than with Juventus, Real Madrid, or Bayern (Munich). Right now, it would be a bad idea to join a big club, and sit on the bench."
Fleury gave this honest view on Meslier's future and it is like it's the race against time for Leeds to get back into the Europa League at least before one of Europe's biggest clubs comes knocking for Meslier.
LUFCFANZONE podcast with Xavier Fluery -