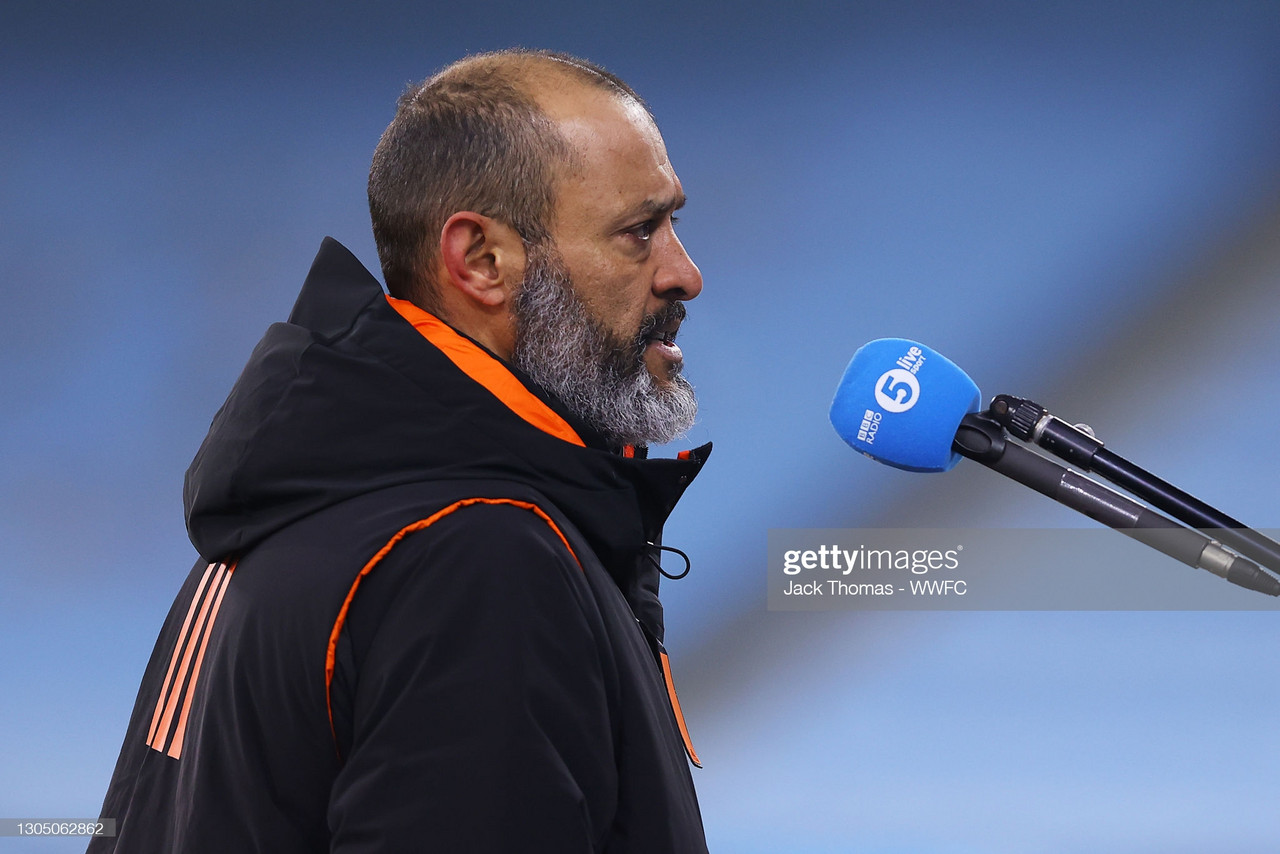 Nuno Espirito Santo said his side were 'punished' as they capitulated against surging league leaders Manchester City and shipped three goals after 80 minutes.
Wolverhampton Wanderers had initially fought valiantly and equalised in the second half after an own-goal opened proceedings for City early on.
But, efforts ultimately proved futile as City ended the match in blistering fashion to leave 4-1 winners and extend their astounding winning run to 21 fixtures.
Espirito Santo subsequently had the following to say on the back of a challenging night in Manchester:
Thoughts after a tough outing
Wolves put in a commendable shift to limit City's offensive capabilities and to repel them until the closing stages, but
"It's a tough result because we competed well for parts of the game.
"In the first half we weren't too much of a threat, but defensively we were organised. We know how difficult it is to recover possession of the ball here.
"We were better in the second half. We achieved the draw and the momentum of the team is there, but we were not able to sustain it. We were punished really hard in the last moments of the game."
Espirito Santo was continued his acclaim for his sides match-plan after a significant rise in form following the most strenuous period since the clubs emphatic return to the top division.
"The game-plan is always good, but you are always facing another game-plan. Sometimes what you want to do, the other team doesn't let you do."
An unfortunate Leandro Dendoncker own goal put Wolves on the back foot after 15 minutes, but the resilience and guile that has been instilled into the club's philosophy under Espirito Santo was on display once again.
"Even before the equaliser, we felt that we were on the front foot, but after we scored the immediate reaction was not to go and keep pushing, so we did not sustain that momentum.
"The belief was to try and achieve a different result, of course, but we faced a very good opponent, they have quality players, they have good lines of possession with the ball and that makes your task harder. When City's on advantages, it's more difficult and we have risen to that, I think."
Mistakes need to be eradicated
Despite facing the calibre of opposition that they did, Wolves will need to work on dispatching of simple errors and lapses in concentration in order to progress and complete a positive end to the season.
"When you are on the football pitch and when you are on the outside, what you need to transmit to the players is solutions and belief.
"This is what we did and City did the same after we achieved the equalising goal, in the end they reacted better than us. We wanted to sustain the pressure but they were stronger.
"But we must look at the game because we made a couple of mistakes, the way we went out and we lost the ball with the pressure of City and they are very dangerous when they recover the ball they catch you unbalanced and they punish you."
Preparing for a team as adept as Man City can prove highly exacting, requiring the upmost attention and care to come away with a result.
"First half was organised but no threat, a lot of possession from City, better second half, more pressing, higher on the pitch.
"We covered the ball better and created threats in our possession which we sustained for a spell of the game, the boys were solid and compact and organised.
As the game went by, we were not able to sustain and then in the end we got punished."
On City's remarkable season
City boss Pep Guardiola has succeeded in revitalising and rejuvenating his side after a disappointing preceding campaign that saw Liverpool storm the Premier League and end their rivals two successive title triumphs.
After meticulously constructing a unprecedented run of 21 victories in English football - as well as qualifying for the final of the Carabao Cup and the latter stages of the Champions League - the prospect of getting a result against City will undoubtedly be daunting, but Espirito Santo spoke confidently on their vulnerabilities.
"They are very good, they have very talented players and it's a hard task for anyone to come here and face Man City.
"All the teams - no one is unbeatable. No one. There's no perfection. You try to achieve it and momentum gives you that expectation, but all teams have weak points. There's no doubt Man City is a very good team."