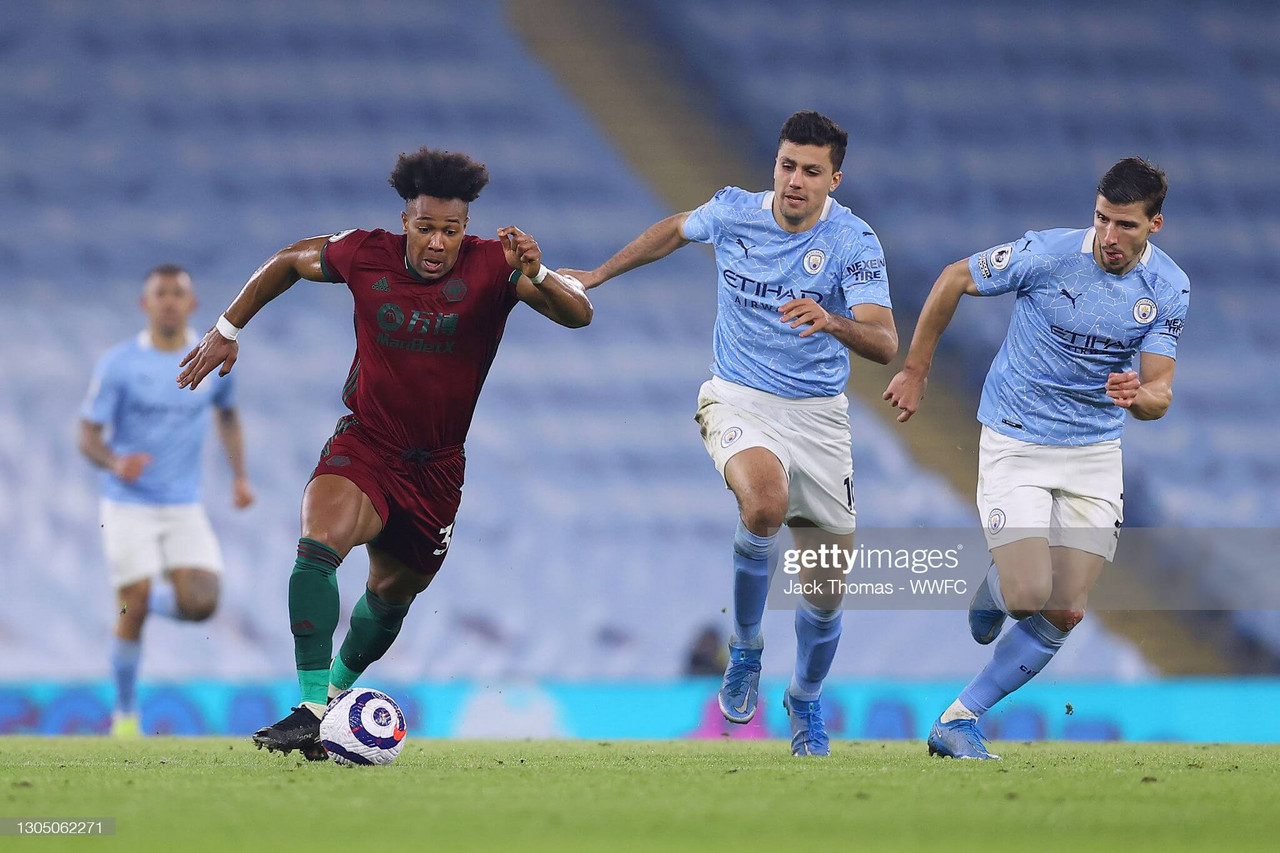 Wolverhampton Wanderers winger Adama Traore believes that fans' continued absence from game is 'sad', as he prepares to take on his former club Aston Villa on Saturday.
This Sunday will mark the one year anniversary of the last time Wanderers played in front of their own fans, as they played out a 0-0 draw with Brighton & Hove Albion in front of 31,490 at Molineux.
A teatime kick-off at Villa Park would have guaranteed a raucous atmosphere if fans were allowed, and Traore said football just isn't the same without them when he spoke to wolves.co.uk.
"It's been massively different for everyone. I think without the fans, it's a little bit sad, because football is for the fans. When the fans aren't there, they take a big part of football.
"I hope the fans come back. How I see it is, we play for the fans, and the happiness is winning for everyone, not only the players, that's the best thing of football. Not only players show character, the fans too.
"About Aston Villa, I've been there before, I know it's a great team, but we will fight to win."
Despite a demoralising defeat at the Etihad Stadium on Tuesday, it wasn't all doom and gloom for Wolves as Willy Boly returned to the matchday squad for the first time in a month.
Traore said he hoped that the Ivory Coast would be fit again to travel to Villa Park, and emphasised how much his team are missing their injured players.
"Willy Boly has been working hard and I think we need each player, whether it's Willy Boly, Marcal, [Daniel] Podence, all these players who are out at the moment, each player is important and gives quality inside the team. I hope he'll [Boly] be there."
"We made some mistakes, but I think we have to keep working"
Wolves struggled against Manchester City on Tuesday, and were eventually beaten 4-1 by the league leaders.
Traore was dispossessed in the build up to City's second goal, so the Spaniard held his hands up and admitted individual mistakes had cost Wanderers against a world-class team.
"I think the team fought through the game, we had a plan, we followed the plan. But in the end City are in good form, a great team, so I think we make some mistakes and teams like City punish you, but we learn from it, improve as a team, grow and continue to fight.
"We followed the plan of the coach and tried to do our best. It worked until the last ten minutes, we made some mistakes, but I think we have to keep working, seeing where we can grow and keep learning what is going to make us better – that's the important thing."
"The team has been fighting well, each player has been fighting well in his position, I think everyone can mistakes, football has errors, and when you make an error, they have a chance. Our main focus is learning what can make us better than the last game and that will make us grow like a team."
"I've been playing different positions, and this made me grow like a player"
Since arriving at Molineux in August 2018, Traore has operated in four different positions. He is grateful for the improvement he's had under Nuno Espirito Santo, but insists the job isn't done yet.
"Nuno has shown me since day one different things, trying to work with me, to be a player to help the team the best I can. I've been playing different positions, and this made me grow like a player. They demand different things and that made me grow and this is the mentality I have – I will keep going."