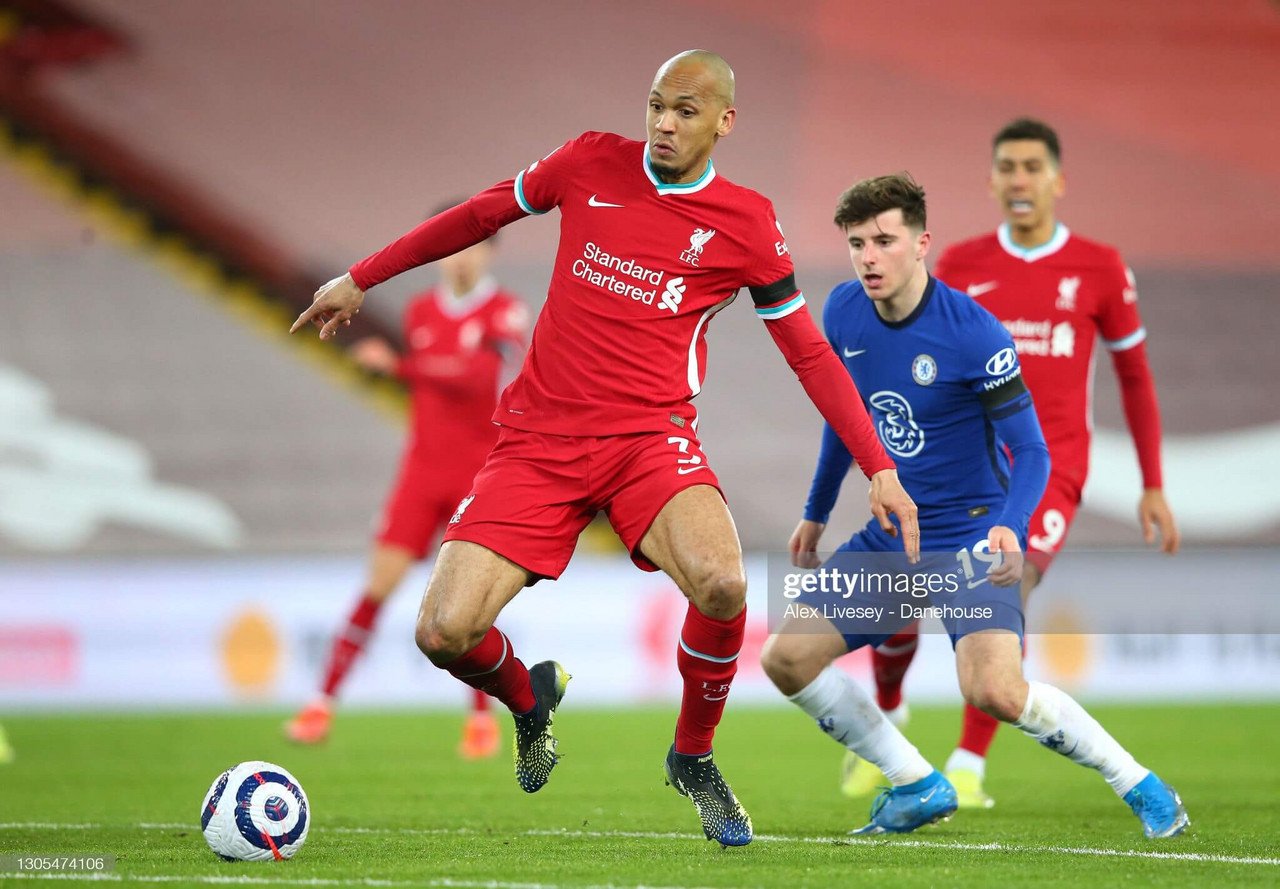 The 'lighthouse' as he was commonly referred to by Liverpool's assistant manager, Pepijn Lijnders, has not been able to patrol the area of the pitch he guards with so much assurance.
Seeking danger, blocking passing lanes and breaking up the oppositions fluidity are three things lacking in an increasingly passive Liverpool midfield.
Since 2018, Fabinho added another dimension to the middle of the park.
On the run to Kiev, Jordan Henderson, Gini Wijnaldum and James Milner would out run and out fight the opposition but the system would also come unstuck when playing against low blocks.
Signed from Monaco, Fabinho added a level of not only squad depth but also a calming presence in midfield. He gave Henderson and Wijnaldum more license to venture forward, and play with more width as the two would support each full back who played the majority of games in the oppositions half.
His role during the title winning campaign was to operate as a midfield sweeper. A consistent 8/10 each week in filling in between Van Dijk and Gomez, and then receiving the ball supplying those around him in forward positions.
The difference this season?
Of course the lack of centre backs has been the biggest incentive for Fabinho's lack of influence of games. For a while he filled the gap vacated by Van Dijk with consistency, dignity and assurance.
But similar to all of the sides luck this season he started gaining a habit of picking up the odd knock. Knocks that would see him out for one game and then back the next, and then out again. The consistent nature of his game disappeared throughout January, and this coincided with a lack of midfield fluidity from those replacing him.
With Henderson injured as well, Liverpool find themselves at a highly sparse situation in midfield. It's now the time to play centre half's in their natural position and use Fabinho is his instinctive habitat in between the lines of defence and midfield.
Win the ball higher up the pitch, and counter on sides. The goals will come back, the front three and the return of Diogo Jota will make sure of this. It will have to take various degrees of sacrifice, perhaps conceding goals to play on the front foot more often.
Fabinho with Thiago in a more advanced role, supporting the front three will no doubt click into gear at some time. With the return of Keita, who is now needed to stay fit and be more reliable, the chance is now there to rest Wijnaldum on a more regular basis and use Milner and Jones in games that will suit their differing styles.
Liverpool have to go back to playing front foot football and Fabinho playing in midfield more often will only support that. He has not been wasted playing in defence, he played that role well for months before injuries hampered him and made the manager have to rotate again.
His cameo against Fulham in midfield will no doubt serve as an indicator to what the manager is going to do with him during this run in of the season. Perhaps a midfield of himself, Thiago and Keita can find the right level of balance or even with Jota returning 4-2-3-1 will be more advanced and Fabinho will have support from Wijnaldum or Milner.
One thing is for certain, he plays an integral role to this Liverpool machine and moving him around, or seeing him suffer with fitness only takes away the consistent nature he had performed with in midfield.