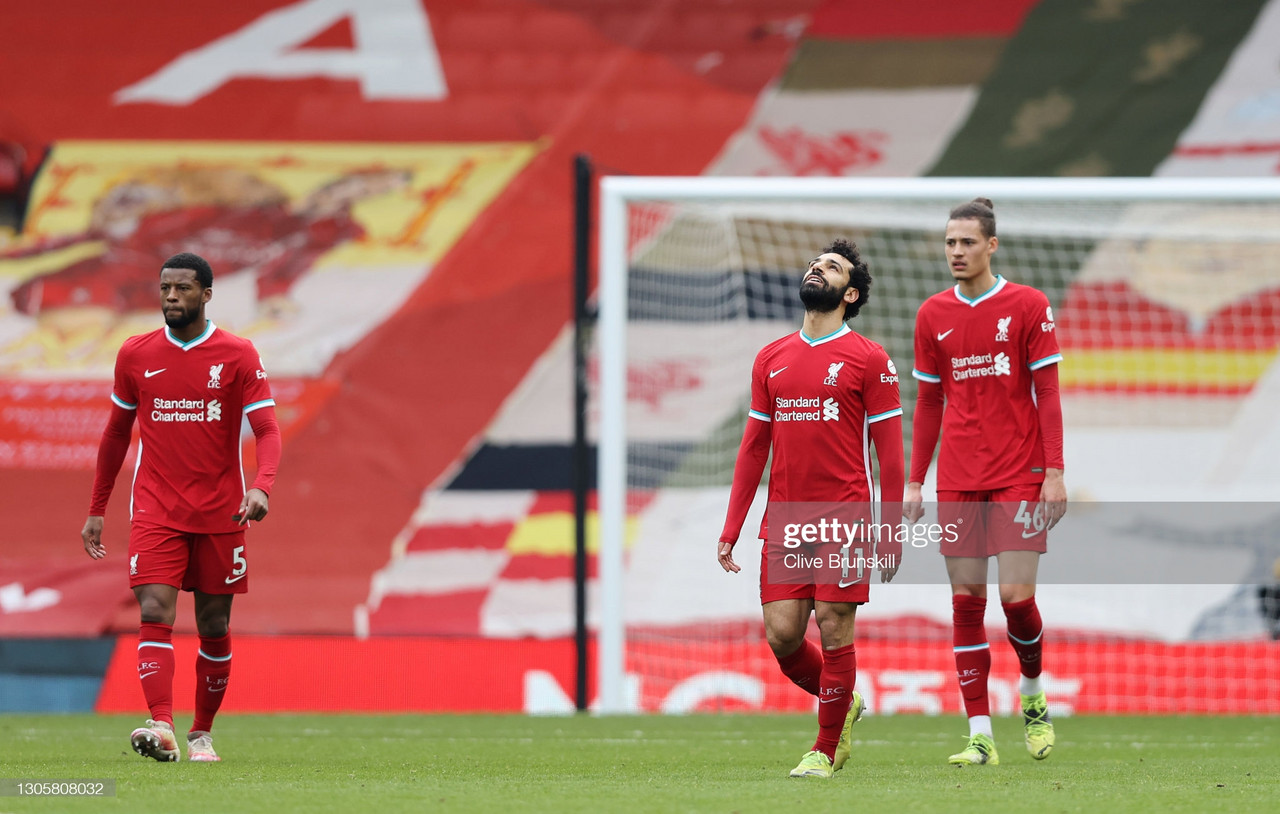 It is an odd time to be alive, and this unprecedented period is represented within football as well. For the past year empty chairs have spectated the sport that was once known for its loyal and passionate fanbase.
The new-found emptiness within stadium's is not the biggest shock the Premier League has witnessed this year however, as reigning champions Liverpool FC have dropped down to eighth in the table in what is one of the worst title defence's England has ever seen.
The Reds have gone from breaking records and becoming world champions to losing six consecutive home games for the first time in the club's history in just under a year – the so called glory days of Jurgen Klopp's era has taken an unexpected turn for the worse.
So how has this gigantic footballing conglomerate that is filled to the brim with superstars fallen so drastically in such a short period of time?
It's not news to anyone that Kirby has become more of a hospital than a training facility for Liverpool.
The champions have only had five first team players not spend at least three weeks on the treatment table this season: Andy Robertson, Gini Wijnaldum and each member of the infamous front three. That leaves 16 members who would usually compete to start injured for lengthy periods of time.
Although the quantity of injuries is an issue, the overriding problem lies within the severity.
Virgil van Dijk and Joe Gomez, the centre backs who pioneered Liverpool's title winning season, were both announced as injured until the summer within the opening two months of the Premier League. Before their title defence had even begun, the heart of the team had been ripped apart.
Such losses forced midfielder Fabinho and injury prone Joel Matip to cover, but injuries to both respectively meant Klopp had to delve further into his squad.
Academy graduates, midfielders and loanees have all been tried and tested, but 20 centre back partnerships later, the Reds are yet to find a duo that looks worthy of lacing their predecessors boots.
Injuries have not just tormented the defence. Summer signings Diogo Jota and Thiago Alcantara have both missed three months each, players that, at the start of the season anyway, would have both got into the starting eleven.
Both players hit the ground running with Jota quickly topping the score lists for the Reds whilst Thiago's mesmerising debut at Stamford Bridge broke Premier League records.
The Spanish midfielder has since returned to the starting eleven, but with that arises Klopp's second issue.
When arriving at Anfield for £27 million, Thiago's stock was sky high.
Having just won a treble with Bayern Munich, the 29-year-old was widely renowned as one of if not the best midfielder in the world, and he was looking for a new challenge.
Klopp bit at the opportunity and fans welcomed him with open arms, a mega signing who would take the world champions to the next level and solidify their position as one of the Premier League's greatest ever teams had just arrived. This idolisation is one that, so far, is being proved to be severely misjudged.
In his 14 league appearances, Thiago has been underwhelming to say the least.
Going forward, zero goal contributions. In the middle, lost. Defensively, a liability.
This may be because the midfield has been weakened. Fabinho has been forced to slot in at centre back meaning Jordan Henderson, when fit, has had to revert back to the number six role.
With the captain's defensive prowess and hard-working ethic's being stripped of the eight role in the team, Thiago has had to take on the responsibility of Henderson's more robust position, something he was not used to doing in Germany.
Whether this will change in the future is yet to be seen, it would not be surprising if Thiago thrives in this team next season, but judging off his start, it is hard not to be worried about Liverpool's new number six.
Liverpool have a squad filled with superstars, but are they getting bored of each other?
Looking at the starting eleven from the Champions League final in Kyiv in 2018, nine of the 11 starters still start (bar James Milner who is rotational) for the Reds to this day.
Alisson Becker was bought the summer following whilst usual starter Gomez was already at the club at the time.
So, this team has been together for around four seasons now which could be viewed in two ways depending on an individual's perspective.
On one hand, it could be argued that they should be completely comfortable with each other and know their strengths and weaknesses inside out, which is what we've been used to seeing from the Merseyside club for the last two years, or it could be argued that the players are growing tired of playing with the same colleagues over and over again.
To simplify, it seems stale.
Liken it to a relationship. You and your partner have been together for almost five years, the honeymoon period is well and truly over and things have started to become repetitive and boring. Techniques that were tried and tested no longer have the desired affect anymore, love is still in the air, but something needs to change.
Klopp has played the same 'rock and roll' style football ever since his arrival at Anfield in 2015, he always plays 4-3-3 with a consistent pressure type style added to it. It was brilliant and on its day can still work, but its seems like it is time to try something new.
The gruelling task of consistently putting in the hard work required to play such an athletic system on and off the pitch seems to have taken a toll on the players, a different approach could not only refresh the players legs but also their minds.
The return of van Dijk may be enough to solve such an issue. A man of his stature and ability would give any team a boost, but going forward may be where things have to change.
Not a single home goal from open play in 2021 for one of the deadliest trios in recent footballing history? Something is clearly off.
The tools are there, but, perhaps due to the stale feeling, they just need to be used in a different way and it is down to Klopp to be brave enough to experiment.
Whether Liverpool will learn from this season or not is yet to be seen, but it is safe to assume that the consequences of this season will be staggering.
The challenge of keeping top players at the club without Champions League football is one that will be testament to Klopp's and the club's pull, but how likely are the Sadio Mane's and the Mohammed Salah's to stay? Only time will tell.
Saying this, this crisis is still somewhat salvageable. Seven points away from Europe with ten games to go, closing such a gap is not unheard of.
Whatever happens, this season has been a car crash for Liverpool, but how they learn from it will really shape the future of the club.