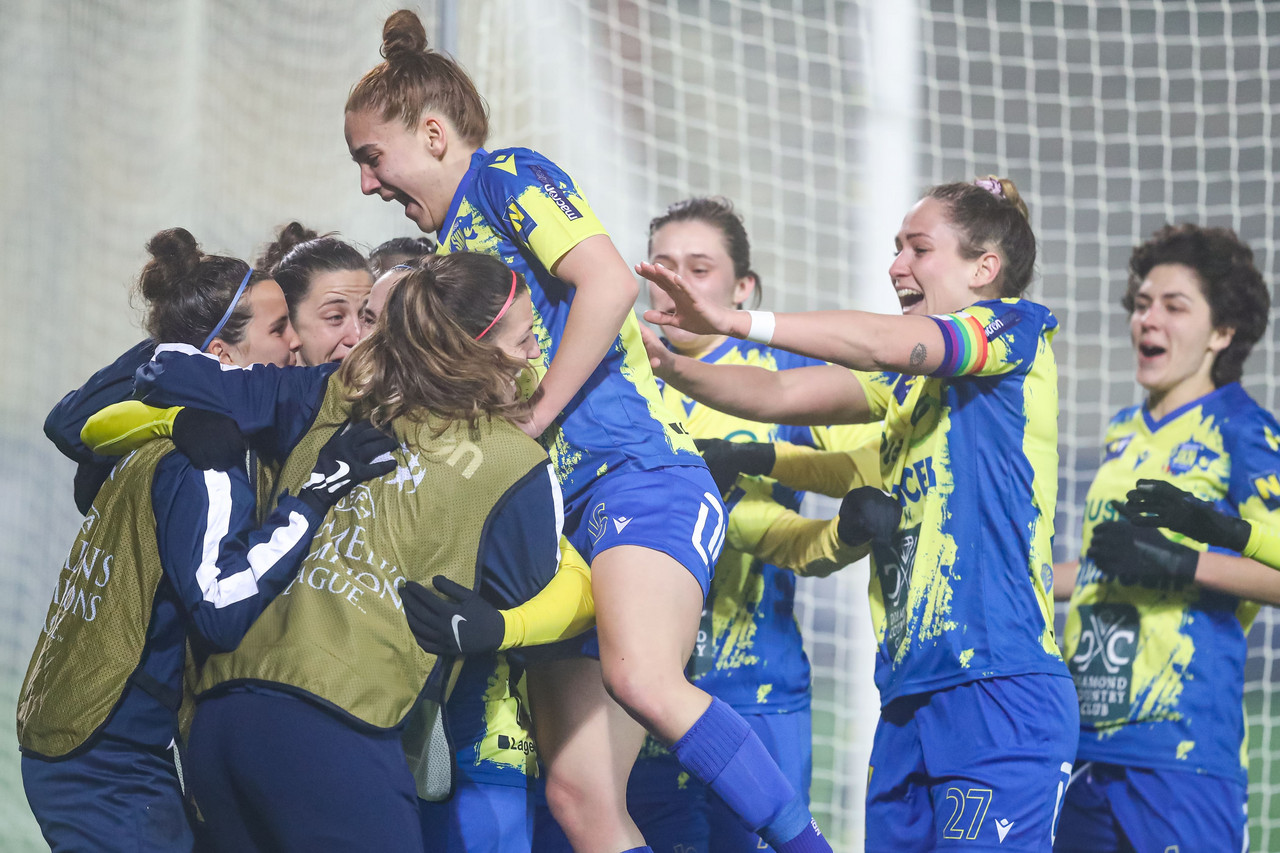 Sportklub Niederösterreich St. Pölten are potentially ninety minutes from their first ever UEFA Women's Champions League quarter-finals as they host Rosengård in the second leg of the round of 16 tie. The sides met in an exciting 2-2 draw last week where Rosengård pegged back their Austrian visitors in the 94th minute after they had gone down 2-0, thanks to a Mateja Zver brace.
St. Pölten know they were fortunate to come away with a draw despite being in the lead for so much of the game. In truth, the Swedes dominated the game and did not score more goals thanks to a combination of poor finishing and the brilliance of St. Pölten keeper Isabella Kresche who put in a truly remarkable performance.
Rosengård go into the second leg still as favourites to progress despite playing away from home and being behind on away goals. The Damallsvenskan side will look to take their commanding, possession-based football to Austria and look to dictate the play as they did in the first leg. However, if they are to come through the tie they will have to keep it tight at the back on the counter-attack and cut out the mistakes which cost them the win in the first leg.
Maria Wolf knows that her team needs to provide more of a threat than they did in Sweden, where they scored their only two real goal scoring chances. Her task will be made more difficult as key attacker Stephanie Enzinger is forced to miss the game after reaching her yellow card limit. The winger formed a dangerous front three alongside Zver and Bernadett Zágor.
Perhaps more damaging still, captain Jasmine Eder is also suspended and will be forced to watch the match from the stands. The experienced holding midfielder was excellent in the first leg, shielding the back four and disrupting the passing lanes of the fluid Rosengård attack.
For Rosengård and Jonas Eidvall there are no absentees from the first leg either through injury or suspension. A relief to the side from Malmö that is already stretched thin, having had only four substitutions available last Wednesday. However, last season's top scorer Anna Anvegård is still out with a knee injury and will miss the trip to Austria. Ria Öling is also unavailable as she is ineligible to be registered for the Champions League this season.
St. Pölten predicted XI: Kresch (gk), Bereuter, Bíróová, Balog, Hamidovic, Klein, Mikolajová, Meyer, Makas, Zver, Zágor
Rosengård predicted XI: Labbé (gk), Björn, Berglund, Viggósdóttir, Veje, Bennison, Seger, Čanković, Troelsgaard, Schough, Larsson
It is likely to be another backs to the wall performance for St. Pölten as they look to protect their slender advantage. However, if they are to get a positive result, they will have to provide more of a threat going forward and without Enzinger much of that burden will fall to Bernadett Zágor. While Zver took the plaudits for the two goals, it was Zágor's excellent hold up play as a target that got the Austrians up the pitch and into dangerous positions. It was her brilliant flick on that sent Mária Mikolajová on her way to assist the first goal. It was no coincidence that once Zágor was substituted, the Austrians had no outlet and invited the pressure that eventually broke their defence.
For long periods of the first leg Rosengård were unable to break down their stubborn visitors, particularly in the first half. Any time they did create anything or look dangerous, it was down to the brilliance of Jelena Čanković. The Serbian midfielder was a joy to watch, as she constantly found space and created space with either a deft touch or a brilliant pass. She nearly created the first goal when her delightful flick played through Mimmi Larsson who was unable to finish. Eventually, her brilliant work paid off, as her gorgeous lofted pass found Sanne Troelsgaard who finished well. If the Swedes are to progress, they will have to score goals, and Čanković is undoubtedly the most likely to make that happen.
The match kicks off on Wednesday at the NV Arena, at St. Pölten 19:30 GMT.
The match will be broadcast in Sweden by SportExpressen
Germany and Austria on ORF Sport Plus
Streamed globally on wnited.com