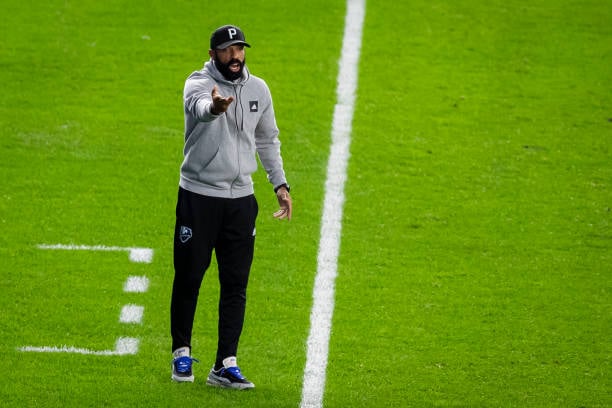 Thierry Henry. One of the greatest players to ever grace European Football starring in the Red and White of Arsenal and the Blue and Garnet of Barcelona. The 43 Year old Frenchman is also cast in Bronze behind the Clock End of Arsenal's Emirates Stadium in north London.
Iconic moments of individual brilliance at Highbury, The Bernabeu and The San Siro accompany League title triumphs at Old Trafford and White hart lane to make up a prolific career of both individual and team trophies. Away from Arsenal, Henry lifted both the Champions League and World Cup with Barcelona and France to make him one of the most decorated players in world football.
Management so far:
Henry's management career saw the Frenchman begin learning his trade within Arsenal as a youth coach in a role where he oversaw some of Arsenal's current young players at Under-19 level including the likes of Reiss Nelson, Eddie Nketiah and Ben Sheaf.
Henry then moved onto a more advanced role with the Belgium national team working alongside former Everton manager Roberto Martinez.
The world cup winner turned then to solo management with an opportunity with Ligue 1 side Monaco in a three Month stay where his team won five games, lost eleven and drew four.
Henry struggled to gain momentum and push his side forwards and left his role after the board decided he wasn't the correct man to take the club forwards.
With the idea of a fresh start and new challenge for Henry, The Frenchman turned to the States and began managing Montreal Impact. Henry's spell at Montreal lasted 15 months and saw the World Cup winner manage 29 games in which his side won nine games, lose sixteen and draw four.
Thierry Henry left his position at Montreal after just over a year in charge in late February of 2021. Henry left his position due to family reasons with the intention to return to London and be with his family.
What next?
Since leaving his role as manager of Montreal, Henry has been linked with the managerial role with AFC Bournemouth and in an interview with the Four Four Two Magazine, the former Arsenal star was questioned on his future and if Premier League fans could expect to see The Frenchman in the dugout in N7 at any point of his managerial career.
"Would I Love to coach Arsenal? Yes. Would I love to go to Barcelona? Yes."
(Four Four Two).
Henry demonstrated his desire to coach both Arsenal and Barcelona in this interview when he described both those jobs as a dream but even still a reality that he hopes to be able to achieve one day.
What Arsenal means to Henry:
When Questioned on Arsenal and what the club meant to him, He responded saying:
"Arsenal is a part of me and always will be- Half my heart belongs to Arsenal and the other half to my family. The Understanding I have with Arsenal fans is something I cannot describe and is something I am always going to miss."
(Four Four Two).
To see Arsenal's greatest ever striker back at Emirates Stadium one day again seems very much written in the stars for Gunners fans however, Henry's development as a manager will have to improve first and he will have to prove himself as a winning manager if the Arsenal board ever decide he is the correct man to take the club to where they need to be.
"I'm on my learning curve, I want to do well for the team I'm coaching then time will tell."
(Four Four Two).
Henry understands also that he is not currently at the level required to take over at Arsenal. The former striker very much sees the Arsenal management job as a dream but remains grounded and realistic knowing that he is not currently at the level required to do so.