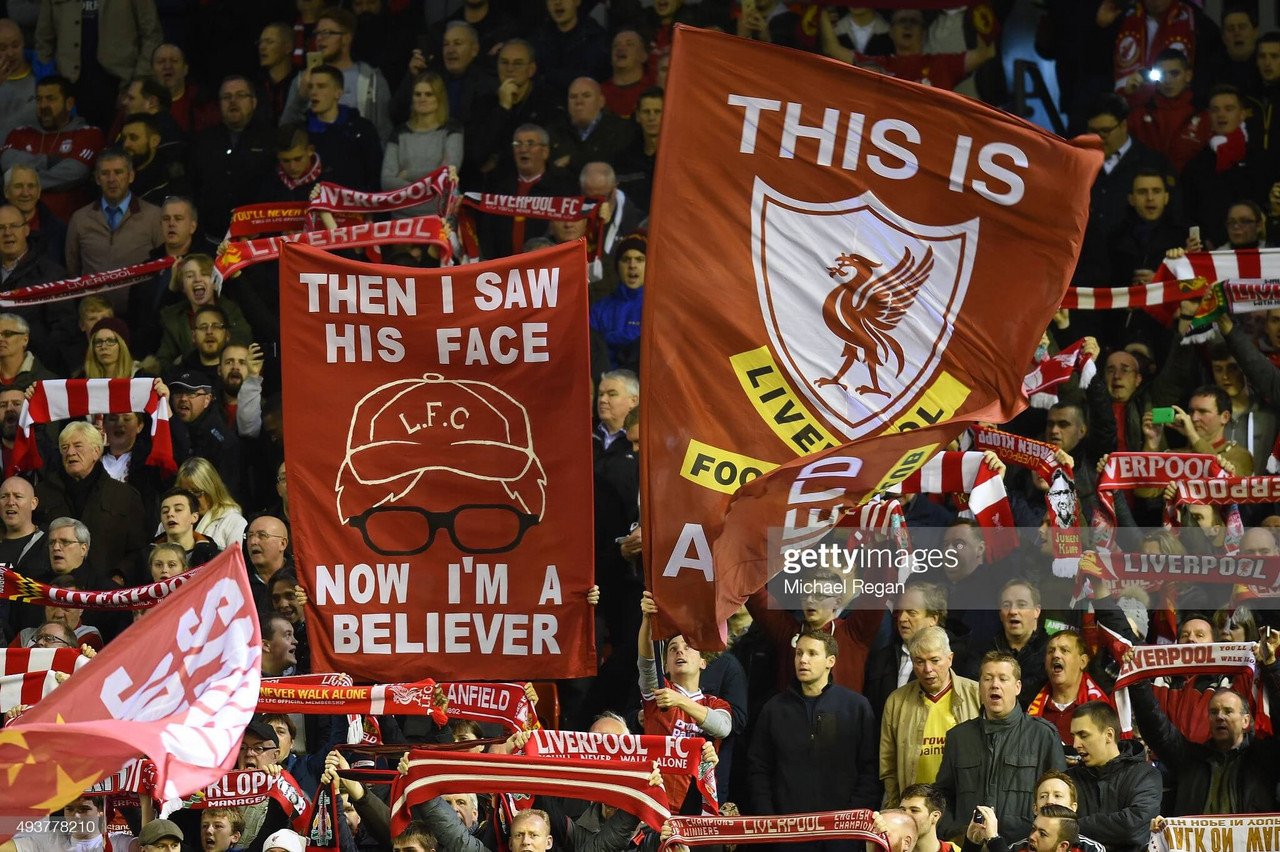 Five years ago, Jurgen Klopp brought new life and hope to every Liverpudlian when they were seemingly at their lowest. He walked in, put his arm round each and every supporter and changed them from 'doubters to believers' to later on acheivers. Now, the tables have turned and it is now the clubs' turn to return the favour.
After six consecutive home defeats, it is no secret that Liverpool are undeniably in "crisis" mode, as Roy Keane told Sky Sports. Jurgen Klopp finds himself in a similar predicament as to when he took over the club back in 2015; mid-table and struggling for form.
Klopp's first interview with Sky Sports was a plea for fans to change from "doubters to believers", which saw an immediate change in Liverpool's fortunes, guiding them to the Europa League final in his first season. It was this message which picked the club up from its knees, allowed Liverpudlians to dream again, and ended the 30-year long wait for the Premier League title. Now, as Liverpool sit a sombre eighth place in the league, the withering away of this message is the last thing the German father-figure deserves. Just as Klopp picked Kopites off the floor, it is now their turn to repay the favour and resonate this message as loud as they can, in order for Liverpool's fortunes to change just as they did back in 2015.
"There are so many good players, but not many great coaches"
In his recently published book, Borussia Dortmund CEO Hans-Joachim Watzke claims the sacking of Jurgen Klopp was a mistake. The book, titled 'Real Love - A life with Borussia Dortmund' included tones of regret from the man who worked so close with Klopp:
"Maybe it would have been better if we had changed the whole team instead of firing the coach because there are so many good players but not many great coaches. People are always wise after the event."
This revelation holds significance to Liverpool's current situation, as the reds' current downfall following league title success is a mirror image of Klopp's title defending season with Dortmund in 2012. The German conceded the title to rivals Bayern Munich by a comprehensive 25 points. This was seen as the beginning of the end for Klopp, with him departing the Westfalenstadion the following season.
Liverpool and their supporters must ensure they do not hold the same regret and look beyond Klopp for answers.
With all cogs ticking, this machine is an indestructible force and whilst some important cogs are missing, this can be nothing more than a bump in the road - rather than erratically scrutinising the creator of it all.
"Liverpool's injuries would cause problems for any side in the world"
Defender Andrew Robertson has recently told Sky Sports that their injury crisis would "cause problems for any side in the world." This is the obvious instigator of Liverpool's problems. However, the hierarchy of the club and their handling of the club in such a crucial situation should be where the fingers are pointing, in regard to the response and support offered to the German when he needed it the most.
Fenway Sports Group's inability to provide a financial solution in the shape of a suitable replacement centre-half for the absent Virgil Van Dijk, Joe Gomez and Joel Matip has somewhat thrown the manager 'under the bus'.
Reinforcements matched Liverpool's spending trend under Klopp which has seen them attain a net spend less than table-toeing Sheffield United since 2016. Unproven, inexperienced and unestablished replacements were the only category of replacement offered by FSG to Klopp, in order to mend the English Champions' defence. Ben Davies's arrival for £1.6m from Championship outfit Preston North End outlines the divide between Klopp and FSG's ambition, with the 25 year-old yet to make an appearance for the reds, signifying Klopp's discontent with FSG's support in recruitment. Liverpool's latest attempt to fill the void has come in the shape of 20 year-old Ozan Kabak, who joined on a loan deal from bottom of the table Schalke.
Liverpool's dry spell on the attacking front with just one goal in their past six home games is also a huge concern for supporters. The reliance on the infamous front three has somewhat exposed their vulnerability without support from the rest of the team. Although the absence of Diogo Jota has hampered Liverpool's attacking options, first-choice midfield options, in last season's PFA player of the year Jordan Henderson and Fabinho, have been forced to fill in defence as of the inadequate reinforcements in the centre-back position. This changes the whole system.
The same way a race car cannot speed down the track without its breaks, Liverpool's attacking force have suffered from the debilitated structure behind them.
The emphasis on a new defensive structure which has seen twenty different centre-back pairings this season has been a huge stumbling block, with the usual suspects accustom to bombing forward for the reds' seemingly being restricted to a seat belt. The absence of a secure airbag for any counter-attack in the shape of Van Dijk or Gomez has resulted in a lot more defensive responsibility for their attackers.
This has not been as clear as top scorer Mo Salah being dragged off on the 60th minute in their tie against Chelsea following Jurgen Klopp's visible displeasure towards the Egyptian for not tracking back.
Thirty miles across the M62 lie table topping Manchester City, with a defensive force worth £315 million - offering a contrast to each teams ambitions and strength in numbers. An injury to Liverpool's side hits a lot harder than a Man City side who have an array of international replacements all over the field. As European, English and world champions, there was never a better time to attract the world's most elite players to try and match City's financial advantage and squad depth; however FSG have failed. They have failed the club, its supporters, and most significantly Jurgen Klopp.
There is no doubt this team is in need of urgent repair, however without the financial support or backing from board, Liverpool were destined to fall. Jurgen's initial plea to transform the club from doubters to believers seems to have transmitted across all of Merseyside, yet the owners seem to have still not received the memo.
Now, as Klopp has to face the public onslaught as the figurehead of a club which are underperforming, there has never been a better time to show support for the man who is fundamentally being let down by those above him, before the club and its supporters are left to rue like one Dortmund CEO, who regrets his decision to this day. Should FSG not transform from doubters to believers soon enough, they will be open to the same consequence.