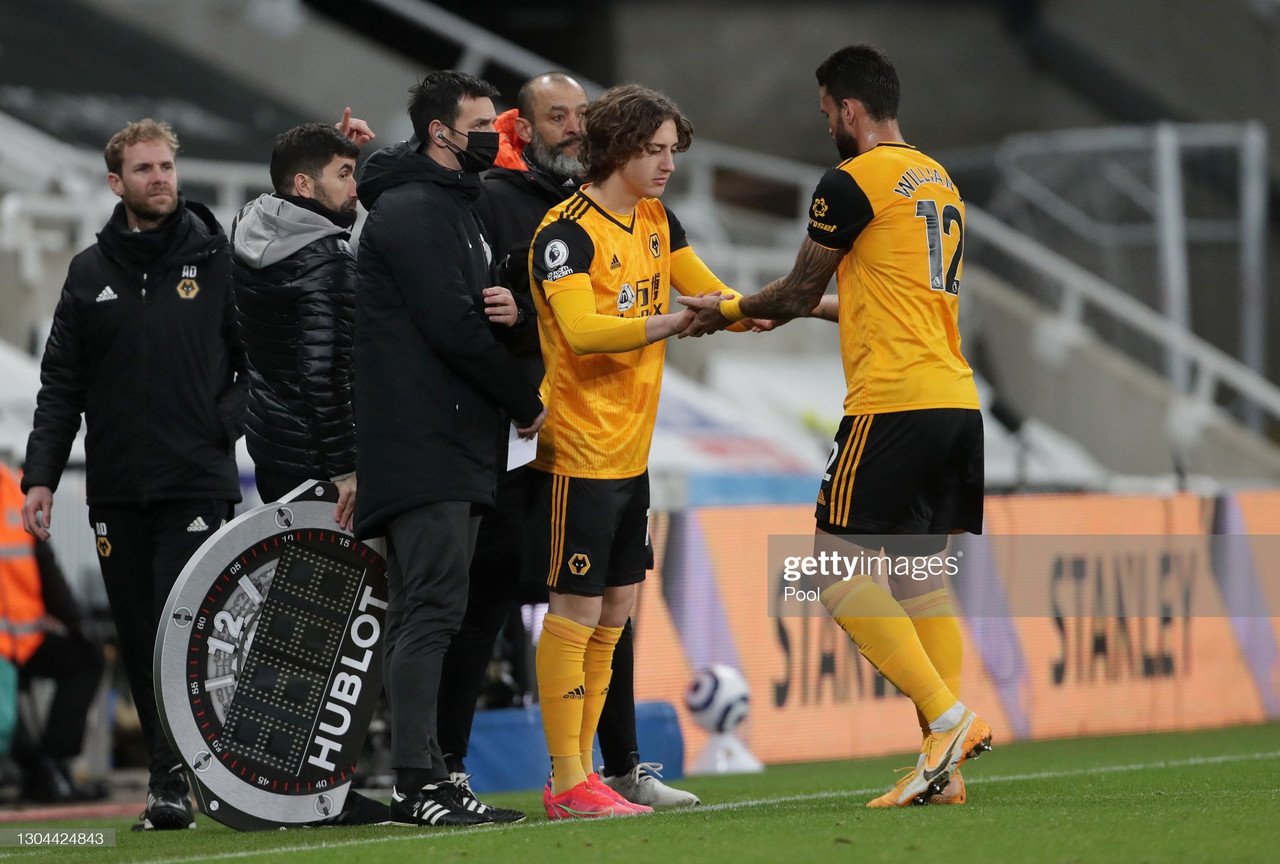 At the time, Raul Jimenez's fourth-minute injury at the Emirates was largely overshadowed by the 2-1 victory earned against Arsenal.
Goals from Daniel Podence and Pedro Neto, either side of a Gabriel header, not only ensured three points, but also optimism over how Wolverhampton Wanderers would cope without their star man.
Despite not scoring in their next two games, against Liverpool and Aston Villa, hope was restored as a 95th-minute winner from Neto completed a comeback against Chelsea. What followed however, was a run of eight games without a Premier League victory.
With results continuing to frustrate, impatience grew amongst the Wolves fans who were questioning where the goals would come from.
Despite being absent from the last 18 league fixtures, Jimenez remains in the top three Wolves goal-scorers this season, with four goals. Only Neto and Ruben Neves have more goals this season, who have both totalled five goals.
What is even more shocking, is that Romain Saiss has more goals this season than any of Wolves' fit strikers combined. Fabio Silva has two goals and January loanee Willian Jose is still yet to score, whereas the Moroccan defender has scored three this season.
The lack of goals is obviously a huge concern for Nuno Espirito Santo's side, which makes his choice over who leads the line even more vital.
The Portuguese striker moved to the West Midlands not even two months after his 18th birthday, for a club-record fee. He arrived with a huge amount of expectation, but the understanding that he will not score goal after goal straight away.
Silva has made 22 Premier League appearances for Wolves this season, however he has only played a total of 790 minutes, averaging just 36 minutes per appearance, which perhaps explains why he has scored just two goals this season, both consolations in a 2-1 and 3-2 loss to Burnley and West Bromwich Albion respectively.
The first of his two came from a penalty, where he showed confidence and composure to dispatch from the spot. The penalty itself also came from Silva, which was earned with some really promising hold up play, before drawing the foul from Burnley's Josh Benson.
The second and most recent goal was an example of really good centre forward play. Silva used his body to shrug off Dara O'Shea, before calmly stroking the ball past the visitors goalkeeper.
The early signs are there and you can see the potential the 18-year-old has, as well as why Wolves broke their record transfer fee to acquire his services.
His instinct to get a shot off is reflected in his stats, registering 1.2 shots per game according to whoscored.com. However his overall game is lacking, with his highest match rating being a 7.5. Excluding one 7.03, none of his other 20 appearances registered a higher rating than 6.57.
Putting this into context, 16 of his 22 appearances for Wolves have been from the bench. Significantly reducing the time the striker has to make an impact.
Silva has also never had a run of games in the starting 11. The highest number of consecutive starts the former Porto man has been given is three, meaning the lack of trust could have effected his confidence.
A run of five or six games in the starting 11 could easily be the key to unlock Silva's potential. Until we see that, it would be unfair to offer a definitive conclusion over his ability.
As the business end of the season approaches, the sooner Silva gets that chance, the better. However, it is unclear whether Nuno would be prepared to throw his trust into an 18-year-old striker, with crucial points soon to be won.
To relieve the pressure from Silva's shoulders, Nuno called upon Real Sociedad's Willian Jose, on a six-month-loan, to fill the void Jimenez has left in his absence.
Wolves also have the option to buy the Brazilian in the summer, should he live up to expectation.
However, as of yet, he has not.
Since joining the Spanish side in 2016, Willian Jose found the net 62 times in 170 appearances, averaging around 13 goals a season, which handsomely demonstrates his ability to find the back of the net.
His experience at a top level in La Liga, is incredibly valuable to the Nuno's squad, not only on the pitch but also in the dressing room. It is also something that Fabio Silva could benefit from, having another experienced head to learn from.
Willian Jose has not been particularly bad, however he has struggled to adapt. Whether he is struggling to adapt to the Premier League, or Nuno's tactics isn't distinct.
In eight appearances, the 29-year-old has registered just one assist, that I don't think he expected to become an assist. It was Willian Jose's routine pass to Joao Moutinho, who took two touches before unleashing a thunderous strike from almost 30 yards out, that granted him his one and only goal involvement in the 2-1 victory over Arsenal.
In the same game, we did get a small glimpse of what the Brazil international could do. To equalise the scoring, Willian Jose earned his side a penalty, reducing the opposition to 10 men in the process.
His ability to identify the space, and drive at the heart of the defence was really intelligent play, that put him within touching distance of his first goal in gold and black.
Similarly to Silva, Willian Jose's form could easily be down to a lack of confidence. The Brazilian is registering a similar amount of shots per game as Silva, at 1.3, but considerably more key passes with 0.9 according to whoscored.com.
Along with experience, the only other factor in Willian Jose's favour is the fact that he brings his teammates into play more.
One thing which arguably excuses the two strikers form is a severe lack of big chances being created.
Out of the 20 Premier League clubs, Wolves have created the least amount of big chances with just 21. Sheffield United, who are bottom of the table have created 11 more big chances than Wolves.
Strikers are reliant on the service that their surrounding players offer them. Poor service, or a lack of in this case, makes their job increasingly harder.
Apart from Neto, the players around the striker just haven't offered enough creativity. Adama Traore has seriously struggled for form, and the likes of Moutinho and Neves in the squad for their defensive contributions.
Creativity and attacking contribution from the wing backs has also dropped off massively. With Podence still out injured, the reliance on Neto, who for the most part has grown into the role, increases each week.
Perhaps the biggest headache for Nuno isn't who starts at striker, but how does his side create more chances.
With just 10 games remaining, both strikers will know that they have start delivering goals.
Wolves currently sit directly in between a relegation place and a europa league spot, and with the season continuing to prove its unpredictability, either possibility is as likely as each other.
Finishing the season well is also vital for building a strong foundation for next season, so that Wolves can get back to their winning ways that the fans have become accustomed to under Nuno.
What hasn't been entertained, is the idea of playing both of them together. Willian Jose primarily opts as a target man, so if the two begin to build a connection, it could help Wolves create more chances.
Traore's form has been in question over the past season, so dropping him from the starting line up for a few games, could inspire the Spaniard's form to turn around.
If it is a case of one or the other, which has been the case for the majority of the season, then personally, I believe Silva should be the player that starts.
Although Willian Jose's experience is favourable, unless he starts scoring quickly, it's unlikely his option to buy will be exercised.
Whatever his price tag is, the money could be spent in other areas which need boosting, like a creative midfielder for example, which would help unlock whoever he choses to start up front.
In the long run, starting Silva would be incredibly beneficial to his development. Getting more game time under his belt, and putting trust into him would boost his confidence, which hopefully will be reflected in his game.
Silva has plenty of time to begin to repay his transfer fee, the more glimpses of quality we see from him, the more patient fans will be with his development.