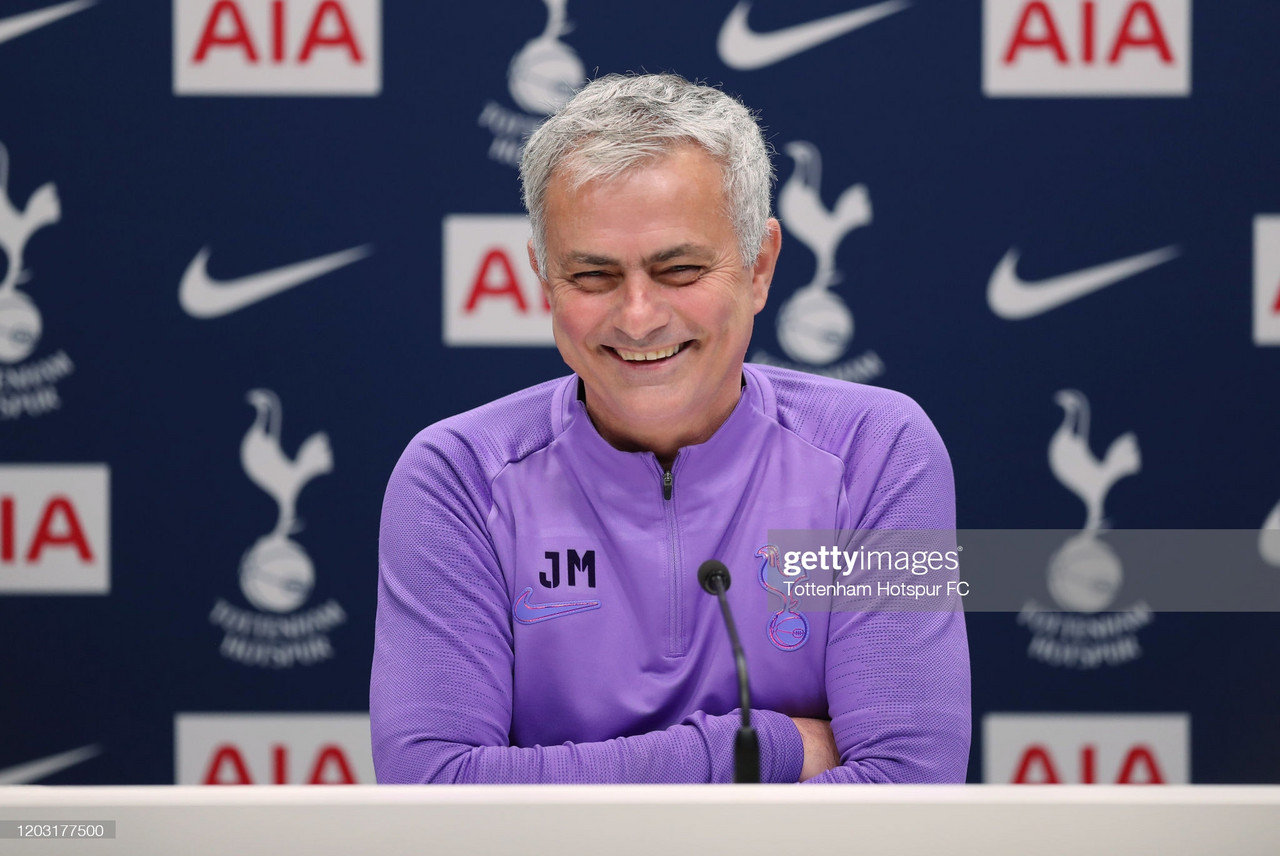 Tottenham Hotspur host Dynamo Zagreb in the first leg of their last 16 clash in the Europa League tomorrow.
Jose Mourinho addressed the media on Wednesday afternoon ahead of the match.
Here are the key quotes from the pre-match press conference:
This fixture was originally meant to be in Croatia, but it was rescheduled to go against Arsenal, who are now travelling to Greece.
And when asked if this means Spurs have an advantage for Sunday's North London Derby, Mourinho's answer was defiant:
"Well on December 6th we played against Arsenal in our stadium. On December 3rd Arsenal played at home against Rapid Vienna.
"At the same time we were playing in the ice in Linz against LASK Linz. We landed in London 3am. Was that an advantage to Arsenal?"
On Daniel Levy's 20 years at Spurs
Daniel Levy has now been the Chairman of Spurs for 20 years. With only one trophy to show for it, there is always plenty of debate about Levy's antics.
Mourinho gave a cautious answer when quizzed upon his superior:
"I always look to my bosses with utmost respect and to be very, very respectful, and I don't feel very comfortable to make any comment on my bosses.
"The only thing I can say is that for one year and a few months our professional relationship is good and of course he tries to give the best conditions for us and of course I try to give the best for myself and demand the best from everyone who works around me, to make the club more successful and better, but I don't feel very comfortable to comment apart from to say I have the utmost respect for him."
When asked whether he wants to look after Gareth Bale or just keep the momentum going, Mourinho said:
"I want the momentum to keep going but we have to manage him. The communication is very good, I believe he trusts me. I trust his experience and judgement and his knowledge of his body and at the moment we're deciding together what to do.
"The other day during the match I found Andre Marriner the fourth official laughing at us because he found my conversation with Gareth funny during the match. We were looking at each other saying, 'How many more minutes? 5 minutes more or 10?' We were making the decisions together.
"Marriner was laughing at it. Gareth, the relationship is very good, he is playing well, of course I'd like him to be on the pitch for 90 minutes of every match but it's not possible."
Mourinho was asked whether the potential exit in the Round of 16 would be a disaster, especially against a side that are considrered massive underdogs.
"I don't think at this level we can speak about underdogs. A team to be in a fight for the last eight is of course a good team, so the underdog story doesn't fit in with how I think of knockout football.
"So for me, no underdogs. A very good team, they defend a lot and well, they are good in counter-attack, they have technical quality, they have physicality. They are a good team, they have experience, it is not the first time they are playing in Europe.
"They play in Europe every year, they played in the Champions League recently, they have international players from different countries. It is a big step up in relation to the previous challenges we had before. The teams we have played before are in a completely different level to Dinamo.
"It is a difficult tie for us. They have good players. Can they play in the Premier League? Their agents will be very happy if they I say yes and they will use my words to promote the players so I am not going to do that."