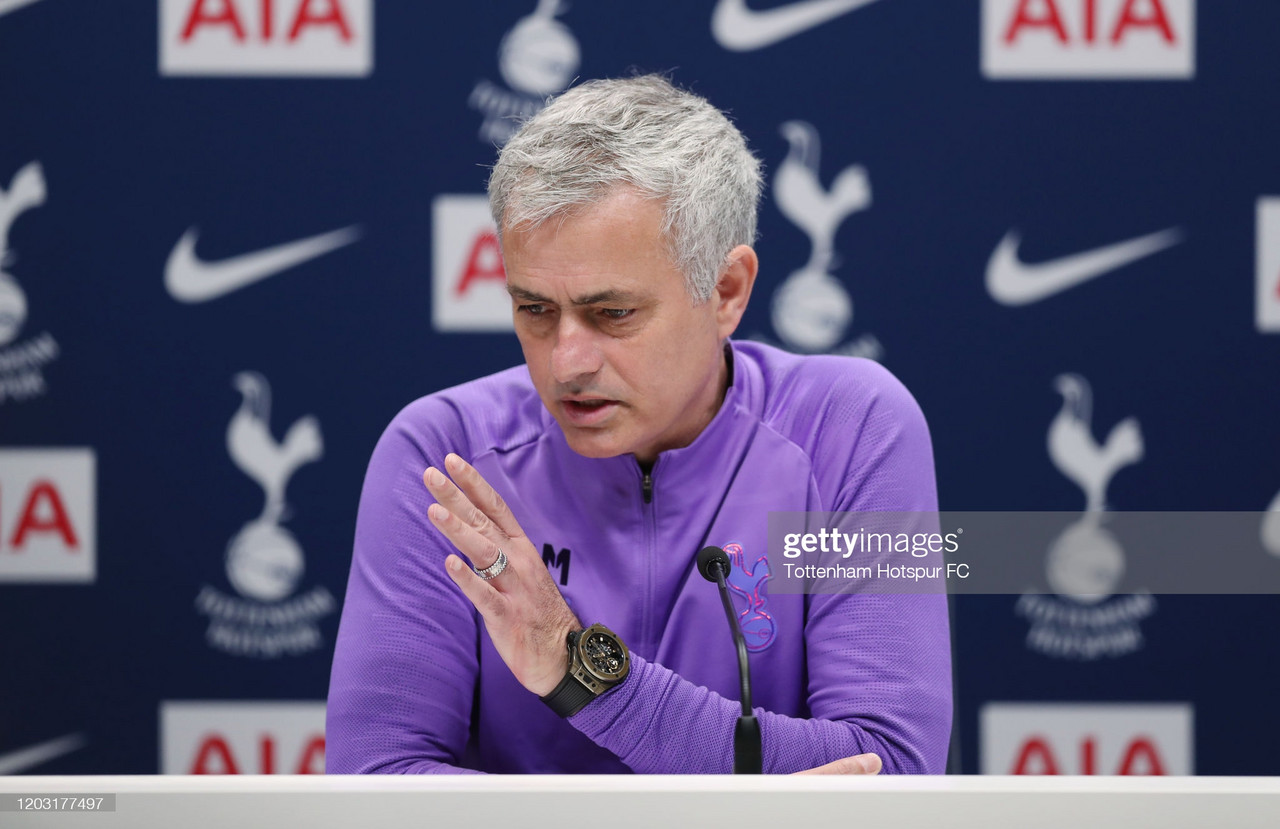 Harry Kane grabbed a brace as Tottenham Hotspur beat Dynamo Zagreb 2-0 in the Europa League round of 16 first leg.
It has given Jose Mourinho a comfortable advantage going into the second leg in Croatia next week. It was a routine ninety minutes for a Kane-inspired Spurs.
Mourinho spoke to the media after the match:
When he was asked what he made of the performance, Mourinho was satisfied, but clearly not too delighted:
"Was not a bad performance at all. I think it was positive. Maybe we could play with a little bit more intensity.
"Because we had let's say a fresh team, apart from 3-4 guys, lots of players were fresh, but it's not easy to play against a physical team and a team that defends well like they did.
"They defended well. When the result was 1-0 in the second half they tried to keep that result so they still stayed in a low block and defended well.
"So it's not easy. The result could be a little bit bigger. A third goal would have come and fit very well in the reality of the game, but it is what it is.
"It's still open. We have to go there and play a serious match because 2-0 we are not yet in the quarter-finals."
Kane fit for North London Derby
After his two well-taken goals, Kane came off in the 84th minute after appearing to be in some discomfort with his right knee.
The situation then become a serious worry when the striker was spotted applying ice to his knee on the bench.
Mourinho was asked whether he will be fit to face Arsenal:
"I hope so and I believe so. You know, its a big match. I think only a big problem would stop him from being there, which I don't think it is. Let's see the reaction tomorrow but hopefully he'll be fine."
The Zagreb manager, Zoran Mamic, called Kane 'a master of football'.
It is safe to say that Mourinho agreed as he was full of praise for the England captain - who now has 41 goals and assists in 37 games this season.
"He is [a master of football]. He is very intelligent.
"Some strikers score lots of goals and that is the most important thing in football for a striker, which he does, but apart from that he understands every tip we give him, in terms of positioning, movement - he understands the game very well.
"He feels the space, he looks around and see where other players are and he can affect the game. He is really is a very good player."
Tanguy Ndombele started after sitting on the bench for the 4-1 win over Crytsal Palace last Sunday.
The midfielder had a tough night: he constantly got fouled by a physical Zagreb side. But he shined throughout and was a constant bright spark in possession.
Mourinho gave his say on Zagreb's psychical approach to Ndombele:
'Yeah, he was [fouled a lot]. But he didn't get a penalty and he didn't get many yellow cards and if he got one it was too much.
'He dribbles, he is strong one against one and people try to stop him and it is up to the ref to analyse it and say enough is enough, but that is the way it is."
In the second-half, there was a big shout for a penalty when Lovro Majer appeared to kick Ndombele's foot. To the surprise of many, the referee and VAR saw nothing in it.
Mourinho claims he thought it was a penalty.
"The penalty for me is a penalty. But his decision was no. The VAR was no too, and we have to accept that."