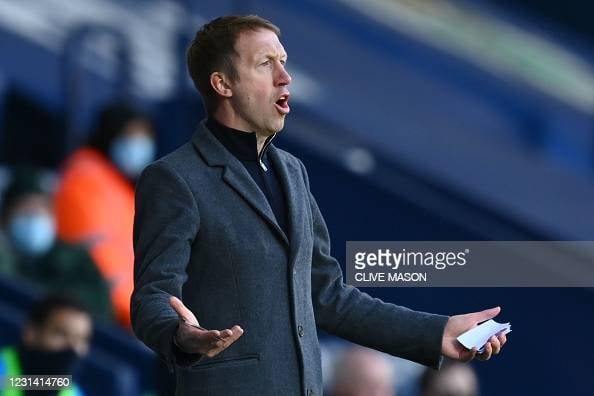 Graham Potter knows his Brighton & Hove Albion side have to turn performances into points ahead of their forthcoming Premier League outing at Southampton.
The Seagulls have lost their last three matches, all by one goal, and despite that the Brighton boss remains confident his side can avoid the drop.
Only goal difference separates Brighton from Fulham, who occupy the final relegation place ahead of the weekend's fixtures.
Team news
The Seagulls have no new injury concerns after last weekend's 2-1 defeat against Leicester City, but Potter did provide updates on those players who are on the injury list.
"Aaron Connolly has a cracked rib, it's a little bit sore but he is making good progress, and is looking like returning after the international break," said the Albion boss.
"Tariq (Lamptey) is still away. His hamstring hasn't responded as well as we'd like, and with surgery he will miss the rest of the season. Adam Webster is making good progress, and working towards a return after the international break.
"It's incredibly disappointing for Tariq. We've tried a few things but in the end that (surgery) was the best option. We've just got to focus now for him to get ready for next season."
Points haul
Brighton go into the game on the back of losing three in a row – despite earning plaudits for their performances.
And with just 11 matches to go, they will be looking to turn a good performance into an outcome where they come away with at least a point.
"I think you've got to deal with the results as clearly they're important, and then look at the performance and see how you can turn the performance into a positive result," Potter said.
"It's frustrating as we'd obviously like a better points tally, but we know we got to fight for points, fight for results and that's what we're prepared to do."
Southampton
The Saints haven't been in the best of form – with the 2-0 win at Sheffield United last weekend ending a run of nine games without a win.
And after losing at Manchester City in midweek, Ralph Hasenhuttl's side will be looking for home comforts at St. Mary's on Sunday.
Potter said: "To win would be fantastic, but as I've said there's 11 games to go, a lot of points to play for, but every game is an opportunity to get something. We need to go and do our best against a really good opponent.
"You can see the challenge of the Premier League when you look at the run they've been on having topped the league at one point.
"They have a clear identity which I really like. Obviously they've had a bad run of results but when we've played them previously they were as good as anyone in the league. They've still got that quality, and they have a real understanding of what they're doing.
"We have to understand that you can spend as long as you want looking at others, but if you don't worry about yourselves then you lose focus. We're responsible for what we do, and not worry about what others do."
Chris Wilder
Potter's press conference came hours after news broke of Chris Wilder's departure from Sheffield United.
And the Seagulls boss was full of praise for the former Blades boss, who leaves United after over five years at the helm having guided them from League One to the top flight.
"He was the first manager I came across on my return to the UK, when I took Swansea to Bramall Lane," said Potter.
"I got a sense of Chris there. He's very competitive, but a very good guy, a good football person. He's honest and he's done an incredible job.
"What he's done over 5 years is amazing and I doubt he'll be out of work for long."
VAR feedback
The Premier League are set to send a survey to all 20 of its clubs to request their feedback on ways to improve the use of VAR, and Potter certainly had a few suggestions.
"With VAR, there is still a human being at the other end making a decision," he said.
"Consistency will always be difficult and we have to accept that. What's clear and obvious to you may not be for me.
"Maybe we should just use VAR for the objective decision, instead of the subjective. Before VAR you heard from clubs that they just wanted things to be consistent. Whilst you're making VAR decisions on subjective things there will always be a debate."