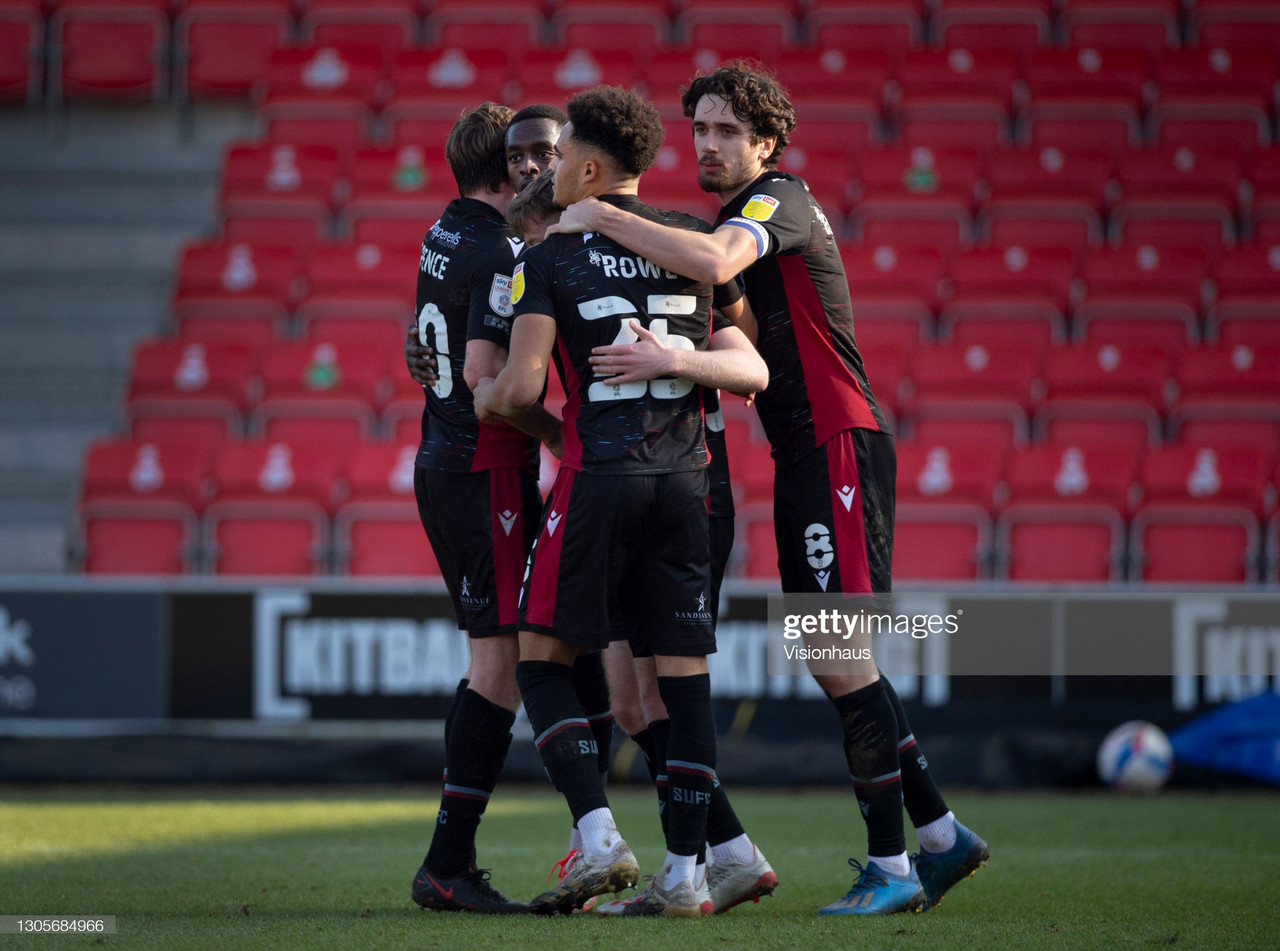 Jobi McAnuff's first home win as Leyton Orient interim manager would be delayed, as Scunthorpe United departed London frustrated to have not come away with three points.
Goals from Ryan Loft and Ousseynou Cisse meant that the spoils were shared in League Two's earlier kick-off, despite the fact that the home side had just one shot on target all game.
Leyton Orient enjoyed the majority of possession, but Scunthorpe will be left reeling after generating 12 shots throughout the 90.
Leyton Orient: Vigouroux; Ling, Turley, Happe, Brophy, Clay, Cisse, Wilkinson, Kemp, Freeman, Abrahams.
Scunthorpe United: Howard; Rowe, Clarke, Bedeau, Brown, Gilliead, Karacan, Beestin, Hallam, Van Veen, Loft.
In what was a slow start to the game, Tristan Abrahams was the first to have a sniff of goal as he flashed an enticing ball across goal, but Connor Wilkinson's outstretched leg wasn't enough.
However, it was Cox's side that took the early lead as a misunderstanding at the back allowed Loft to administer the punishment. The first real attack from the Iron, as Alfie Beestin spread the ball out wide to Kevin Van Veen, who calmly floated the ball towards the back post, where a miscommunication from the goalkeeper and defender allowed Loft to divert the ball into the bottom corner before reeling away in jubilance.
The O's looked for an immediate response, as Dan Kemp fizzed in a corner which caught Mark Howard off guard and clipped the crossbar.
Scunthorpe looked to double their advantage, as Alex Gilliead spun his man on the right wing and powered a shot at goal, but Lawrence Vigouroux parried his effort.
But with just ten minutes left of the first half, McAnuff's Orient found their equaliser courtesy of Cisse. A free-kick was awarded on the edge of the box, which Kemp, who had created several chances thanks to his crosses, delivered an insatiable ball into the six yard box, which was begging to be attacked as Cisse nodded past Howard to clinch his first goal of the season.
Heading into the second half, an enticing cross from Van Veen was nodded on by Jacob Bedeau, but his header flashed across goal.
The Iron continued to search for the lead and another set of confusion at the back sparked controversy, as Sam Ling and Vigouroux hesitated, allowing Van Veen to square down on an open goal but Ling appeared to swipe the ball from behind him, calling cries for a dismissed penalty.
Van Veen continued to make a nuisance of himself, as he made a surging run down the centre of the pitch and battled his way through four defenders, before unleashing an audacious long range shot that trickled wide.
This dominant Scunthorpe second half nearly had its reward, as Jem Karacan burst forward before lofting a cross onto the head of Loft, whose powerful header was kept our heroically by Vigouroux.
81 minutes in and Leyton Orient generated their first chance of the second half, as Wilkinson's free-kick in a dangerous position was deflected out for a corner, and from the resulting cross Craig Clay had his shot valiantly blocked by the Scunthorpe defence.
As Scunthorpe withstood some late pressure and the O's made some late changes to run down the clock, it was confirmed that the Irons dreaded run of not beating Leyton Orient at Brisbane Road since 2002 would continue.
Two teams who aren't necessarily threatened by relegation but aren't nearing the play-off positions, not enough was created from either side to warrant the three points.
Scunthorpe will be the more frustrated, after having 12 shots and failing to capitalise on some dreadful mix-ups at the back, including Van Veen being denied a penalty which looked all but confirmed in dramatic scenes.
​​​​​​​Leyton Orient were kept in the game by Vigouroux in goal, who on numerous occasions had to deal with some appaling defending and made heroic saves, including a fantastic header from Loft.