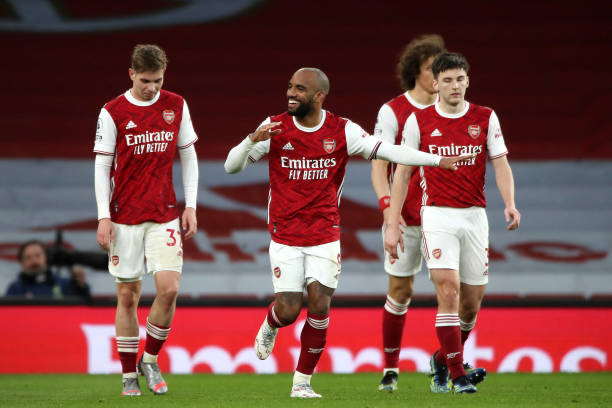 A deflected goal from Martin Ødegaard and a penalty by Alex Lacazette was enough to earn a vital three points for Arsenal at the Emirates.
After going into the break at level pegs, a stagnant start to the second half was brought to a halt as Spurs defender Davinson Sanchez scythed down Lacazette in the penalty area. The Frenchman converted it smartly, sending Hugo Lloris the wrong way.
On top of Ødegaard's equlaizer following a spectacular Rabona style opener by Erik Lamela, the penalty was enough to earn the three points for Mikel Arteta's men.
Lamela went from hero to zero as he was given a second yellow card in the 76th minute for handing-off Kieran Tierney in the face, right in front of the technical area. Derby day nerves were definitely not absent from the tie.
Although it appeared that the home-side were going to suffer squad issues with no Gabriel Martinelli in the squad and Pierre-Emerick Aubameyang missing due for "disciplinary reasons" It was actually Mourinho's side that were dealt significant blows to the squad.
Heung Min Son pulled up with a hamstring injury just before the 20 minute mark.
Although Spurs remain above the Gunners in the Premier League table, Arteta's men move within four points of their North-London rivals, making the last 9 games a vital sprint.
After the spectacular finish from eventual Spurs villain Lamela that seemed to dumfound all eleven Arsenal players, Ødegaard's teammates were sure to sing his praises as he bundled home an arrow like cross courtesy of Tierney.
Having scored his second goal in two games, the Norwegian loanee is looking like he's finally acclimatising to life under the "Arteta project..."
The attacking midfielder also fields good involvement stats, averaging 29 passes per match and scoring in the Europa League knockout round as well as the Premier League.
It seems like Arteta is building the squad around his attacking mid-fielders, as Emile Smith-Rowe, Bukayo Saka and now Ødegaard are all featuring alongside each other, complementing a patient and ball-playing style under the boss.
The 22 year old is still yet to fully prove himself, as two huge games coming up against West Ham and Liverpool could starve Arsenal of six points if the red & whites fail to turn up.
Although it was far from a flawless Gunners performance, they got over the line, which hasn't happened often for them this season under Arteta. Everyone looked solid, especially in midfield and defence.
stand in captain Granit Xhaka intimidated Spurs players in the centre of midfield, accompanied by a calm and collected Thomas Partey, who moved the ball efficiently. The Ghanaian looks to take over Mohamed Elneny's spot just in front of the defence.
Gabriel Magalhães was strong and powerful, paired with the defensive visionary and veteran David Luiz, they both kept Harry Kane stifled for most of the game.
This is even more encouraging for fans, as Pablo Mari continues to make his pacy recovery from injury.