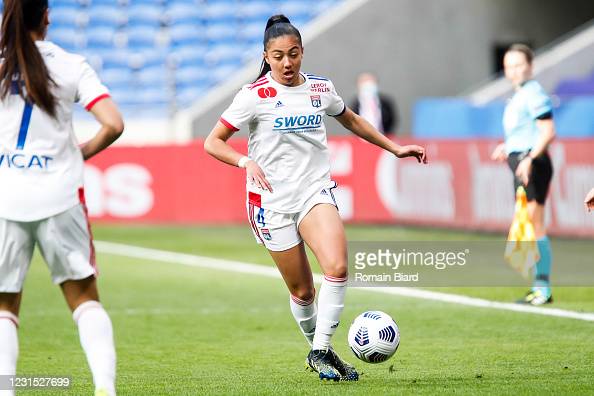 Seeing the starting eleven come up against Brøndby in the first leg of the UEFA Women's Champions League, you would have thought Lyon would have more than enough to dispatch their Danish opponents.
After all, this is a team full of superstars that have been rampant in the league and Europe and had dispatched every opposition they've faced in this round of the competition for the last few years. 90 minutes later, Lyon won the first leg 2-0 but the team produced yet another lacklustre and lethargic performance overall.
They produced a similar performance against Soyaux and things are starting to look a little worrisome for the European champions. Brøndby were unlucky to concede an injury-time second to Melvine Malard, but what is worrying is their general performance though there was one bright spark in Selma Bacha.
The French youth international started her third game in succession and produced an assured display in her first two games against Soyaux and Brøndby but succumbed to an unfortunate injury. Given a chance to start, Bacha finally found some consistency which showed across her two games. Though she was rarely troubled, the left-back delivered when called upon.
There's been a debate about who should start at left-back - should it be Sakina Karchaoui or Selma Bacha? Both have their strengths and weaknesses but there is an argument that it's time for the younger full-back to be given a go.
Let's understand the fundamental problem first. Lyon's approach to games has been slow and laboured, a theme that has been consistent throughout their games. Regular high-scoring ties are no longer guaranteed.
They lack urgency and seem slightly predictable, especially against teams that set up in a deep block. Defensively, they've looked shaky and given they haven't come up against any superior opposition - except Paris-Saint Germain earlier this season in which they lost 1-0, it doesn't bode well.
In this case, the statistics are still positive, five goals conceded and 52 scored but it doesn't tell the full story. The injuries at centre-back have halted momentum and as Liverpool's men's team have shown this season, chopping and changing pairings in that position causes a ripple effect throughout the team. The full-backs are affected too and how they perform can be as important as having a clinical centre-forward or tempo controlling midfielder.
The full-back has become supremely important in football with numerous responsibilities tied to them now. The role has evolved over the years and has gone from just two wide defenders to an all-purpose player capable of contributing to every phase of play. Every coach uses full-backs in different ways but each one places importance on the role itself.
For Lyon, the role has been integral to their way of playing and has seen players being rotated from defence to midfield without much hesitation. Lucy Bronze was moulded into a midfielder cum right-back with lots of movements into the interior channels to provide extra support. Her replacement, Ellie Carpenter, is much more of a traditional full-back which has altered the tactics slightly.
It is now at left-back where Jean-Luc Vasseur places more importance tactically, but questions over Karchaoui's contribution in the long term remain to be seen. Does she fit the team's tactics going forward?
After battling it out with Carolin Simon, Bacha showed enough promise in the 2018/19 season to be given more opportunities to play. She made 22 appearances and contributed seven assists that season at 18 years of age which put her on the map. However, the following season saw her make 11 appearances and one assist.
The arrival of Karchaoui represented an opportunity for Lyon to pick up a young, experienced defender from their domestic rivals in line with their transfer policy. That's not to say that healthy competition between the two is bad - it could have a positive effect on both players, but there is no doubt that it's halted Bacha's development seeing as she's hardly featured.
Bacha's game revolves around a strong defensive foundation with an ability to provide adequate support going forward. What makes her such a good supporting full-back is her ability to contribute in the final third whilst maintaining good defensive positioning. Blessed with pace, Bacha can track back and catch up if she is caught out. Not to his level just yet, but César Azpilicueta might be an apt comparison given his game is very similar.

The heat maps are a comparison between Bacha (L) and Karchaoui (R) where the most obvious difference is in the attacking third. Karchaoui is much more attacking yet Bacha is present in both thirds equally. Additionally, there's a lot of interior movements which indicates that the latter plays much closer to her other defenders.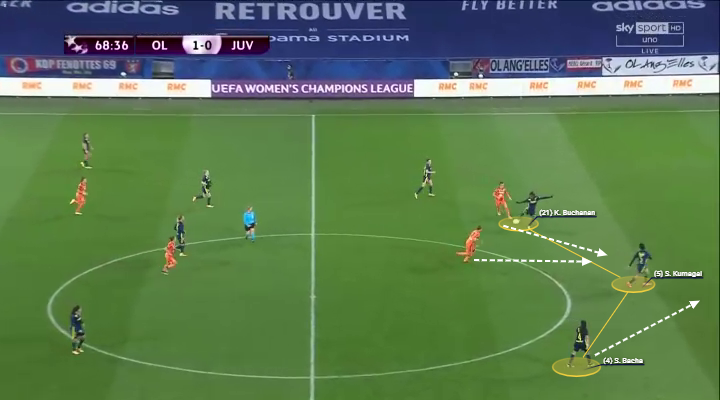 This first image highlights Bacha's usual positioning. More often than not, she'll hold a slightly narrower position to ensure that Lyon have three defenders and it allows Carpenter to foray forward. Juventus are capitalising on Kadeisha Buchanan's mistake but having Saki Kumagai and Bacha next to her means they can defend this attack.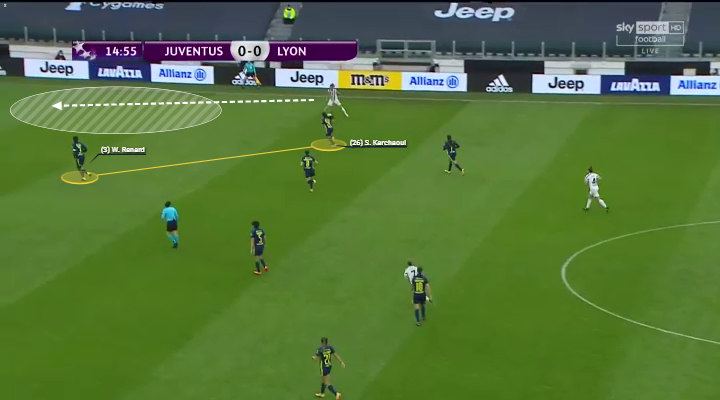 Karchaoui, on the other hand, is a much more attack-minded full-back which means there are times where she will leave spaces behind. Another example from the game against Juventus sees the left-back tracking back but has left a big gap between her and Wendie Renard. The winger will run down the line and look to cross and though Karchaoui catches up, she's in a disadvantageous position that allows the winger to cross.
Going forward, Karchaoui is the better attacker, however, both players bring a different skillset to the table. The former Montpellier defender is much more of a ball carrier and interchanges better with her winger. The relationship she's formed with Amel Majri has been valuable and given how much input the left side of Lyon has, remains important. Though we still need to remember that a potential partnership between Carpenter and Delphine Cascarino can be conducive moving forward.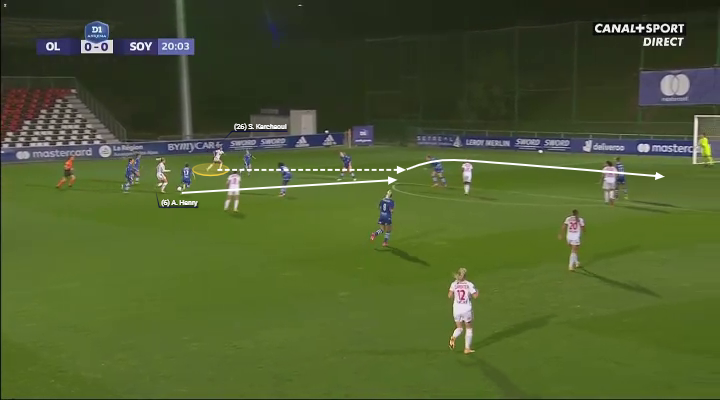 Bacha tends to sit slightly behind her winger providing deep crosses, despite being able to contribute near the 18-yard box. Her crossing is arguably her greatest asset and having someone capable of working from deep can be useful against stiff opposition. Ada Hegerberg presents an exquisite target when she returns and will undoubtedly improve their attacking play by a significant margin. The use of statistics and data here may not accurately present the full picture given the substantial differential in minutes played. Bacha only has 456 minutes of playing time whereas Karchaoui has 1,216.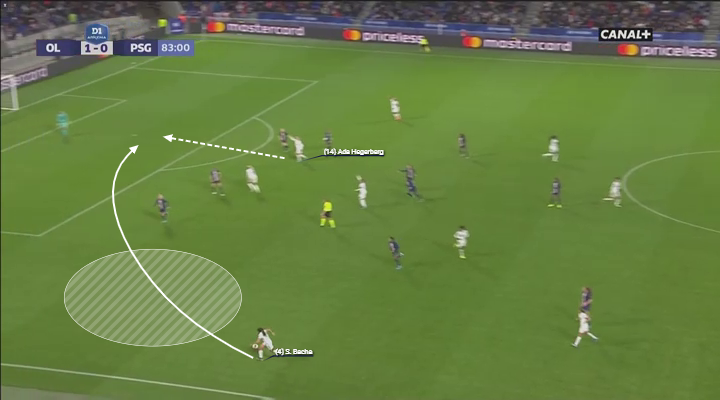 Trying to replicate a system that included Bronze's inverted full-back role with two young full-backs will be difficult. Especially considering how tactically apt Bronze was, the new players will need time to adapt and settle. While there has been a slight shift in tactics, Bacha has the capabilities to do what Bronze did in the long term. At the moment, going with a more balanced approach of one attacking and one supporting full-back seems apropos.
Should Vasseur take a chance?
Looking ahead, the choice at right-back seems more clear cut with Carpenter growing into the role with the experienced and versatile Janice Cayman providing backup, it is at left-back where the team needs to decide on a direction. Do you persist with Karchaoui for the foreseeable future or allow Bacha to stake a claim as the undisputed number one in a core part of the rebuild? The second leg against Brøndby gave us an indication of the manager's thoughts going forward by starting Bacha again, but her untimely injury means she's set for another spell on the sidelines. Let's just hope it isn't too serious and that Bacha is back playing soon.