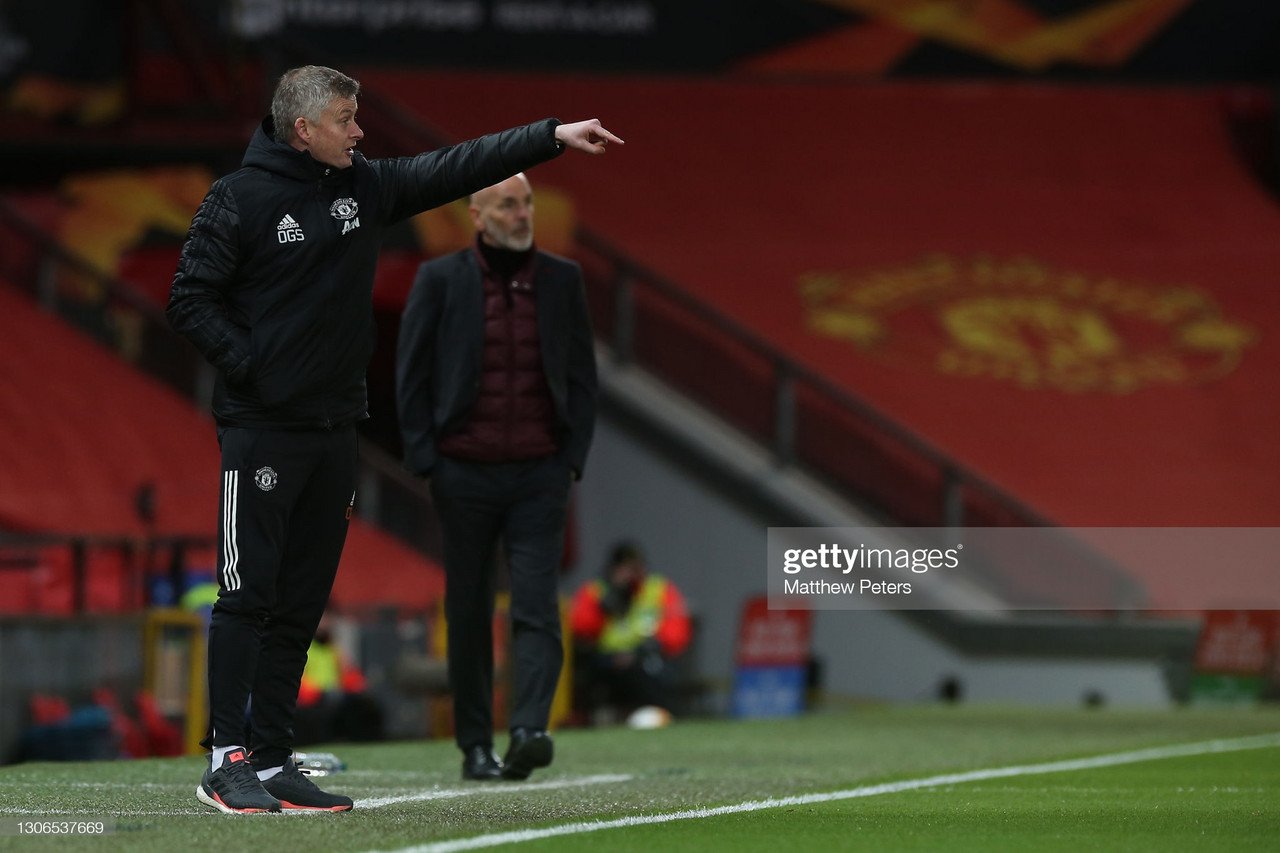 Despite being nine points adrift of city rivals Inter Milan in Serie A, AC Milan will head into tonight's game at the San Siro in confident mood. Manchester United will too, however, and Ole Gunnar Solskjaer spoke to the media ahead of what is arguably his side's biggest game so far this season.
Solskjaer was asked to explain his selection of a 20-man squad for the European grudge match, clarifying that he still has a number of doubts going into the game even if midfielders Paul Pogba and Donny van de Beek made the flight to the Italian capital.
Juan Mata and Phil Jones remain unavailable, whilst Uruguayan striker Edinson Cavani picked up a knock in training and is therefore not in the squad. Eric Bailly also has a problem that needs to be examined.
"There are a couple we need to assess if they are available," Ole stated.
"Anthony Martial is a definite no-go. Apart from that, we're assessing them as we speak. Some might travel but we're still needing to confirm that they are available still.
"As I've said, we're assessing them. They've been involved with the training session and then let's see tomorrow if there is any reaction or not. They all trained yesterday [Tuesday] and trained today [Wednesday]. Hopefully, there is no reaction."
Donny van de Beek's future
When asked about talk about van de Beek's future following some press reports this week, Ole responded by backing his man.
"There's always speculation. Donny has been focusing really hard and is working hard to get back to be available for the latter stage of the season now. That's our focus.
"Shola [Shoretire] will be playing for the Under-23s [at Tottenham on Friday]. We felt it was right for him. With regards to decision-making on what team we're going to play, let's see how everyone feels tomorrow."
How are the team progressing?
In the media briefing ahead the round-of-16 tie, Ole was asked how he measures the progress of his team.
The Norwegian believes that, although the Red Devils always strive to win trophies, the league table also offers the true measure of their development.
"Of course we all want to win trophies at this club, but sometimes a trophy can hide other facts of what is happening at the club.
"It's in the league position you see if you're progressing really. Sometimes in the cup tournaments, you might be lucky, you might be unlucky with draws and games that are decided on different factors.
"But, of course, we're aiming to win. That is what's required in football and you're always aiming to win trophies.
"I think you have to say that when you see the culture of what's happening every day, I feel a lot of improvement in the everyday routine, the everyday work. The boys have taken on everything I want. It's for others to assess how much we've improved. We're 12 points ahead of where we were in the league this time last season."
Would winning a trophy signal improvement?
United's boss argued that success in the Europa League or FA Cup wouldn't prove anything in terms of his team being loser to being the finished article, mainly because fans of this great club expect to see their heroes regularly competing for, and lifting, the Premier League and Champions League trophies.
"We need to win something and, if we play well, the trophies will return. But a trophy won't say 'we're back'. We need the consistency of being top of the league and then winning some trophies. A cup can hide that you are struggling a little bit," Solskjaer said.