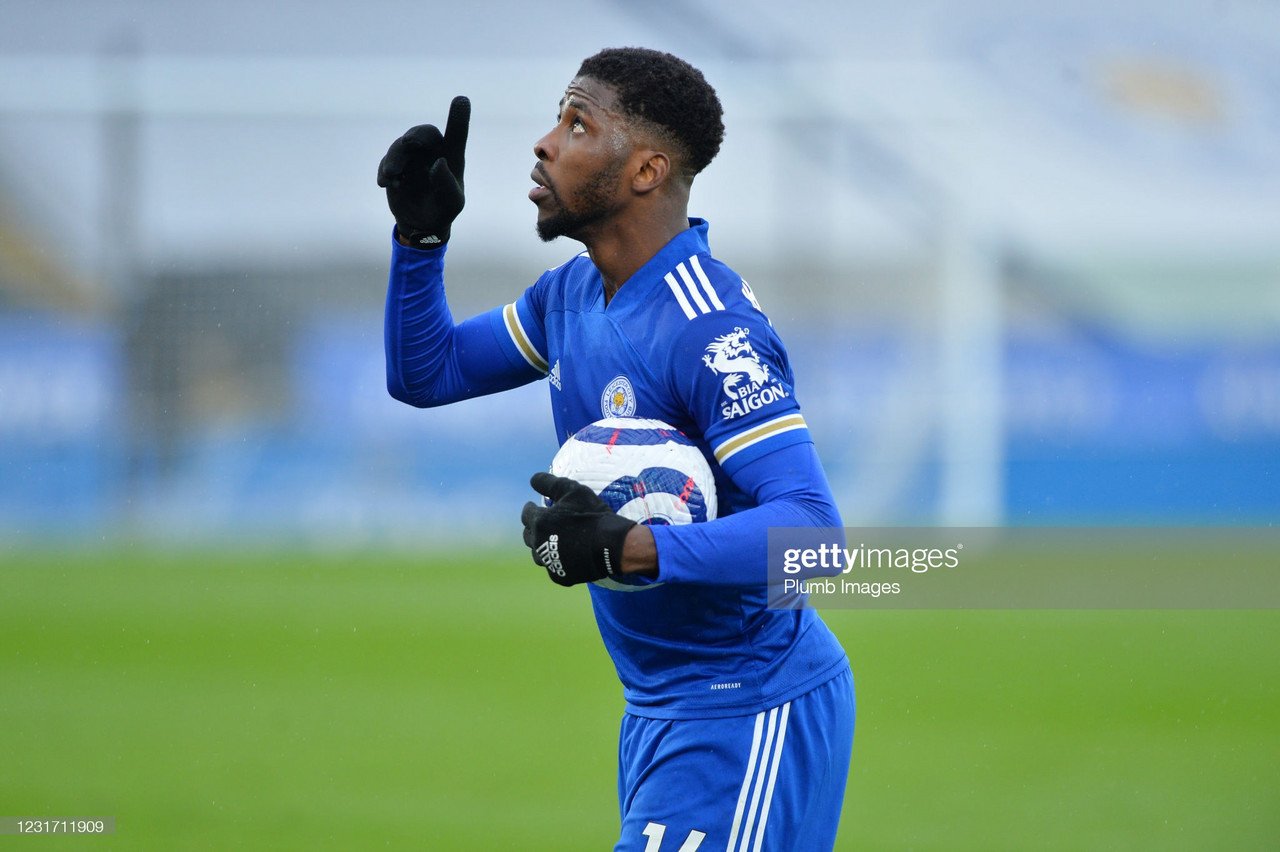 Leicester City had just come off of their first-ever season in the prestigious UEFA Champions League and an underwhelming season in the Premier League.
They were looking for a striker to supply the efforts of Foxes talisman Jamie Vardy, and former manager Craig Shakespeare opted to sign a young Nigerian striker by the name of Kelechi Iheanacho from Manchester City for about £25million.
All Foxes fans around the world were excited by such a signing, as he was one of many promising Premier League strikers under the helm of Pep Guardiola at City. Many fans were infatuated with the idea of Iheanacho becoming the eventual replacement to Vardy or possibly having the Nigerian create a tight-knit partnership with the forward. Unfortunately, the Nigerian did not live up to expectations.
Under the management of Claude Puel, Iheanacho featured in 21 Premier League games in his first season, with most of his game time consisting of being a substitute on the bench. Puel favored starting former Japanese Fox Shinji Okazaki and Algerian striker Islam Slimani over him, hence why he rarely started in his first season. That resulted in a poor three goals and three assists in his first campaign.
Iheanacho's second season under Puel would be even more disheartening, as he would only score once and create three assists until the Frenchman's eventual departure in February of 2019. Many Foxes fans were becoming impatient and frustrated with the Nigerian, uttering the claim that he was not good enough to even feature on the bench.
Iheanacho was disappointed with himself, but Brendan Rodgers saw promise in him. Since his integration to the East Midlands club in February of 2019, Rodgers has motivated him to work hard in order to visualize results on the field, and it has paid off.
In his first complete season under Rodgers, the Nigerian striker scored five goals and tallied four assists, which would become his best season since his 2016/2017 Premier League campaign. Iheanacho had reinvented himself thanks to Rodgers and his first-team staff, and he wanted to prove to everyone why he belonged in the Premier League.
Iheanacho began this current Premier League campaign as usual by coming off the bench, resulting in him not being able to generate any goals or assists at the beginning of this season. In contrast, in the UEFA Europa League, it was a different story. Iheanacho scored four goals and tallied two assists in the European competition, and it was evident that his success in such competition would translate to league games.
At the end of January, Vardy would end up having to enter the surgery room for a recurrent groin injury he had been experiencing for weeks, and it was time for Iheanacho to shine. He decided to take the role of Leicester's offensive talisman and began to produce world-class performances for the Foxes.
Iheanacho has been at the hands of many critical goals for Leicester since February, including a decisive volley in a slender win against Brighton and Hove Albion and his first Premier League hat-trick against Sheffield United. Brendan Rodgers' blue army could not be any happier to see the Nigerian finally succeeding after three and a half years at the club, especially since Vardy's performances have been woeful since his return from injury.
To comprehend why Iheanacho has become Leicester's current offensive talisman during this second half of this Premier League campaign, it is essential to note his current strong suits.
Splendid shooting numbers
The first area of forte for Iheanacho during this second half of the season has been his ability to strike the ball against a variety of opposition.
Since his emergence at the beginning of February, Iheanacho has been producing a staggering 3.22 shots per 90, which places him seventh overall in such category among other Premier League peers. This is impressive for the Nigerian, as he is currently generating more shots per game than Premier League golden boot candidates Mohamed Salah and Portuguese Red Devil Bruno Fernandes.
Due to his world-class performances recently for the East Midlands club, he is ranked highly in other Premier League shooting categories as well. Iheanacho is currently joint third with Evertonians Dominic Calvert Lewin and Michael Keane for goals generated per shot, with a staggering 0.23 goals per shot. Iheanacho is also fifth in the league for most goals per shots on target with a ratio of 0.67 goals per shots on target, which once again notes his clinical edge and efficiency with the ball.
Many pundits and critics have always noted Iheanacho's weakness in turning chances into goals, but in lieu of uttering such remarks once again this season, they have had to take back their criticism. Iheanacho is currently producing world-class numbers, and no one can disparage him for doing such a thing.
The Nigerian has scored the most goals in the Premier League since February with six goals. Most importantly, Iheanacho currently has the best scoring frequency in the Premier League, as he scores a goal every 120 minutes on the pitch.
Iheanacho will seek to keep such shooting statistics on par during the rest of the season, as he will be responsible for most of Leicester City's goals if Vardy does not find his goal-scoring boots soon.
Pinpoint Passing
Another area of strength for Iheanacho since the beginning of February is his passing efficiency.
Strikers are usually not particularly known for their passing ability, but Iheanacho has defied such a stereotype. So far this season, the Nigerian striker has completed 177 of an attempted 219 passes. This results in him having a pass completion percentage of 80.8 percent, which is extremely high for a striker.
Due to his great passing efficiency, Iheanacho has a higher passing percentage than Manchester United talisman Marcus Rashford and Liverpool striker Roberto Firmino.
Iheanacho's best attribute when it comes to distributing the ball is his short passing. This season, the Nigerian has completed 108 passes from an attempted 120, resulting in a 90 percent short pass completion percentage. This places Iheanacho in the top three percent of strikers in the Premier League when referring to short passing completion efficiency, but also in the top three percent of strikers in Europe's top five leagues as well.
In general, the Nigerian boasts of an eye-opening statistic that might surprise many due to his fruitful passing numbers. Iheanacho is currently in the 92nd percentile of strikers around Europe's top five leagues in passing efficiency, meaning that he is better than 92 percent of strikers around Europe's top five leagues when passing the ball.
A pest for the opposition
The last attribute that has made Iheanacho so bounteous is his ability to cause havoc to all opposing Premier League players.
Iheanacho loves pressuring rival players in hopes of them formulating an error that will lead to a goal. The Nigerian is currently averaging 15.97 pressures per 90, which places him in the top 16 percent of Premier League strikers in such category. The average Premier League striker will pressure opposition players 14.59 times per 90, which Iheanacho comfortably surpasses.
Another thing that Iheanacho executes that generates problems for other clubs is his ability to dribble with the ball. In his 727 minutes accumulated for Rodgers' side this season, the Nigerian striker has completed 12 out of an attempted 18 dribbles.
This results in Iheanacho having a 66.7 percent dribble success percentage, which is better than Aston Villa talisman Jack Grealish and Tottenham Hotspur favourite Son Heung-min.
Iheanacho also loves to pitch in some type of assistance to Leicester's defense by blocking any type of goal-leading actions. Iheanacho has currently blocked the ball by standing in its path on 11 occasions this season, one being a shot opportunity and the other ten being passing opportunities.
This has resulted in Iheanacho averaging 1.36 blocks per 90, which places him in the top 18 percent of Premier League strikers in terms of blocks this season.
Iheanacho will continue to be vital for Brendan Rodgers' blue army until the end of the season due to his amazing offensive numbers, but also due to his casual defensive actions every game. The Nigerian is making up for Vardy's lack of goalscoring prowess recently, which has led him to take over the reins of Leicester's goalscoring department.
Rodgers must opt to continue playing the Nigerian striker alongside Vardy, as they have scored a staggering 21 goals in 23 games when they have both started alongside each other.