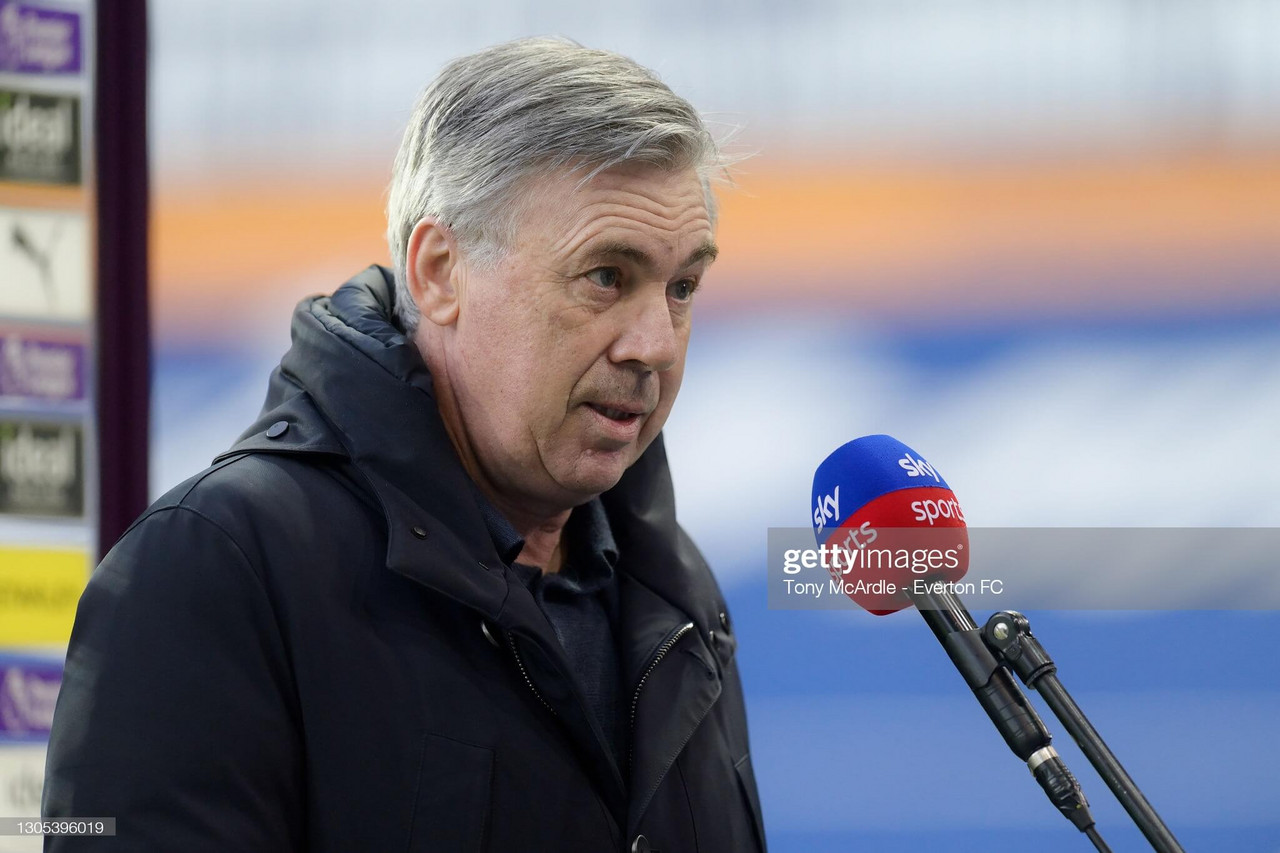 Carlo Ancelotti is "not worried" about Everton's goalkeeping situation ahead of their FA Cup quarter final against Manchester City this weekend, despite the home side being without both Jordan Pickford and Robin Olsen for the match.
Pickford suffered a recurrence of an abdominal muscle injury during last weekend's Premier League loss to Burnley, which forced the England goalkeeper off before half time. Olsen, Everton's second choice goalkeeper who has featured in most of the cup games and also been rotated into the league lineup this season, remains sidelined too having been absent for the past three weeks with a knock.
Ancelotti confirmed that Joao Virginia, the 21-year-old Portuguese 'keeper, will start in goal against Pep Guardiola's side and also said that James Rodriguez will miss the game along with Fabian Delph and Abdoulaye Doucoure.
"I'm not worried because Joao is a young goalkeeper, without experience for this kind of game but he has a lot of quality, and he showed his quality against Burnley when he had the opportunity," the Everton manager said of the goalkeeping situation.
"Where I am worried now is the team has to play [the way] like we tried this week to put in place the right strategy for the game, and I hope that the team is able to do this. I'm not worried for the absence of the two goalkeepers."
Injuries make task tougher for Everton
It is far from ideal for Ancelotti, whose record against Guardiola is better than most other managers, and the absence of a number of first-team starters makes the job of progressing past a team which has been in tremendous form and lost only one game since late November, that bit tougher.
"We can compete with a good spirit, with a good attitude on the pitch, a strong concentration defensively, and try to use the set-pieces where we are strong," Ancelotti said. "We have to learn [from the previous meeting with City last month which Guardiola's side won 3-1] where we competed for an hour but we have to compete better. When we have the ball, we have to be efficient, play quick and vertical."
Everton have already reached one semi final this season, in the Carabao Cup where they lost to Manchester United, but reaching the FA Cup semi final would represent a great achievement for a club that hasn't won a trophy in over 25 years. A trip to Wembley, albeit without supporters, would be a highlight Ancelotti's reign thus far.
"Yes, it is important," Ancelotti responded when asked if this is the most important game of his Everton reign thus far. "It's important because we were able to move past the game against Tottenham [in the previous round]. I hope this is an important game because it allows us to play a semi final and even a final. It would be a fantastic achievement and give us the opportunity to play in Europe."
These are the fixtures that Ancelotti was brought to the club to win, no matter how formidable the opponent may be. And it it has been against the bigger teams and when the odds have been somewhat stacked against them that Everton have triumphed this season.
Victories against Arsenal, Chelsea and Tottenham are all valuable, but it was the first win at Anfield in 22 years that removed an inferiority complex that the Italian manager hopes to dispel. Defeat City this weekend, despite the injury headaches, and Ancelotti will have managed his biggest win at the club so far.