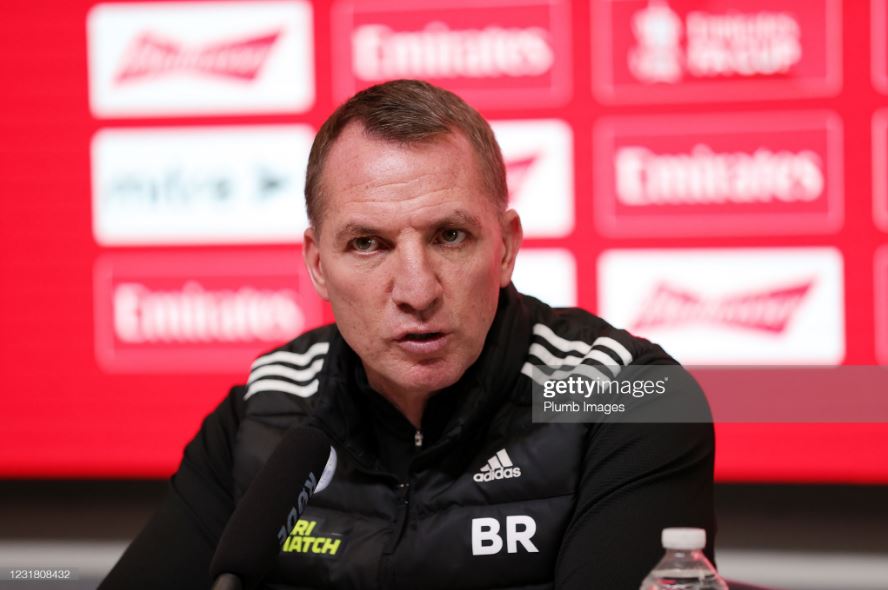 With the aim of reaching their first FA Cup semi final since 1982, Leicester City host Manchester United in the quarter finals of the competiton.
The Foxes overcame Stoke City, Brentford and Brighton and Hove Albion to set up this game, while their opponents bested Watford, Liverpool and West Ham United.
With a trip to Wembley Stadium and a semi final spot on the line, both teams, who are difficult to split in the race for Premier League top four places, will be hoping that they can book themselves into the next draw and gain a psychological edge over the other as the season enters its final stretch.
Brendan Rodgers spoke to the media ahead of the game and here are some of his key quotes.
On Man United's potential fatigue
"When you're a club the size of Man United, you are used to playing lots of games and can cope with that. We've played midweek games and come back and played well, so you have to dis-count that side of it. They are a fabulous team and have players of quality. We're coming off a good performance, defensively strong with great creativity. If you want to do well in this competition, you have to beat the best teams."
Due to Leicester's shock exit from the Europa League, the Foxes have enjoyed a full week of preparation in the lead up to the game, while Man Utd had a crunch match with AC Milan in Italy to contend with.
Despite this, Rodgers has made it clear that he does not expect the extra 90 minutes that his opponents have played to affect them as he was complementary of their players' quality.
Due to how tight the game in the league between the sides was, coupled with the round in the competition that the clubs meet in, it is likely that Ole Gunnar Solskjaer will not make many alterations to his side as he will want to progress, meaning that Leicester's fitness levels still may play a part in the game.
On injuries
[Harvey Barnes] "It's a couple of weeks since the operation and he's doing well, working well in the pool. He's coming along. We'll see how he goes over the coming weeks. We were looking at six weeks to get him back into training."
[James Maddison] "He was out on the field today and looked very good, and we're hopeful that if he has a good couple of weeks during the international break, he should then be back. He looked really good. That will be great news."
[Ricardo Pereira] "He won't be available for the weekend but we're confident after the international break he will be okay. It's just a slight strain."
"Dennis [Praet] will be available for the weekend. Cengo [Cengiz Under] will be after the international break."
The impending international break seems to have come at a good time for Leicester as they look to recover from their latest influx of injuries as it gives the likes of Harvey Barnes, Cengiz Under and James Maddison extra time to recover from their respective injuries.
Ricardo Pereira will be frustrated to miss out after being withdrawn at half time during Leicester's game with Sheffield United as it represents another small set back on his road to full recovery, but the break will also be beneficial to his recovery.
Dennis Praet is back in contention to make his first appearance since the third round clash with Stoke after a long injury layout which will provide his side with a big boost, especially in terms of his creativity in midfield.
On the club's FA Cup history
"We want to create our own history here. The club getting to four finals and not getting over the line, we would love to be the first. There's a difficult step first. You have to have an eye on the history of a club and understand that. But this team wants to create their own history."
It has been well documented that Leicester are yet to lift the FA Cup and that they hold the record for the most final appearances without winning.
This has seemingly spurred Rodgers and his side on to become the first squad in the club's history to win the competition and put the historic heartache behind them.
However, in order to do this, the East Midlands side have to reach their first semi final for around 40 years and to do so, they have to overcome Man Utd.
On Jamie Vardy
"Jamie has played up there with a partner and he's played with people from the side and in whichever system, he will be successful. He may not have scored, but what gets forgotten about is the quality of his assists. The passes he made were superb. That doesn't get talked about so much. He will always be dangerous. It's nice to see that combination with Kels."
Despite Jamie Vardy not getting on the scoresheet once again during the last match, the number nine looked back to his best after registering a couple of assists and looking dangerous throughout with strike partner Kelechi Iheanacho.
Rodgers highlighted that Vardy's goals are his main talking point and suggested that he has many qualities that fall under the radar, such as his passing.
The striker's movement and assists have contributed greatly to Iheanacho's purple patch and as he has still found himself in promising positions to score himself, sooner or later the Premier League centurion will bury his chance.
On whether to focus on cup or league
"Both. Don't ask me to separate. We're hungry for both. We'll fight for the top four. It's possible for us, so let's fight for it."
Leicester have enjoyed another promising season this year but the next few weeks will determine whether it will be a successful one.
The Foxes fell at the final hurdle last season and missed out on Champions League football in the league and lost out at the quarter final stage to Chelsea, undoing what could have been great season as opposed to a good one.
This time around, with the experiences of last season seemingly making the squad more determined, Rodgers was quick not to suggest that his side would neglect one competition for the other and instead would push for success in both of them.