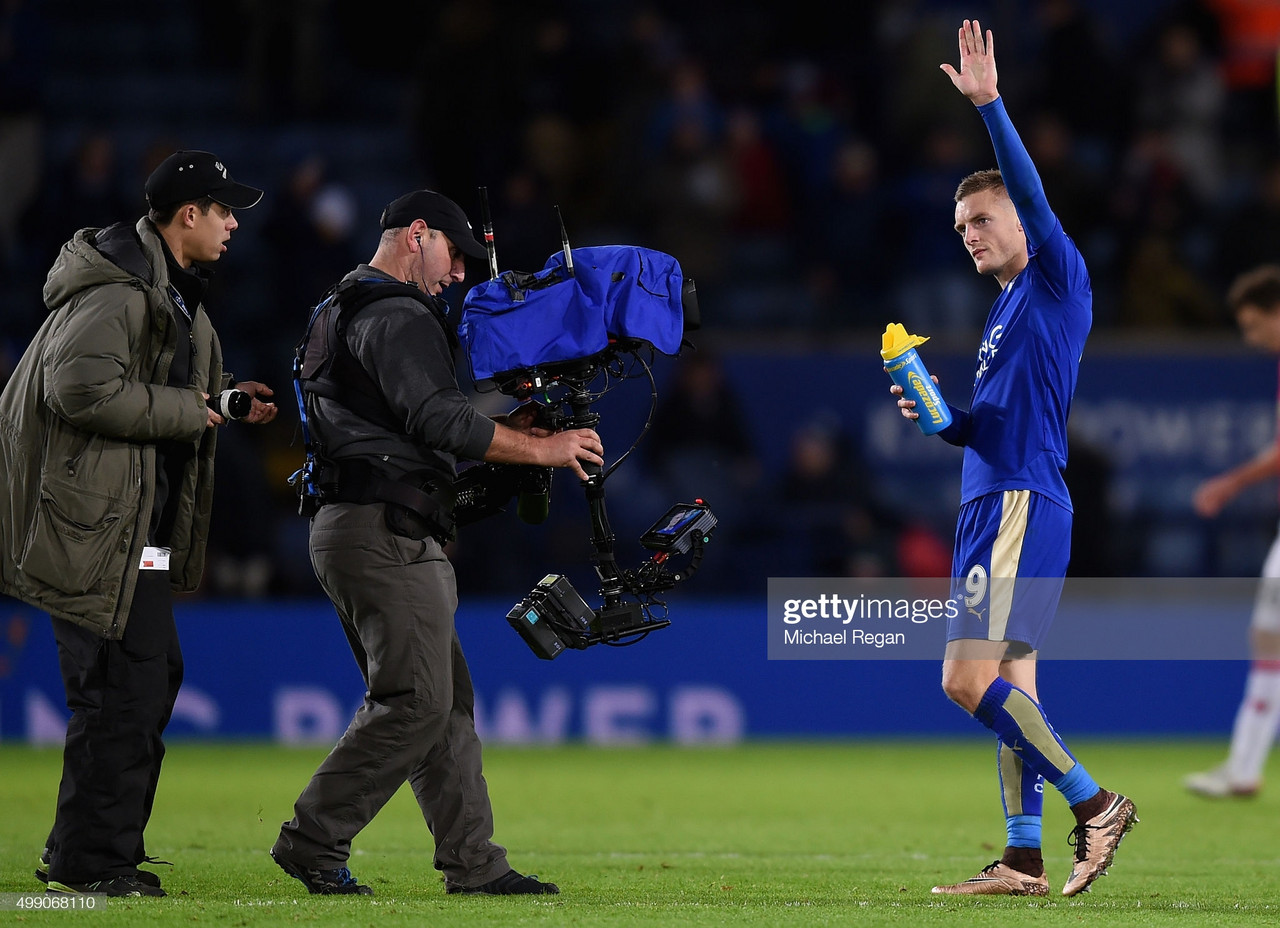 Leicester City host Manchester United at the King Power Stadium this Sunday in a bid to reach Wembley and book themselves a place in the FA Cup semi-finals.
This week, we take a look back to 2015 on what was a memorable night in the Foxes title winning season, and one that Jamie Vardy will certainly never forget.
Both sides could have gone top of the table with the three points, but ultimately, the scoreline didn't matter too much in the end. This was because Vardy smashed a Premier League record writing his name into the history books.
Vardy breaks record with opener
In what was always going to be a nervous day for Jamie Vardy, he went into the game wearing fresh new golden boots hoping to beat Ruud Van Nistelrooy's goalscoring record which had not been broken since 2003.
Much to his suprise, he found himself in behind the United defence on the 24th minute, with that was his first chance of the game. The then 28-year-old made no mistake by smashing it past an oncoming David De Gea.
It was a vintage Leicester counter-attacking move, with Kasper Schmeichel catching the ball from a corner kick, laying it off to Christian Fuchs, who then played a sublime no-look pass all for Vardy to finish off the move and wheel off in celebration, with the crowd going wild.
Schweinsteiger levels for the visitors
After the record breaking goal had the crowd celebrating, the Red Devils were rattled and had to find a way back into the game. They did so right before half-time.
Bastian Schweinsteiger scored his first goal for United with a header just before the interval after an inch-perfect Daley Blind corner. He was helped along the way by some poor defending from the home side.
Memorable Night for the Foxes
The result wasn't so important for Leicester in the end, as Vardy did indeed get the record, which was the most anticipated week-long wait for so many, after the talisman equalled the record against Newcastle United the week before.
In a night where Louis Van Gaal said "Leicester can win the league" the fairy tail may have started this one night where they had a record breaker in their team.