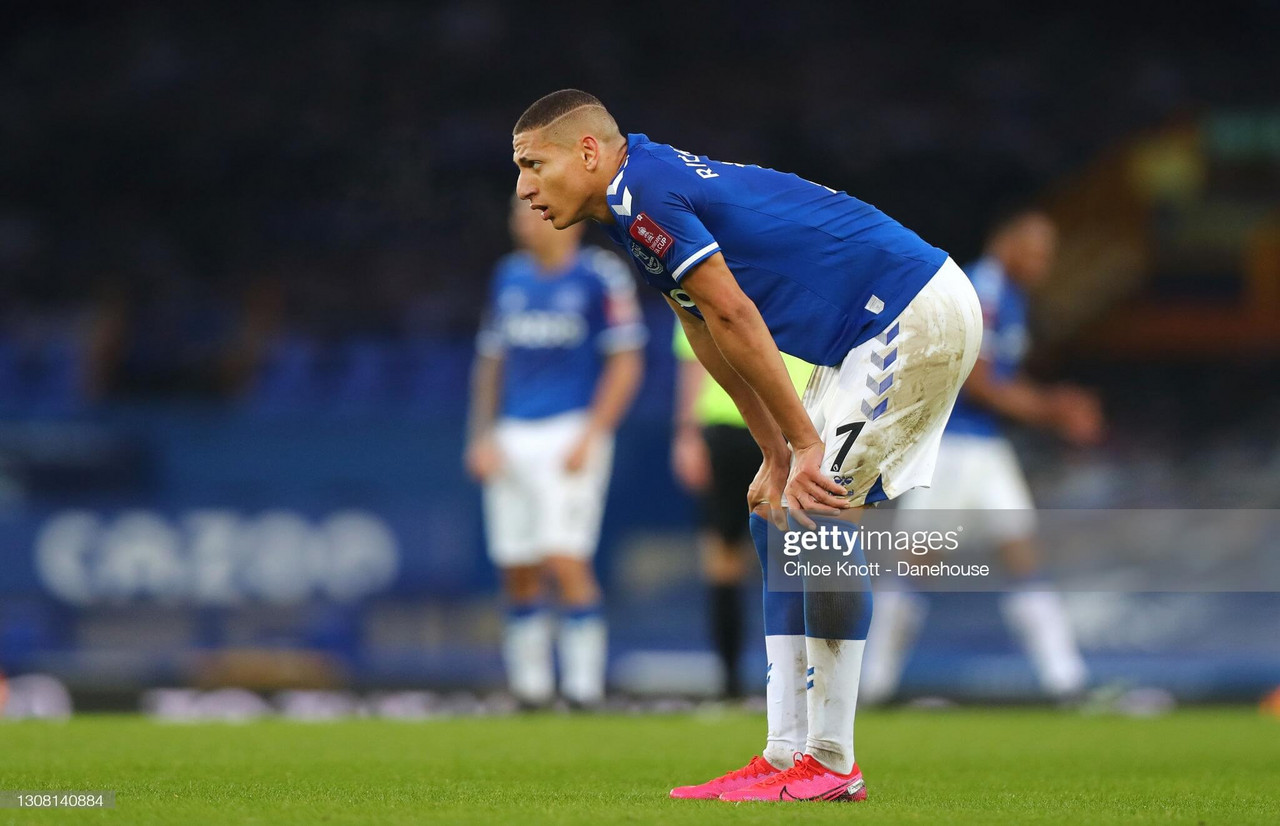 Everton may have been hoping for the best and fearing the worst in terms of outcomes from their FA Cup quarter final. But really, did anyone expect anything other than a Manchester City win? Even as the game sunk in to its final minutes goalless, Pep Guardiola's side were able to conjure the telling touch to progress.
Carlo Ancelotti's team were resilient and well-organised, forcing City to play in wide areas, but it wasn't enough to stop this autonomous winning machine. It gives City the chance to claim possibly an eighth English trophy out of the past 11 available.
For Everton, though, this was the end of the road in another competition. They exited the League Cup at the semi finals after late goals from Manchester United and now have departed the FA Cup following similar end-of-game strikes by Ilkay Gundogan and Kevin De Bruyne. Wembley is just a bridge too far at the moment for Everton.
Wembley a bridge too far
It means that the club's search for a trophy will enter its 26th year and also their focus is now solely on the Premier League. Ancelotti has stated throughout the season that his aim is 'qualifying for Europe', although he has rarely clarified whether his rather loose objective includes the Champions League or the Europa League.
Sitting in seventh, five points away from fourth-place Chelsea, but with a game in hand, Everton face an uphill task of obtaining a Champions League berth. Considering that Chelsea, Leicester City and Manchester United - and City, of course - look immovable from the top-four, Ancelotti's focus must be on qualifying for the Europa League.
For a team that last played in Europe three seasons ago and have only got as far as the Champions League preliminary rounds once in 2005, reaching for their passports in any sense is a move in the right direction.
Ancelotti knows this and the Italian manager will try to steer his team through the final 10 games of the campaign with his usual experienced touch. Matches against Tottenham Hotspur, Arsenal and West Ham United stand out but there are more than enough matches left for Everton to make their case for a finish higher than their current seventh.
Everton's commendable display
Against City, there was much to commend about Everton's display. Not only did Joao Virginia look assured in what was only his second start for the club, and his first against a Premier League side, but he could be heard ordering his defence with a commanding bark.
Likewise, Everton's conservative approach seemed to be doing enough as the game wore on and, until De Bruyne entered the fray, the home side had seen the best chance when Oleksandr Zinchenko cleared a Yerry Mina header of the goal-line.
Ben Godfrey's display also deserves recognition. The summer signing from Norwich City has regularly proven himself to be one of Everton's best players across the course of this season and this was no exception.
He showed great pace on numerous occasions to get back into key areas and make important blocks and tackles at crucial moments, not least when chasing Raheem Sterling all the way back on a counter attack to make sure the winger didn't have any sight of goal.
Everton's set-up, and City's domination of the ball, meant that getting the play forward into the visitors's final third was far from easy. There were few crosses for Dominic Calvert-Lewin to meet, Richarlison was often left to drive forward from a deep position himself before running out of options.
This lie-low tactic has been a favourite of Ancelotti's against teams who dominate the ball and brought success against Liverpool, Arsenal and Chelsea but there is still a sense that when Everton have the ball they must do more with it. Their chance creation is consistently lower than one would expect from a top-four challenger and set-pieces from Lucas Digne or Gylfi Sigurdsson often represent their best route to goal.
It boils down to strength in depth and the ability to throw on something different. It was apparent on the Goodison Park pitch on Saturday. While Guardiola was able to make six changes from the side that skated past Borussia Monchengladbach in the Champions League last week, Ancelotti was left ruing the absences of Abdoulaye Doucoure and James Rodriguez.
From the bench the City manager was able to send on De Bruyne and Riyad Mahrez: difference-makers. Everton, meanwhile, had six players who had never before started a first-team game for the club.
If Ancelotti needed any reality check of Everton's current state it was laid bare: Everton remain a work-in-progress. However, as Ancelotti said after the game, "City are not a normal team". They aren't at the moment and holding out against them until the 84th minute is no mean feat. Everton's elimination from the FA Cup can be taken with a pinch of salt.