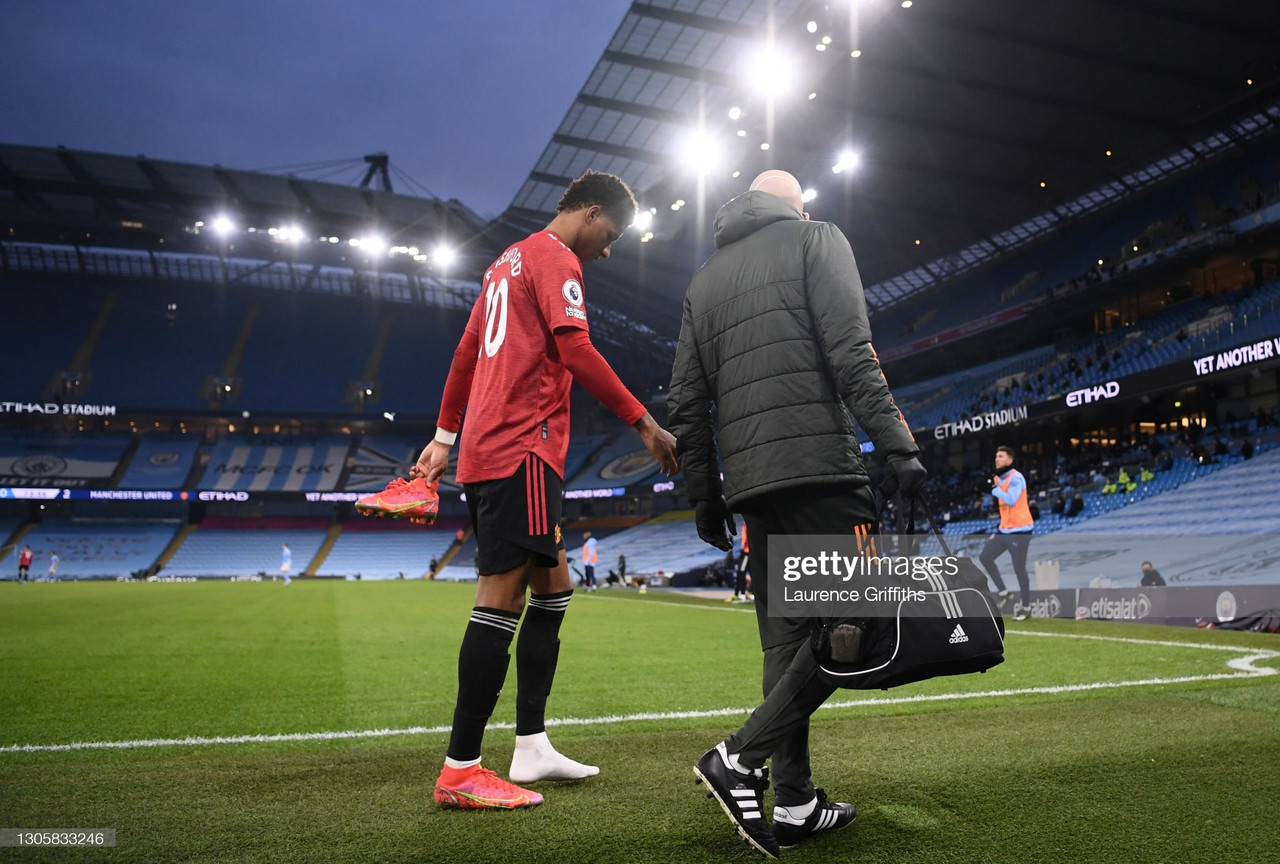 It's now been 20 days since reports broke out that Marcus Rashford would need shoulder surgery after the inaugural European Championships.
For Rashford, the past 12 months has seen him battle with ankle, back and shoulder injuries. But for Manchester United's poster boy, it seems the injuries are now starting to take their toll.
Regarded as one of United's best players - the winger has contributed to 18 goals and 12 assists this season. It has been a highly productive campaign for a player that has managed to perform while injured.
Since sustaining a muscle tear in his shoulder back in November, Rashford has been known to have battled through games in discomfort. His injured shoulder is reported to have swelled after games; affecting his mobility and his aerial movement in games.
The month of March saw Rashford injure his ankle - hobbling off against Manchester City and forced off at half-time with the same curse against A.C Milan.
That night in Milan saw United heavily wrap up Rashford's ankle for their number 10 to feature in the vital second-leg tie.
Due to this season's fixture congestion, and Rashford's key importance to the side, United have been reluctant in giving the England international the extended rest he ever so needs.
In all competitions this season, Rashford ranks 9th in games played. No player in the Premier League has played more games than him (45).
United also have another player in the top-10, as their talisman, Bruno Fernandes ranks 8th - featuring in 45 games this season.
Ole Gunnar Solskjaer was forced to take action after Rashford's ankle problem in Milan and side-lined the winger in their 3-1 loss to Leicester City on Sunday.
The Norwegian was asked after the Milan game if Rashford could be available for England's upcoming games.
"As for England, I don't know," Solskjaer told BBC Sport.
"Of course, if he can't play for us then it is more difficult to go and travel with England because then the (ankle) injury is more serious than just a day or two."
With the international break having begun this week, Rashford travelled and joined up with his England teammates as Gareth Southgate made plans to involve Rashford in their World Cup qualifying games.

Seen limping into St George's Park yesterday, Rashford could be involved against San Marino, Poland and Albania, despite not having fully recovered from the ankle injury.
With the European Championships and huge Europa League games on the horizon, the winger has a big role to play in them both. Southgate risking him in early World Cup qualifying games could result in huge consequences for Rashford, England and United.
It is unsure whether Southgate and United had discussions on whether Rashford should join up with the squad, but only time will tell if Southgate decides to feature Rashford in the qualifiers.
The term 'Deja Vu' can be used for United's heavy reliance on Rashford in the past year. Last season saw the number 10 performing at the top of his game for Solskjaer's side.
But, unfortunately for Rashford, he was ruled out for four months with a double stress fracture in his back that he was allowed to continue playing with. A similar problem has occurred again this season, with the winger being allowed to play while injured.
Should Rashford continue to play while injured, it could have a worse outcome than last season's injury, and potentially rule him out for the Euros this summer.
A huge doubt for the Euros last year saw Rashford almost miss the remainder of the season. But due to the coronavirus outbreak, the season was postponed and the Euros delayed to 2021.
In an interview cited by The Mirror, Rashford recently voiced his thoughts on his current injury issues and insists everything is all well on his behalf.
"I just focus on the next game at hand and that's how I deal with it," he said when asked about his shoulder issues.
"We can rest when we retire and for now I want to play as much as I can. I recover from games quite well and from injuries, I have no doubts, so I have no worries."
At the age of 23, Rashford has played hundreds of games for the club since bursting onto the scene six years ago.
United's all-time top goal-scorer and legend, Wayne Rooney, was a player who played through pain barriers and regretted it in the later years of his career.
The United and England legend was a major doubt for the 2006 World Cup due to breaking his metatarsal months before and was wrongly rushed back in time for the competition.
Before the 2010 World Cup, the forward injured his ankle against Bayern Munich in the first leg of the Champions League, and consequently aggravated the same ankle in the second-leg meeting after being rushed back to save the tie.
Rooney failed to shine in the 2006 and 2010 tournaments due to the injuries that set him back months before. In both years, Rooney managed to not score a single goal in any of the tournaments.
Looking back now, it seems the injuries Rooney sustained in his earlier years took their toll on his latter years performing for England and Man United.
Similar to Rooney, should United and England continue to fail and not give attention to his injuries alongside his ever-increasing playing time, it could produce huge consequences for Englishman in terms of his career longevity.