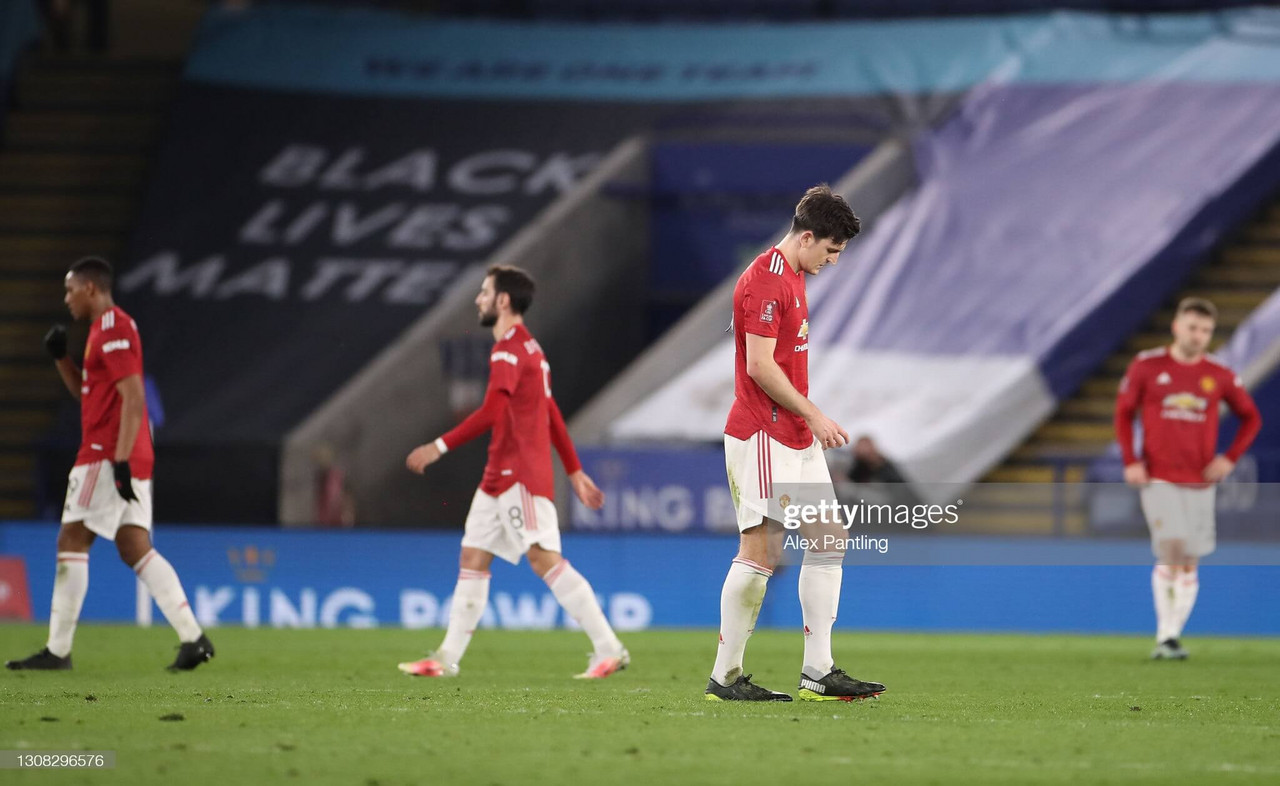 It was in the East Midlands that it ended. A run stretching back to January last year was put to the sword by an impressive Leicester City team who at the same time booked their place in this season's FA Cup semi finals. Manchester United's unbeaten away run is over.
It stretched 14 months and included a sequence of 29 matches but on this particular spring afternoon Ole Gunnar Solskjaer's side were second best in every way away from home. They deserved to be beaten by an industrious and confident Leicester who closed off another avenue to silverware for United.
Errors led to all three Leicester goals
The home side scored three and each of them could be led back to individual errors by United players. Fred's was the most inextricable when, under pressure from Youri Tielemans on the edge of his own area, he sold Dean Henderson short and allowed Kelechi Iheanacho to nip in and tap home.
That said, there was something rather sad about Leicester's second when Nemanja Matic, who was starting in United's rather conservative midfield alongside Fred, stepped out to press Tielemans. The Serb was simply bypassed like an old man by a quick one-two from Tielemans and Iheanacho and no other player in red went to stop the Leicester midfielder before he finished into the bottom corner.
The third, which put the tie to bed, involved substitute Scott McTominay missing a header which presented Iheanacho with his second goal of the game.
To place the blame of the defeat at the feet of Matic, Fred and McTominay may be churlish but had Matic been that bit quicker noticing the danger that Tielemans's was about to unleash, had Fred been more aware of the situation around him and passed more assuredly to Henderson or cleared away, and had McTominay headed behind for a corner, United most likely would not have lost this quarter final.
Heavy-handed rotation didn't work
As a result, the Europa League is the final trophy that Solskjaer's side are in contention for this season. Their runs consistently into the latter stages of competitions show that United do take the cups seriously (this was the first time they failed to make the semi finals of a competition out the last four they've entered).
However, United are not at the level and do not have the depth with which they can rotate so freely against one of the Premier League's best teams and still expect to compete when their opponents go full-strength.
The team that Solskjaer opted for was not inexperienced but the fact that he made history by making a quadruple substitution just after the hour demonstrated that he had played a weaker hand from the start and attempted to make amends.
Matic and Fred together in a defensive midfield is an overly conservative partnership which severely lacks pace. The absence of Marcus Rashford through injury was felt as Anthony Martial seemed particularly uninterested in leading the line here. Mason Greenwood scored with a nice one-touch finish but rarely troubled the home side's backline, and Donny van de Beek assisted him but didn't do enough to force the issue in relation to his lack of playing time.
Leicester were also without key personnel - James Maddison, Harvey Barnes and James Justin - while Jamie Vardy endured another game without a goal, that's now one goal in his last 16 appearances. But Brendan Rodgers's side were quicker and slicker and deserve their place in their first FA Cup semi finals since 1982.
Not another United semi final
The United manager has taken his side to plenty of semi finals already during his tenure but quite ironically, had they progressed past Leicester and faced Southampton next month, this would have represented their best chance in reaching a final out of them all. United need trophies and this is the latest one to pass them by.
Solskjaer alluded afterwards to his side's travails in Europe away to AC Milan during the week and that it had taken it out of the players: "The games caught up with us, the travels. Thursday night in Milan took a lot out of us physically. The changes were necessary. I don't think I would've done anything different." But that is still an inditement and only gives further fuel to the argument that Bruno Fernandes is United at the moment.
Securing second place and winning the Europa League are United's final aims of the season but to really take the final step, they must eradicate the individual errors which cost them against Leicester.