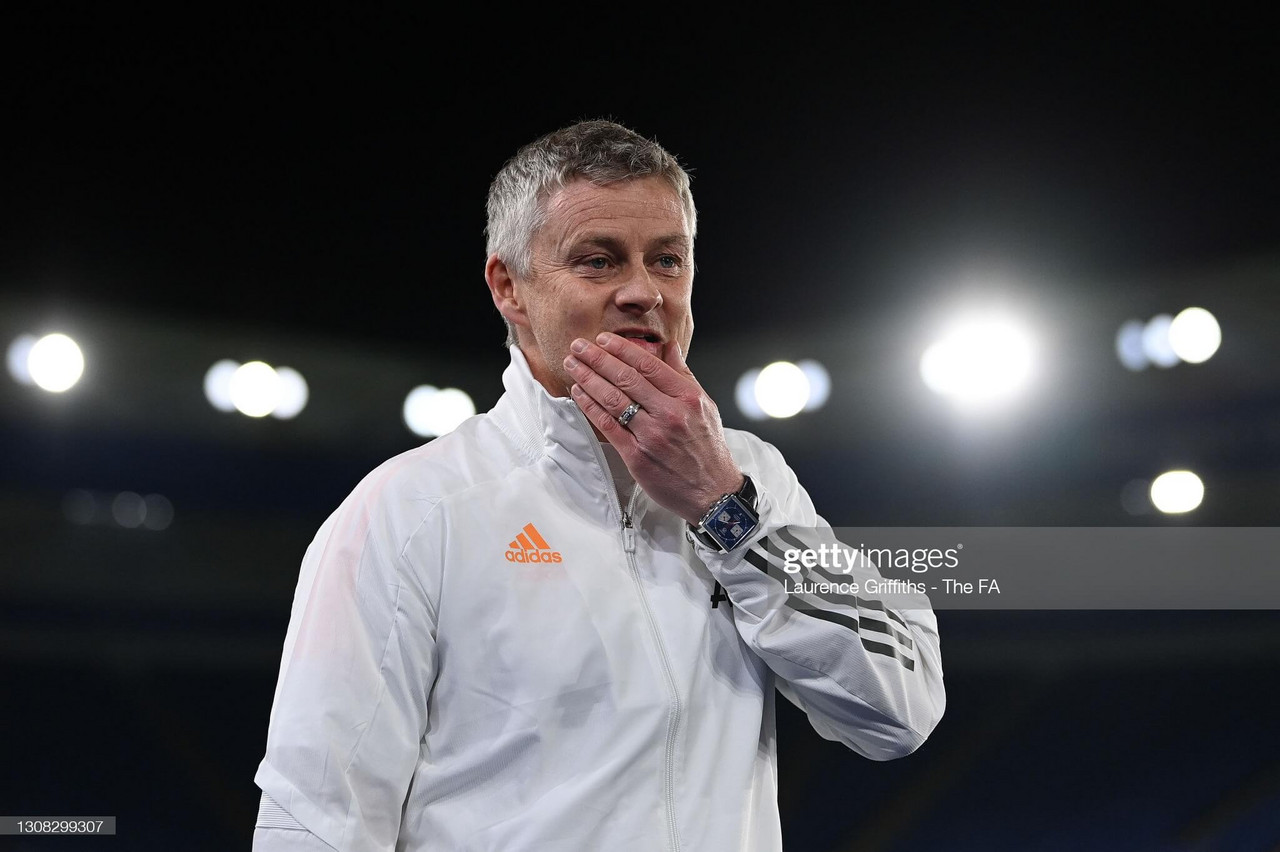 Manchester United slumped to a 3-1 away defeat to Leicester City yesterday as their hunt for FA Cup glory came to a grinding halt.
A brace from Kelechi Iheanacho and a Youri Tielemans 'pile driver' were enough to see United off as the effects of their midweek trip to AC Milan became apparent.
United manager Ole Gunnar Solskjaer faced media questioning following his side's first away defeat in over a year.
On his side's performance
United were notably leggy at the King Power, with Leicester seemingly first to every ball while United's passing from the back seemed uncharacteristically sluggish.
When questioned on his team's performance, Solskjaer said: "We didn't have the spark tonight - but it's understandable. This team have been fantastic in the last three or four months. We played every three days and been on a great run. It just caught up with us, all the games and travels."
He continued: "Thursday night in Milan was a big night and took a lot of out of us physically. We didn't have the extra zip, authority and confidence today."
With the majority of his players now on their way to international duty, Solskjaer will be hoping his team return with a reinstated sense of vigor as the season reaches its climax.
On team selection
Solskjaer made five changes to the side that beat Milan in the San Siro as the busy schedule begins to catch up to his recovering side.
When asked about the team he selected, Solskjaer said: "We've got too many players that have played too many games and too many that haven't really had much football, Anthony Martial, Donny van de Beek, Paul Pogba and others are trying to get in who haven't had enough football."
He continued: "I would've done the same again [starting XI], the changes were necessary to do. We knew Paul [Pogba] wouldn't last more than an hour and I don't think I would do anything differently. What goes on behind the scenes isn't always known."
With the two additional substitutions permitted in the FA Cup, Solskjaer was able to bring off the returning Pogba and van de Beek to prevent a reaggravation of their injury, while also being able to give priceless minutes to youngster Amad.
On the immediate future
Solskjaer ended his press conference on a positive note, highlighting that there is still plenty to play for this season. With the league not yet mathematically out of reach, and a favourable draw in the Europa League, United's season is far from over.
When asked about the rest of the season, Solskjaer said: "We've got the Europa League and Premier League to concentrate on - yes we would've liked to go to Wembley but now all the focus is on the games we do have."
He continued: "We're in a good position in the league and we want to keep improving, of course Leicester are just behind us, so it won't be easy, but we want to keep going and get as far as possible in the Europa as well."
As the unwanted reminder of a fourth year without a trophy on the horizon, the pressure is mounting on Solskjaer to claim some silverware by the time the season finishes.