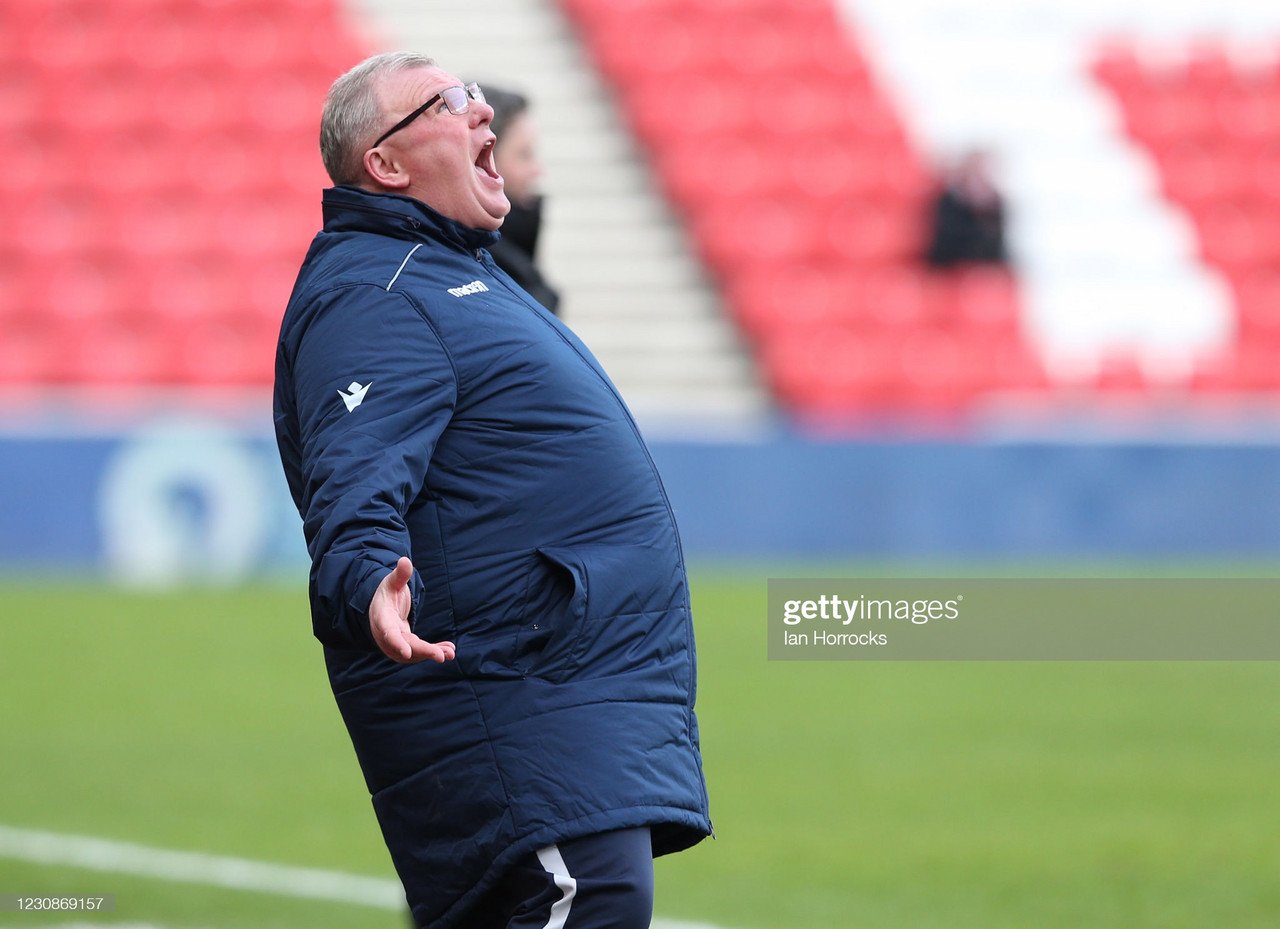 Gillingham drew 2-2 with Doncaster Rovers on Saturday after goals from Tom Anderson and James Coppinger cancelled out early strikes from Jordan Graham and Vadaine Oliver.
Gillingham flew out the blocks, but Doncaster fought back to earn a draw, much to many's dismay in the Gillingham camp. Following full-time, Gillingham manager Steve Evans spoke to the press. Here are five of his key quotes.
On the game
"We started the game in great form and there is a pivotal point where Robbie Cundy misses a great chance to make it 3-0. We were still very comfortable, but our centre-backs did not pick up their men.
"Doncaster caused one or two problems, but second-half there was one team trying to win the game – we create two big chances, and you expect them to score. We have nothing other than disappointment tonight – two points left behind. A few weeks ago, people were talking about these being a different level to us – I would not mind playing them over two legs in the play-offs."
Gillingham started brightly, and led 2-0 with just four minutes on the clock. Doncaster pegged them back however, and the teams went into half-time level.
In the second-half, however, Gillingham controlled proceedings. Chances for Kyle Dempsey and Alex MacDonald went amiss, and Evans felt hard done by not to see his team take all three points from the fixture.
On morale
"It feels like a defeat to the whole dressing room. I thought we would win – but it did not happen. We lack in some areas but collectively we come together and fight.
"Our supporters have a right to be disappointed – at 2-0 the game should be done. But it happens in football and the same supporters will recognise that in the second-half there was one team pressing, one team putting balls in the box, one team having efforts at goal and one team that should have won."
The dressing room was disappointed at the weekend after the Gills threw away the lead. Looking back, though, there will be plenty of positives to take from the game, and other lessons that they can learn from going forward.
On play-off hopes
"We know what difference two points would have made but in single figure games we do not look at the league table. Let's look at them with five games to go when these big budget managers who promised all sorts in the summer get to squeaky bum time. We have got no squeaky bums – we have the bottom budget.
"If we get into the play-offs, we will be in the Championship next year. The test is if we are good enough – if we do, it is cup football and I have the best squad for cup football sat downstairs. We are in better form this year with a better squad and better players."
Gillingham are just two points off the play-off spots in League One, but have played more games than their rivals. The hope is there, but it is now about whether Gillingham can deliver in their final nine games of the season.
On pressure
"If we are in five or six points off the play-offs with five games to go it is squeaky bum time. Some of them have massive budgets and have to deliver promotion or they will be spending a lot of time in their gardens.
"My players are playing with no fear, no worries, and are just going out there and working incredibly hard. The supporters would have been really disappointed to see us give away the lead.
"I do not want recognition and they will not do it anyway, but it does not bother me. You see what went on up at Lincoln in midweek – they were talking nonsense. Let them continue to talk – they have to get in the play-offs – we are punching well above our weight."
Gillingham may need to win six or seven of their last nine games to reach the top six in League One, but Evans insists his team are not feeling the pressure. He has frequently referred to how his team has the "lowest budget" in the league, and how they are punching above their weight – time will tell how any pressure impacts teams during the run in.
On a break
"We have very good players. Not enough of them or a lot of them, but good players. We have players in certain positions as good as any in the league. But the boys know they have to work hard – if they do not work hard, they do not play. They are incredibly fit, incredibly fresh – we have been all round the country in the last two weeks but the freshness in the second-half was in the Gillingham camp – we were fresher, stronger, and that was why we dominated and made the chances.
"But a break is what the doctor ordered. We are still going to work hard, that is why they are so fit, and they have incredible energy, and they are youthful, and they naturally want the hard work. We get the opportunity to overcome knocks and we understand the challenge of going to Hull."
Gillingham have been playing twice a week for a long time now but have a midweek off before they visit Hull City on Saturday. Evans insisted his team are fit but will welcome the break – and they will learn a little more about the league table come Tuesday evening, with several teams around them playing games in hand in midweek.