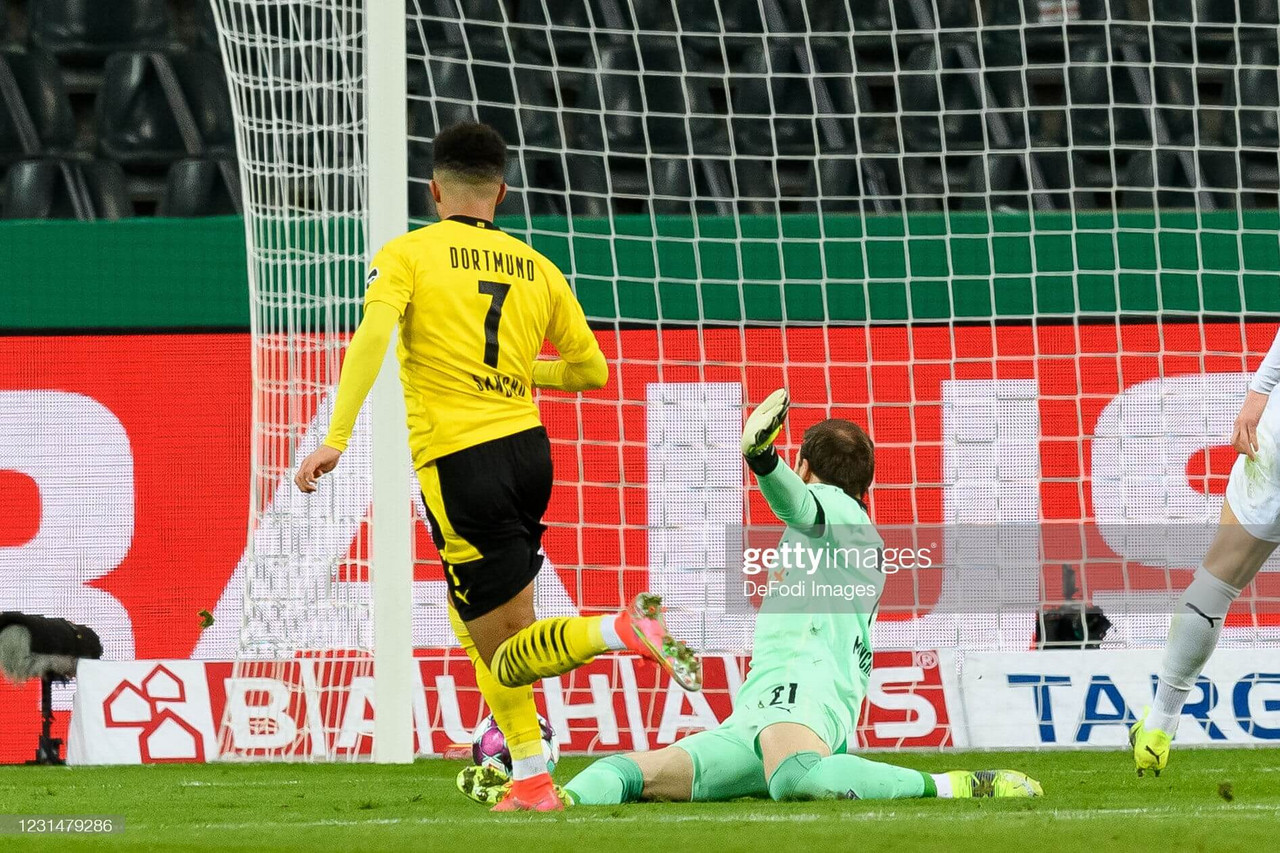 Jadon Sancho was one of Manchester City's biggest talents at the start of the 2017/18 season, but Pep Guardiola wasn't convinced.
Why? VAVEL UK take a look.
The beginning
At the time, Sancho was only 17 years old but had already shown signs of his incredible potential in the youth ranks. Three years earlier, at the age of just 14, he moved to City for a fee that could have potentially risen to £500,000 with add ons.
Sancho continued to impress in the Manchester City academy with flair and pace in abundance and was therefore one of three players that chairman, Khaldoon Al Mubarak, fast tracked into the senior set up in May 2017. This, though, was as good as it got for the winger.
Game time was the sticking point
In July 2017, the winger was omitted from the Cityzens' pre-season tour due to a dispute over assurances of playing time when discussing a new contract.
Sancho obviously believed in his own potential, but Guardiola simply couldn't guarantee him minutes on the pitch. It was then reported that the Englishman was after a move away from the club, and alarming City by missing training following the pre-season tour.
If game time was the only issue, surely the most logical explanation would be to send him out on loan. The club keep him, he gets his all-important game time, job done. That, unfortunately, did not happen.
Sancho made a bold move and completed his £8m transfer to Borussia Dortmund - a club renowned for nurturing and growing young talent - and was immediately immersed in the first team squad as the first Englishman to represent them.
How has he done in Germany?
In the three and a half years that have followed, Sancho has found the net 36 times in 100 games for BVB and is having a remarkable 2020/21 campaign - scoring 12 and laying on 16 assists for his teammates in just 31 matches, with five of those involvements coming in the Champions League.
Considering that Guardiola - arguably the greatest coach of the 21st century - didn't value Sancho enough to be a bench player in City's first team, his immediate impact at Dortmund was phenomenal.
Directly involved in five goals in his debut season in the senior set up, despite largely playing in the reserves, the England international instantly showed City what they were missing, but no one expected his return in 2018/19.
12 goals and a quite staggering 18 assists in 34 Bundesliga games made the whole world - including England boss, Gareth Southgate - take notice and the Englishman was called up to the England senior squad for the first time and he simply hasn't looked back since.
2019/20 saw Sancho's best return as he returned more involvements than games in the yellow and black - 17 goals and assists a piece in 34 outings. So why did Pep let him go?
Why did Guardiola say no?
Developing players into world class stars is one of Guardiola's most lauded qualities and evidence proves just that. Lionel Messi, Mario Götze and Thiago Alcantara are just three players that immediately spring to mind and the Spaniard didn't hesitate to thrown them in at the deep end.
Evidently, though, Sancho was not considered in the same way. Granted, City went on to become the Centurions by reaching 100 points in the Premier League so by that logic his decision was justified, but there may be more to it than that.
Guardiola has always been the one in control of how often players play, how much rest they need and, most importantly, how they play. So when 17-year-old Sancho walked into his office and effectively said, 'I need to play more or I'm gone', Guardiola will not have taken kindly to it.
You could say that every player should know his place and not demand play time, but now more than ever young stars are aware of how critical regular minutes on the pitch is to their development.
Whichever way you look at it, though, the manager is boss and Sancho found that out the hard way.
Phil Foden is a case in point. For the best part of two years, fans called for the midfielder to feature much more heavily in the first team, but Guardiola decided against it.
Similar to Sancho, he was not sent out on loan, but unlike his now England teammate, Foden decided to trust in his manager's opinion and bide his time - learning from one of if not the best midfielder in the world in Kevin De Bruyne.
Foden is now a star for both club and country, so it's hard to argue in any way that Guardiola's decision in taking his time to ensure he was ready for regular first team action wasn't the right one, but will he regret not trusting Sancho?
Will City regret letting him go?
Defending was by far and away City's achilles heel last season and even at the start of this one, too, but now more than ever their backline looks solid as a rock; thanks in no small part to the partnership of Ruben Dias and John Stones which has forced Aymeric Laporte to the substitutes bench.
Sancho, though, will be arguably their toughest test of 2020/21. With rapid pace, silky feet, enough agility to turn on a sixpence and enough skills to put Ronaldinho to shame.
Sancho's first return to the Etihad when the two clubs face off in the Champions League quarter-finals next month promises to be mouthwatering.
City host Dortmund on Tuesday 6th April before making the trip to the Signal Iduna Park - or Budapest if Germany's COVID-19 measures rule that out - eight days later and the tie could not be poised better.
The Cityzens have never gotten their hands on the famous 'big ears' trophy and yet again talk about a potential quadruple is growing.
Miles ahead in the Premier League with the final and semi final of the Carabao Cup and FA Cup to come, the Champions League looks like the biggest stumbling block once more and Sancho and co. will be intent on making that fear a reality.
Dortmund's defence has regularly let them down this season - the 2-2 draw at FC Köln symbolising that - so City will head into the game as strong favourites, but young sensations, Erling Haaland and Sancho, come alive in every big game.
Will Sancho get his revenge and show Pep Guardiola what he's missed out on?