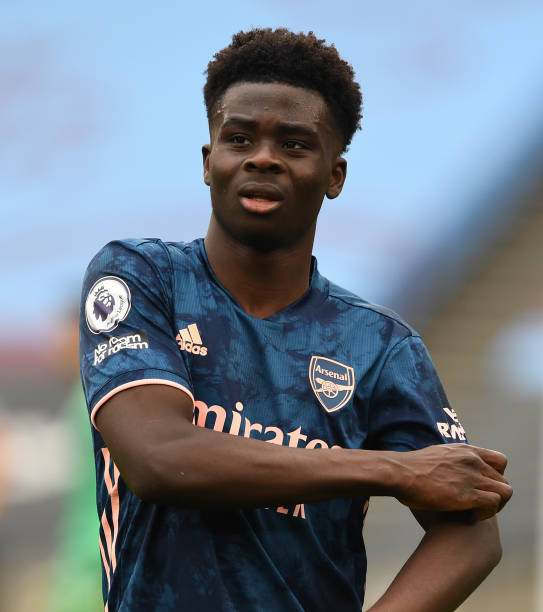 After playing 74 minutes in the Gunners' stellar comeback against fourth placed West Ham last weekend, Bukayo Saka will miss England's World Cup qualifier with a hamstring injury.
Saka's fitness is still being assessed by his club and he will join up with Gareth Southgate's Lions at the end of this week.
However, pundits have been quick to question the winger's performances over the last couple of weeks - suggesting that he is tired and that Mikel Arteta has overplayed him.
On the contrary, Arsenal would not be in the top half of the table if it wasn't for their starlet Saka. With new signing Martin Ødegaard turning heads with a bunch of goals and assists recently, Arteta's "Mr reliable" and his performances have undoubtedly been overlooked.
Many need reminding of Bukayo Saka's displays of brilliance under boss Mikel Arteta this season. Take for example the Europa League - Saka assisted twice and scored over the two legs in the Gunners tie against Benfica in the round of 32. Arguably the club wouldn't still be in the competition if it wasn't for him.
The most important commodity surrounding Saka for Arsenal fans is the fact that he's single-handedly won them games, something that few other players in the Premier League can hold a claim to this season.
He won three man of the match awards in a row in late December last year against Chelsea, Brighton and West Brom.
It was this run of form that potentially kickstarted Arsenal's resurgence, after their diabolical run of form towards the end of 2020 that saw them placed 15th in the league and only four points off the relegation zone.
Most important piece of Arteta's attacking jigsaw
With Alex Lacazette approaching his 30th birthday, and Pierre Emerick Aubameyang only a couple years away from the twilight years of his career, Gunners boss Arteta must be thinking about who he is going to build his "project" around in the coming seasons.
The Spaniard seems set on using his 4-2-3-1 formation, using loanee Ødegaard in the "hole" of his three attacking midfielders with Emile Smith Rowe and Saka either side.
With 1.2 goal contributions per game when these three are played together, Saka & co are Arsenal's most important essentials if the club wants to get back into European qualification spaces.
Regarding Aubameyang, he gets in behind and latches onto the end of crosses; Arsenal fans will be hopeful that he will remain at the club for many seasons to come.
For the remainder of that time, and in the ongoing years that see the club sign a similar replacement for the Gabonese international, Gunners faithful can rely on Saka to keep banging in those game-winning crosses.
It is a positive thought that the Hale End graduate is only criticised when he seems like he has ran himself into the ground, usually Arsenal players have been renowned for receiving criticism for their lack of efforts.
Saka has more than enough weapons in his arsenal to become future captain of the north-London club, of who'm he has been with since the age of 12.