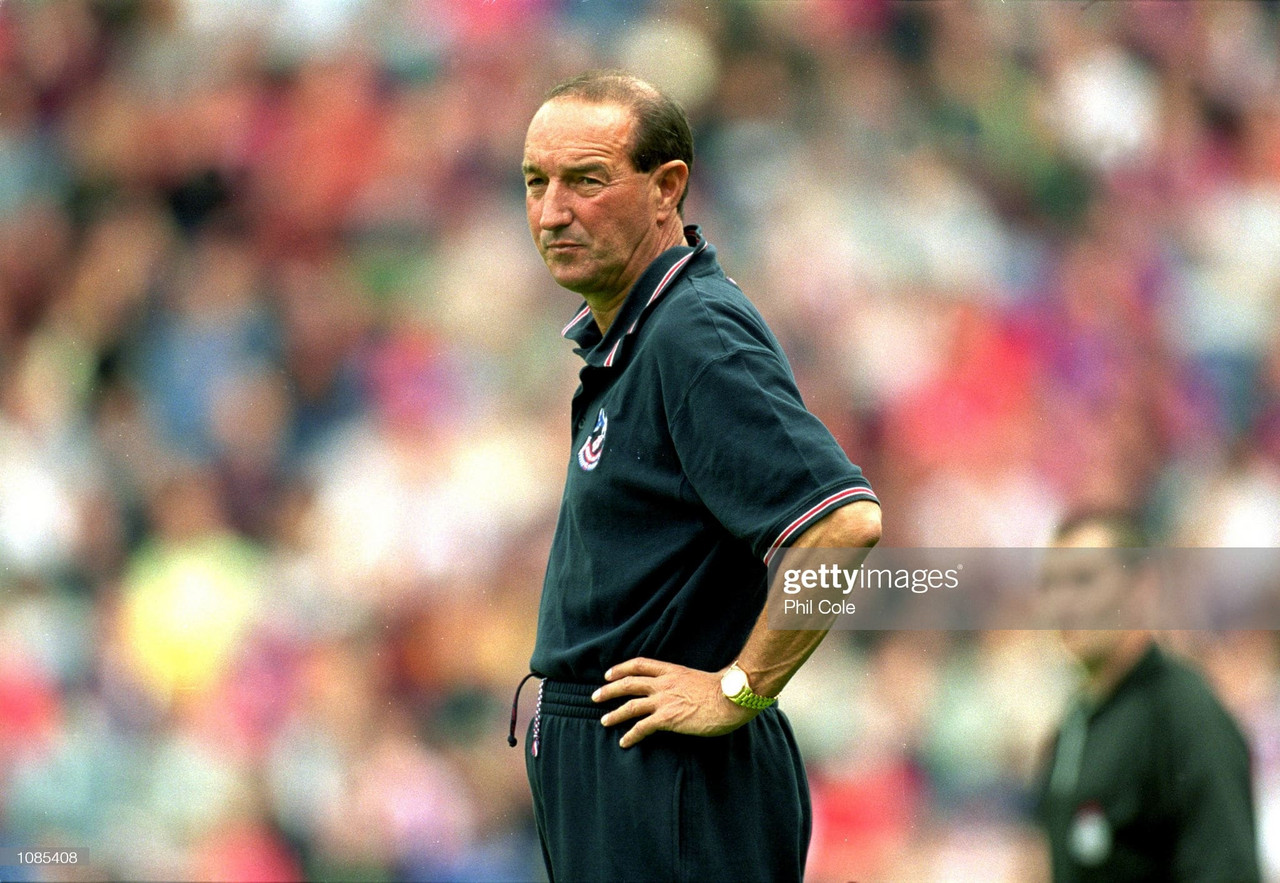 During two spells at Selhurst Park, Alan Smith rose from youth team manager to become Steve Coppell's number two and trusted adviser for a period of management where the pair would oversee the most successful phase of the Eagles' 115-year history, before taking the reins himself, leading the club to Championship glory at the first time of asking.
His first spell at the club was marked by success.
Smith, who was appointed youth and reserve team coach by Alan Mullery in 1983, would use his expertise from his time in non-league football with Dulwich Hamlets and Wimbledon, to help the Eagles construct the new academy which had been commissioned by Ron Noades, a chairman who Smith hailed as a pioneer.
"Ron was difficult to work under. He wasn't generous and he didn't give out praise enough," chuckles Smith. "However, I must remember that the club was so small then and Ron ran it mostly by himself; he did everything.
"If you look at the boardrooms of today, there is a whole group of Chief Executives, whereas at Selhurst Park back in those days, you had Ron, the club secretary, two people in accounts and of course, Terry Byfield and Joanne Budd, two people both at the club today and who I have enormous respect for.
"The beauty of Ron was that you could go straight to him with any problem or concern. He would be at the club every day, at the training ground every other day and, he would come to my house uninvited to find out why certain things were happening. He was always on your case for one reason or another.
"Ron was the first chairman to make the decision to take the academy away from a manager's duties. He told me, 'Managers can't deal with the youth set up as well. I want them to focus on the first team.' He saw the game as a business, but he also had a very astute eye for a player."
After two failed seasons under Mullery and a short 4-day period under Dave Bassett, Palace would need a new manager once again.
A true businessman at heart, Noades enjoyed taking high-octane risks and there was no bigger game of chance than the football managerial market.
Although Noades would have been blind to it, and perhaps questioned by his choice of candidate at the time, appointing a 28-year-old, who had been forced to retire through a cruel knee injury, would prove to be the defining moment of writing the most cherished chapter in Crystal Palace history; thus began the Steve Coppell era.
The glory years
"When Steve came in, it was amazing," says Smith. "Steve was this famous 28-year-old, a big name who had played for Manchester United and England. So, when he did arrive, I was slightly taken aback. But we got instantly got on very well."
He added, "Steve wasn't a dictatorial manager, but he had a great understanding for the changing room. He was very much a players' manager. The players would come first, and he would always ask for their advice. However, it did take about 5 years for us to really start having success."
After Coppell's assistant, former Palace defender, Ian Evans, left to become Swansea City's permanent manager, Coppell looked no further than to promote Alan Smith to become his lieutenant.
Smith had an innate understanding of how to mould young players who were hungry and ready to learn, which was a perfect counterbalance to Coppell's fitness first approach.
The squad consisted of players plucked from the non-league such as Phil Barber, Alan Pardew and a certain Ian Wright. Added to these was a crop of exciting youngsters cultivated from up and down the football pyramid, in the shape of Geoff Thomas, Eddie McGoldrick, Mark Bright and John Pemberton. This was blended with a flurry of youth players that Smith had blooded through into the first team, which included John Salako and Richard Shaw.
Under the guidance of Coppell, and with Smith in a more prominent role, Palace secured promotion to the First Division - a taste of success which gathered momentum and laid the foundations of what was to come.
"I think we were the first club that started to manage everyone with a unique style," says Smith. "We didn't confine everyone to follow the same pattern. We knew Ian Wright was different. We knew Mark Bright was different, and with Mark, the perfect professional, we would even let him do his own warm up sometimes. Nobody was stereotyped."
Smith recalls that every Monday morning, he would make the squad run up a hill at Farthing Downs - a far cry from the cryotherapy chambers the stars of today are accustomed to – however, after the 9 sprints up and down the hill, he and the squad would all go for a bacon roll after.
The promotion would be the catalyst for unbridled success. Coppell and Smith continued to meticulously scout and develop players who would fit seamlessly into the side; like-minded individuals who would all pull in the same direction, with characters such as Andy Gray and Nigel Martyn.
The first season back in the limelight of the First Division would be overshadowed by an heroic FA cup run. A sensational semi-final at Villa Park, where the Eagles battled valiantly to edge past Liverpool 4-3, would set up a mouthwatering tie at Wembley to take on Manchester United.
After a 3-3 draw in the first final, the replay would break Palace hearts, as Coppell's side agonisingly lost 1-0 in normal time to United. However, the tormenting loss would only serve as a stimulus for Coppell and Smith to drive the club even further.
The second season saw Palace back to Wembley, beating Everton 4-1 and lifting the Zenith Data Systems Cup.
The 1990/91 season also saw the Eagles finish third in First Division, smashing through the glass ceiling and finishing above Leeds United, Nottingham Forest and Sir Alex Ferguson's Manchester United in a remarkable campaign.
However, the rapid rise without progression into the next phase, an illustrious European place, would have resounding ramifications. Like many teams who rise to the top of the establishment without an invite, the assets were placed on show for the wealthier ruling class to desire.
With a hint of regret, Smith explains, "It derailed us massively (not qualifying for Europe), and what followed on was that we ended up selling Ian Wright. The players were realising at that stage that they were pretty good.
"I think missing out on any further progression, when we did finish third in the league, had a knock-on effect in the changing room. I think it also unsettled Steve a little bit; he was probably thinking, 'How much further can I take the club?'
The now 74-year-old adds, "Steve was so loyal to Palace and he loved the club, but there was a time when Tottenham were interested in him. There was also talk at that time about Steve becoming England manager, so there was a lot of anxiety around the club that you could start to see brewing."
Becoming manager
After finishing 10th in the First Division the following season, a position in the table that could have been perceived as a backwards step, Palace became founding members of the Premier League; a transition which would make English football the global juggernaut it is today.
Palace's descent from potential FA Cup glory and European recognition would conclude when the Eagles were relegated, finishing 19th with a record points total of 49.
Smith says, "I remember having just come home after being relegated at Arsenal, and I'm not ashamed to say that I cried my eyes out. I called Joanne Budd and told her how awful this was after everything we as a club had built up.
"We hadn't got off to the best start of the season," says Smith. "We went to South Africa, something which Ron had arranged, a trip we really shouldn't have done. Every pre-season that we had done before, we had either taken the players to Sweden or I would take the youth team to Portugal, and we would always base the season off the work we had done over the summer.
"I never got the feeling that Steve felt totally comfortable from the day we sold Ian Wright to Arsenal. Manchester City were also pushing hard for Geoff Thomas and agents had start to come on the scene, something we hadn't really seen before; football was changing.
"Steve rang me and said, 'Alan, I think I have run my course. We have been relegated and I want to take responsibility for that, but I'm going to recommend to Ron that you do the job for a year.'
As he pauses to control the catch in his throat, Smith says, "I didn't want to do it. I never visualised being the manager, it was never my ambition when I first joined the club. It was a very difficult decision, and it was heartbreaking to take over in such poor circumstances."
After a careful period of reflection and deliberation, Smith took the job, determined to take the club back to where he says, 'they belonged.'
"There were a few players at the club who had run their time and we as a club hadn't moved on. We made a vital mistake when we sold Ian Wright and failed to replace him properly.
"We had a bit of a clear out, and as I was following Steve, a fantastic manager who was so popular with the fans, I knew I had to make it different."
Smith inherited resolute professionals in Eric Young, Nigel Martyn, Andy Thorne and John Humphrey, and mixed these with an exciting injection of youth team players with crucial top-flight experience, such as John Salako and Richard Shaw.
Smith also had leaders embedded throughout the squad, two in particular, Gareth Southgate and Chris Coleman, plus a prolific goalscorer in Chris Armstrong, a player that Smith convinced Ron Noades to pursue from rivals, Millwall.
During a summer where a mixture of uncontrollable excitement and apprehensive nerves would course through Smith's mind, as he devised a plan to lead his team back to the Premier League at the first attempt.
He says, "I remember we went on a pre-season to Portugal, and we were spot on from day one. I knew I was only going to get one chance at being the manager. Also, I knew that if we didn't come straight back up, it would be it for me, and the club would fester in the Championship.
"Football was really starting to change at that point. There was no drinking, we introduced diet plans and stretching after training. I just tried to give the players a fresh impetus."
Smith's Palace squad not only won the Championship with a 7-point cushion, but the vim, vigour and verve of the side rocked the foundations of Selhurst Park week in, week out.
Smith's exhilarating side stormed the league.
In the following season, despite battling for safety, the cup competitions would yet again provide memorable heights, as Smith hauled his side to two semi-finals, missing out bitterly to Liverpool in the League Cup, and Manchester United in the FA Cup replay.
However, in a time when the club's top-flight relationship was a precarious one, thrust down, spinning in the gravitational pull and then climbing back up - before repeating the process all over again – Palace would be immediately relegated back to the Championship, as the south Londoners became a yo-yo club.
The relegation, which still haunts Smith today, signalled the end of his 11 year stay at Selhurst Park.
Noades relieved Smith of his duties following a rather public falling out between the pair, due to the lack of investment in the side, as the frustration of the season boiled over into the boardroom.
Although the chapter would be brought to a close, Alan Smith's Crystal Palace story was not yet finished.
"Alan, don't do it! The club is toxic"
In his five-year spell away from the club, Smith would be appointed Academy Director at Fulham, with then manager, Kevin Keegan, giving Smith free reign to build the academy from scratch.
Despite being a boyhood Fulham fan, Smith felt he had left Selhurst Park without fulfilling what he set out to achieve; he had caught the managerial bug and was looking to get back into the game.
Smith received a phone call out of the blue from Simon Jordan, who said, 'Look, I have followed you since I was a youngster and thought you were badly treated when you left Palace. I would like to employ you as the manager.'
Smith, who had accomplished so much with Steve Coppell, told Jordan, "You have Steve in charge, there is no real point in asking me."
To which Jordan replied, 'Well, we have lost all of our pre-season games, beaten 5-0 by this team and that team; Steve Coppell and I won't get on.'
Smith adds, "I had a lot of unfinished business at Palace. I got the sack after finishing fourth from bottom of the Premiership and took the club to two cup semi-finals; this was unfinished business."
Smith, who was extremely cautious about the unexpected job offer, immediately called Steve Coppell, who without hesitation told him, 'Alan, don't do it! The club is toxic. I know your personality and you and Simon won't get on. Trust me, you will clash.'
But the temptation was too great, and the very next day Simon Jordan called a press conference to announce Alan Smith as the Crystal Palace manager.
With a young squad at his disposal, something Smith had excelled with during his previous spell in the Eagles' hotseat, the newly appointed manager brought two experienced members onto his coaching staff in Glenn Cockerill and Ray Houghton.
However, before Smith's new aides could become acquainted with their surroundings, he recalls Cockerill and Houghton, who combined had over 1000 games of professional football under their belt, telling him that 'This club is volatile, and the attitude is even worse.'
A reflective Smith says, "The truth is, I came through the door with around two weeks to go before the start of the season and it wasn't the same club that I knew and loved. I didn't heed Steve's advice and I regret that. I should have listened.
"The club I left had a structure and identity; we came back to a club that had none of that whatsoever. It was a completely different place. When I came back, unfortunately it wasn't a family club anymore, it was a club in dispute and the family was all over the place."
Simon Jordan
After a course of chaos under Mark Goldberg, a lifelong Crystal Palace fan who would squander £40 million and plunge the club into administration with impulsive and audacious business moves, left the club leaking money from every avenue. When Simon Jordan bought the club, there was a desperate need for a sense of calm.
However, the Crystal Palace that Smith came back to was a club where the main provocateur of the off-field antics was the new chairman, who was bullishly crashing his way through the footballing establishment without hesitation.
"Simon was in his early 30's, and he wanted me involved from everything from board to marketing meetings. That really took its toll on me, as it limited my time trying to focus on the team."
Smith recalls telling Jordan, 'I feel as if I am a cross between your psychiatrist, your dad and your football manager.'
He adds, "Simon was new to it. He upset a lot of people. Football is a small business, and you can't really go round upsetting the David Deins of the world.
"He was gung-ho about everything. He just sold his business and was owning the club he had supported since he was a boy. It was a toy.
"We were different breeds. I wasn't used to that shouting or bullying nature that Simon adopted. I never personally took abuse from him, we always got on very well, but dealing with young hotshots in the mobile phone industry is very different to how you deal with footballers.
"Because of the lack of discipline at the club, there was nobody who really set down the rules, as we had before under Steve Coppell. Everyone knew their jobs and what it meant to play for Crystal Palace. This time, Palace was a ship bobbing around in the water, it had no guidance."
The signings
Having been familiar with working alongside core group of leaders throughout his first spell at the club, Smith's disbelief at the behaviour of certain members of the squad instantly created a rift between a small group of rebels and the coaching staff.
The squad harmony was so poisonous that following a 1-0 defeat at home to Grimsby, Smith was forced to place the trio of Clinton Morrison, Hayden Mullins and Jamie Smith on the transfer list, in an attempt to conjure a reaction from players who thought the club had become, in Smith's own words, 'A soft touch.'
In his book, 'Be Careful What You Wish For,' commenting on the humiliating defeat, Jordan details having to encroach on Smith's post-match team talk, berating the players and asking them in no uncertain terms, 'to take some pride.'
However, Smith vehemently denies it, proclaiming, "I don't remember him doing that under my management. I wouldn't' have allowed it."
He continues, "We did go to Spain where Simon fell out with quite a few players. But he was the same age the players, so he used to like mixing and being involved with them."
Smith says he told Jordan when together in Marbella, 'You are too close to the players, you need to step back. You are a chairman now, not a fan.'
Smith adds, "However, Simon took the view, 'It's my club, I have rescued it, I have saved it. If I want to speak to the players close up, I will.'
"Simon would always say to me, 'Try to build things up Alan, make them bigger than what they actually are.' He was very open about that. I want to give him the benefit of the doubt, because it was a long time ago.
"It was his first job in football, I was his first manager, and I am sure as he went along in his career, he got a lot better with his relationships. I just had the brunt of the first 10 months. There wasn't a day when something didn't happen."
Neil Ruddock
During the summer, Simon Jordan allowed Smith to sign off on incomings to supplement his new squad, spending over £2 million on the unknown Latvian duo of Andrejs Rubins and Aleksandrs Kolinko, and a host of Premier League loan signings.
However, the squad balance was still skewed, and mutinies were rife amongst the 'bobbing ship'.
Smith was keen to address that, "One or two of Simon's signings weren't the greatest influence on the young squad we had," and pinpoints Neil Ruddock as one of the key antagonists.
"He was 17 ½ stone, and that is no weight for a professional footballer. He was the wrong side of 30 and his best days were long behind him. It wasn't what I was used to."
He continues, "I needed young, hungry players who were willing to better themselves and put the work in to get there.
"Simon had made Ruddock by far our highest paid player, by quite some way, and Simon would come and say to me 'We need to get him fit,' but at that weight and age, it wasn't ideal.
"Simon and Ruddock had a great relationship, going out together on numerous occasions. I think they saw themselves both as celebrities."
As the season went on, a shining light from a dreary and forlorn league campaign was Palace's performance in the Worthington Cup; Smith, Palace and the cup had famous history.
It was a run which saw the Eagles bulldoze past Cardiff, Burnley, Sunderland, and pull off a stunning performance against Leicester, setting up a mouthwatering tie against Liverpool.
"The semi-final first leg against Liverpool was really special for me," says Smith.
Channelling a fighting spirit akin to the success Smith extracted from his team of the 90's, Palace punished a wasteful Liverpool with goals from Andrejs Rubins and Clinton Morrison shocking a Reds side that flaunted the likes of Michael Owen, Steven Gerrard, Emile Heskey and Sami Hyypiä.
"The performance was fantastic, but Clinton Morrison blurting out how good he was and offering advice after the game to Michael Owen on how to score goals, really set the Liverpool team up for the second leg. But we were brilliant on the night."
However, before the second leg, Smith reveals that, "Simon Jordan came to see me. He asked if I would play Neil Ruddock. I refused, and he tried to put a fair amount of pressure on me to play him, but I stuck to the original decision."
A fired-up, ruthless Liverpool romped home to a 5-0 win in the second leg, a demoralising defeat that would destroy any momentum the Eagles had picked up in the Championship campaign.
"Up until Christmas in the league, we had been fairly reasonable, but I think all the cracks at the club had started to manifest into something worse.
"It wasn't a pleasant place to work. It wasn't violent, but there was always a crisis and a threat over something. I think the players latched on that."
"It was the beginning of the end"
The disastrous league form spiralled out of control, and following the humiliation at Anfield, Smith's side only won 2 games from a possible 16 in the league; Palace looked destined for a relegation abyss.
However, the culmination of the distractions from internal forces and dispirited performances resulted in Selhurst Park reaching boiling point.
Against Wolverhampton Wanderers, just three games before the end of the season, a crowd of just over 18,000 turned on Smith, throwing season tickets and matchday programmes onto the pitch, demanding his sacking.
"I remember it so vividly," says Smith. "It was really upsetting, but I could see the way it was going. It was a poor performance, and I couldn't defend it. It was the beginning of the end."
Smith left Palace the very next day, becoming the first manager of many to be sacked by Simon Jordan. Steve Kember would be handed the job for the final two games, with a memorable game at Stockport on the final day of the season, keeping Palace in the Championship.
Smith sighs before divulging, "I hate to say it, but I wasn't sorry when I left. I had to question myself, and whether I was really enjoying the situation of the club. I have spoken to Ray Houghton since and he told me, 'Alan, we had no chance,' and I think that was right."
Looking back
In 12 years, spread across 2 spells, Smith jumped from youth team manager to Steve Coppell's assistant and then becoming manager himself, leading the club to Championship glory with a team that captured the imaginations of the Eagles' faithful.
Although he acknowledges that coming back under Simon Jordan was an error, it is no more than a small blemish on the dedication he committed to the club during his time at Selhurst Park. "I loved all of my time at Palace," exclaims Smith.
"The going back season was a mistake. You need a culture at a club, even looking today at what Roy Hodgson has done, you need structure and stability at the football club. You need a steady ship. We had that throughout that whole of mine and Steve Coppell's reign.
"There are too many (memorable moments) to pick just one; the cup final as assistant manager was fantastic; getting promotion with Steve was just as satisfying; and winning the Championship as the manager will always hold a special place in my heart.
"My best memory is the number of players we produced throughout that period, from the youth team to the non-league stars. It was so special to see players like Ian Wright, Mark Bright, Geoff Thomas, Gareth Southgate, and many more, go on to achieve fantastic heights in their careers.
"I met some truly amazing people at the club, my relationship with Steve is special to me, and the people who worked at the club day in, day out. The package of Crystal Palace is really special."