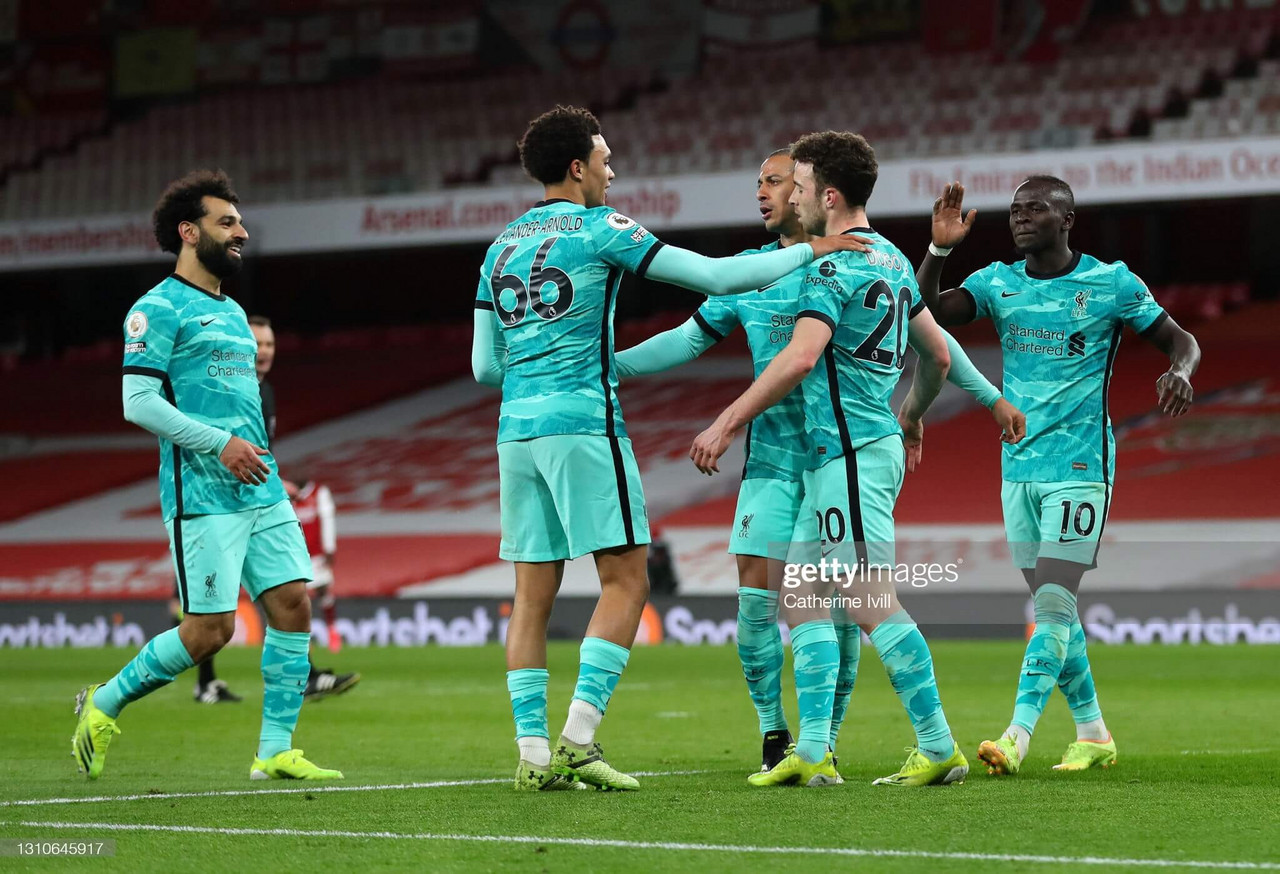 In what may have seemed a close match-up on paper, this high-stake clash was a mere demolition. The free-flowing football Mikel Arteta has managed to instil in this new look Arsenal outfit was completely locked off by a more functioning looking Liverpool of old. From the first whistle, this was a complete mismatch.
The sheer control Liverpool had on the game from the offset led to the question of when, rather than if, in terms of capitalising on a limp-looking Arsenal outfit. Throughout the first half, all Jurgen Klopp's men were missing was that cutting edge; not for the first time this season. This was demonstrated towards the end of the first half, through the exploitation of Arsenal's left side of defence in the form of a rejuvenated Trent Alexander-Arnold, who was playing with a point to prove following his recent omission from the England set-up. His pinpoint cross to James Milner was swept wide, in what proved to be just the beginning of the Reds' attacking onslaught.
Despite the 22 year-old's obvious upset from his recent exclusion, Klopp has said the right-back has benefitted "100%" from not playing during the international break. This was clear to see with the playmaking right-back pulling all the strings, looking like the favourite to carve out the opening.

Just after the hour mark, Jurgen Klopp made the bold decision to replace left-back Andy Robertson with in-form Diogo Jota, loosening their defensive shape in order to attack from the front - somewhat signifying their control of the match. This decision proved significant when Liverpool finally broke the deadlock. With three headed goals for Portugal over the international break, the forehead of Jota has become somewhat of a secret weapon, which came to combine with the not-so-secret weapon of Alexander-Arnold's right boot, which finally broke the thin thread Arsenal were hanging on to.
Liverpool weren't just looking to open Arsenal's door, however, they were looking to kick it down. With four attackers on the field, the frontline were looking "hungry", as commentator Gary Neville noted on air on Sky Sports. And so, it wasn't long before they were fed again, in another sequence which found Alexander-Arnold at the source. His inside pass to Fabinho resulted in a looping ball over the top which found a chasing Mohamed Salah, who managed to evade a weak challenge from Gabriel and finish cutely through Bernd Leno's legs, doubling the Reds' advantage in what was the least they deserved.
Gabriel's frailties didn't end there however, with his poor clearance finding the feet of Alexander-Arnold moments later, who managed to complete a hat-trick of goal involvements through his ball inside the area, which found a swivelling Sadio Mane who laid the ball off to an incoming Diogo Jota, who fired the ball home to make it 3-0. This ruthless combination was a goal which resonated the Liverpool of 'old'.
Gabriel's mistake was one which summed up Arsenal's performance as a whole. Lacklustre and weak. In what turned out to be one of Arteta's heaviest defeats in charge, it was one which could have been a lot more, with Salah firing a one-on-one straight at Leno late on. Sadio Mane will also feel extremely aggrieved not to have made it on the scoresheet, with a free header from yet another Alexander-Arnold ball into the box completely missed, as well as another chance in injury time wasted.
In what proved to be an excellent all-round team performance, it is a very tough decision to single out one player. However, the role Fabinho has played since freeing back into midfield has been instrumental. His name will rarely be one which ends up on the scoresheet or on the goal involvement chart, however the solidity and structure he adds to the team is simply indispensable. His breaking up of the play, cover for the defence, as well as his faultless distribution was a key factor in Liverpool's performance, which allowed for the attackers to destroy Arsenal and their defence.
Other notable performances come in the form of Alexander-Arnold, who may feel hard done by not to have picked up man-of the-match following his involvement in every goal. His playmaking ability and passing was something Arsenal could not deal with, and they were lucky not to have fell a victim even more times through the chances he created for the team. It is so rare that a full-back can influence a game so much, yet the 22 year-old starlet continues to do so.
Diogo Jota and his influence is what inevitably broke Arsenal's barrier down, and consequently opened the floodgates for the Reds' 'fab four'. His ruthlessness in front of goal is a theme we are seeing more and more of, and was, unfortunately for Arsenal, present throughout the 40 minutes he was on the pitch. Had he been playing the full 90 minutes, we may be talking about a potential hat-trick contender. Mohamed Salah and Sadio Mane's threat was also there to see all game, with their pace down the flanks really damaging Arsenal's full-backs. However, without Fabinho's presence in midfield, none of the others mentioned would quite have the ability to offer the threat they did at the Emirates. The security he offers this Liverpool team is immense.
Key takeaway from the Match
Another man-of the-match performance from Fabinho signifies the importance of his role back in midfield, whilst the returning Jota has boosted a whole new life into what was looking a tired Liverpool team. This more structured looking outfit of Liverpool's saw levels of counter-pressing we are accustomed to seeing under Klopp, suffocating teams from the first whistle. The German told Sky Sports following the final whistle, "This was a very important statement from us. We have to win our games and make pressure [on the top four] and that's what we did here".
What's next for Liverpool
Liverpool now find themselves just two points off the Champions League places, and with their eleven becoming more recognisable by the week, they will head into the business part of the season with huge confidence they can save their season with a top four finish. The next challenge comes in the shape of Real Madrid, and they will head into that with huge confidence, especially given the recent news of Sergio Ramos' omission through injury. Given Liverpool's fondness in Europe, as well as the slow return of a recognisable eleven and a favourable semi-final draw, Liverpool can consider themselves a dark horse for success yet again in the Champions League.